What is a Goal?
Goal in brief
A configured Goal groups all data relevant to your conversion.
The Goals purpose is to pre-filter the data by your analytical goals.
You can use one of the predefined Goals or create your own, custom path.
The Goal contains data showing only users' journeys that completed the conversion.
Number of Goals for your project is unlimited.
You do not need developers to add goals – we're automatically capturing events on your website.
Goal dashboard shows number of visits that reached the Goal, Experience Metrics related to those visit, users' journeys, activity and devices.
Goal in detail
The Goal is the ratio of the number of recordings that meet your primary purpose (conversion) to all visits' recordings. In other – simpler – words, Goals are here to tell CUX's scripts what is important to your project. They translate your business into code understandable to the tool and define how it is to interpret your data.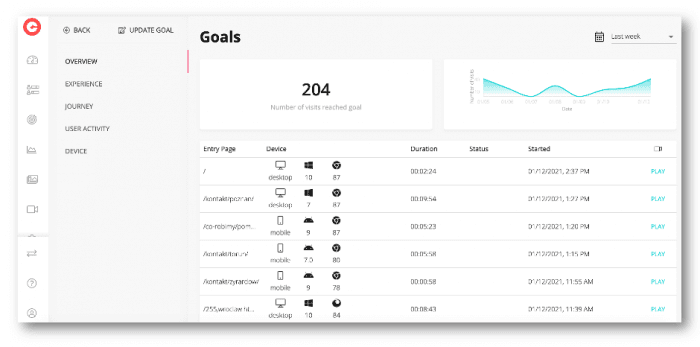 Imagine: your consumers' buying intent is high, but the conversion rate still leaves a great deal to be desired. In such a situation – requiring an answer not to the questions "how much?" but "why?" – the correct Goals setting will work wonders.
Goals let you measure only what matters for your business by focusing on the most important data insights in the goal context. The types of goals can be different – we're focusing not only on sales, but also intentions to sell, abandoned carts, user registrations, subscriptions to newsletters, going through specific categories on the website, form fill-outs or specific paths to be overcome. Thanks to properly configured Goal you'll be able to track clicks, scrolls, page loads, activities related to form filling or traffic from referrals.
What's even cooler: we'll alert you about your goal rate changes and all you'll have to do would be to see what happened, implement the quick wins, sit back and watch your conversion increasing.
How to set the main Goal?
In CUX, you can set any number of goals depending on your needs, but on the dashboard, we will display the results for visits reaching your main goal. To set a goal as your primary Goal:
Go to Goals
Mark a star next to the Goal you want to see on the dashboard immediately after logging in.