These behaviors don't come out of nowhere. We feel more invigilated while being online than ever. More and more consumers are taking action to protect themselves and their data. According to Cisco 2021 Consumer Privacy Survey, 79% of consumers declare that they are willing to spend time and money to protect their data.
So what is really about website tracking? Should it indeed arouse such an unconcern? Let's check!
What is website tracking?
Website tracking (also known as web tracking) is a mechanism responsible for collecting and analyzing data gathered during a user's online activity. Based on data gathered through web tracking, we are able to get to know better how users behave when they visit the site, and what kind of emotions they were experiencing.
But it's not like you can peep everyone and everything. Website tracking is regulated by major data privacy laws (GDPR, ePrivacy Directive, CCPA). They require appropriate user tracking that is in full compliance with strong consent and data protection obligations.
How website track users' activity?
Web page tracking uses diverse trackers to bring in various information including location, mouse tracking, click tracking, statistics, or user experience. In this article, we will get acquainted with the 3 most know.
IP addresses
An IP address (Internet Protocol Address) is a unique, identification number that is assigned to a computer or other devices that connect to a network. IP addresses ensure that devices communicate properly.
Through IP tracking, a website can determine what country you are or even a city. These pieces of information can be very useful when creating targeted campaigns.
Cookies
Almost every website is using cookies, it's one of the most common ways of website tracking. Cookies are small text files, that are being stored on a user's website. Once stored on the browser, they collect information on the user that is used to measure their visit, recognize them upon repeated visits, track them across browsers and devices and peek into their interests and behavior in general.
Data gathered through cookies can be used for remarketing in e-commerce. Products added to a shopping cart will appear even after the user close the site.
Cookieless future
2023 is approaching inexorably, and with it the cookieless future. Due to consumer privacy, Google planned phasing out of third-party cookies in its Chrome browser. Loss of this data will have tremendous impact on marketing activities, which may lead to low conversion rates and irrelevant targeting.
That's why marketing activities should not be based on an ads budget, but on knowing your clients' needs in any way. And you can accomplish it with CUX. Because, cux.io analytics is based on 1st party data, which make your company cookieless-future ready.
Tracking pixels
Tracking pixels, also called pixel tags or 1×1 pixels, are transparent images containing a single pixel. Whenever a user loads a page or opens an email message, the pixel is also loaded, mostly the advertiser's server reads and records the opening of the website or email message and other user actions. It gives insights like the type of website or email domains visitors use, time of interactions, IP address, and much more.
Tracking pixels can be used to gain better knowledge about users' behavior for targeted marketing. One of the most popular tracking pixel is Facebook pixel. It gathers data that helps you track conversions from Facebook Ads, build target audience and look alike groups for future ads and optimize the current one or for remarketing purposes.
What user website tracking can tell you?
It's not easy to stand out in the online world and conquers customers' hearts. But it's possible! One way to thrill users is to get knowledge about them, their behavior, and preferences. And tailor products to their needs. So it meets their expectations.
Web tracking collects valuable information about website users and how they interact with the site. For example, gathered insights can be a source of knowledge how to optimize user experience to increase level of engagement with the site or be used for creating buyer personas and target groups.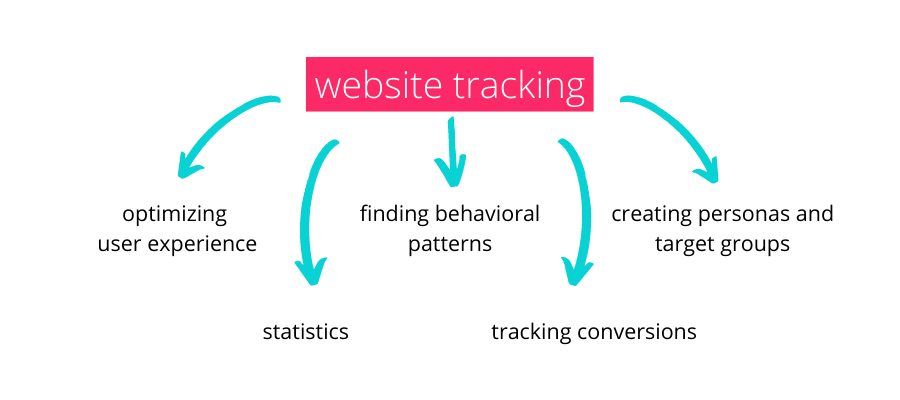 This information doesn't have to be used only for marketing purposes. Whole organizations and companies can take advantage of them.
Website tracking tool: cux.io
CUX is the very first UX & Analytics Automation tool that finds users' behavioral patterns and detects places that may inhibit your conversion. Focuses on data only related to your business goal, not a full picture, like a competition does. Thanks to that approach, CUX can immediately find user's pain points and bottlenecks and indicate places for improvement and quick wins. Even in a few minutes!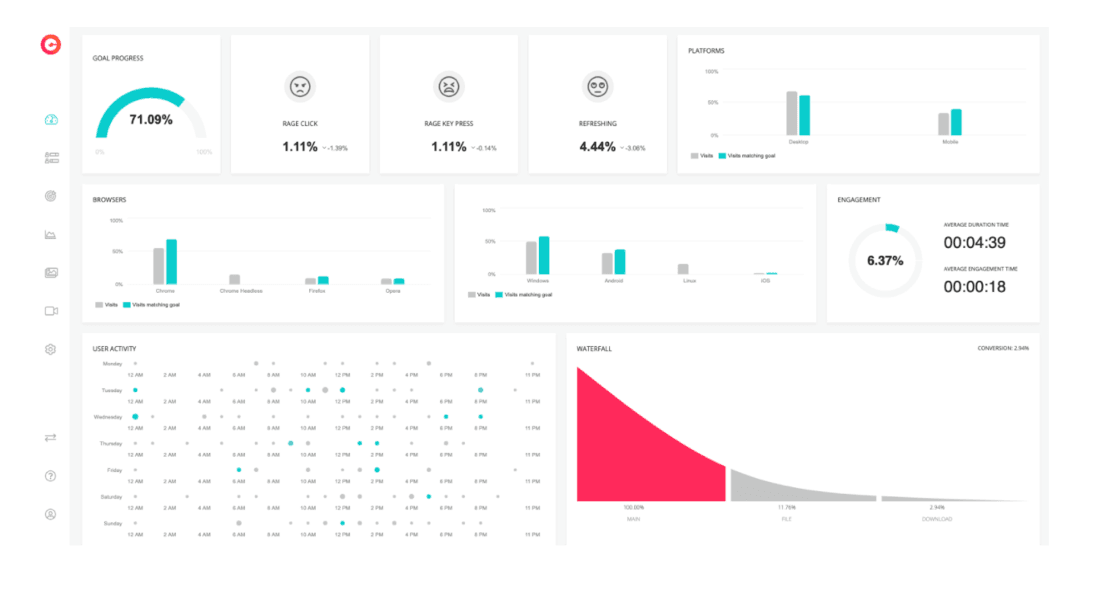 CUX reads HTML code in text form and then reproduces it in app. Thanks to that, you are able to watch users Visit Recordings in CUX. Same goes for Heatmaps.
What is really important, CUX does not provide any information that enables the identification of users or any sensitive data. Gathered data is encrypted at the browser level and is not sent to cux.io servers. CUX is prepared for cookieless future!
Information collect with cux.io include:
Information about the operating system and web browser visitors are using,
Time spent on the website and its pages,
User engagement time, how much user was active during whole visit,
The pages viewed on the website,
Information about hours and days of the highest traffic and conversion,
Transitions between individual pages of our website,
Places where users click on pages.