x sales increase due to
data-based personalized
marketing campaigns
up to %
conversion increase
overnight
minutes to find
users' pain points
& quick wins
x time saved
on analytics
Smarter analytics
CUX allows you to quickly increase conversion, turn frustrated users into happier users and build significant market advantage thanks to pre-analysing experiences and identifying behavioural patterns. Quantifying UX, benchmarks and custom segmentation is all you need to boost your positive customer experience and increase sales.
UX Automation
CUX is the first and in fact the only UX Automation platform in the world. What does this mean for you? CUX will recognize, detect and define the behavioural patterns of your users (Experience Metrics). Then it will show you how it influences UX with regards to your business goals and. It will also convert hard to understand emotions into easily approachable metrics.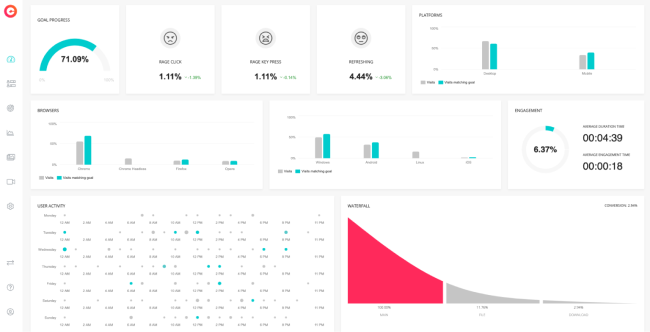 No more DATA SPAM
CUX connects all the dots on the customer's journey for you. Automate your work from raw data to making the right business decisions! With CUX you'll never waste your time on watching too many user recordings or analysing irrelevant metrics. We alert you about what matters for your business goal and all you have to do is to implement the quick wins and watch your conversion increasing.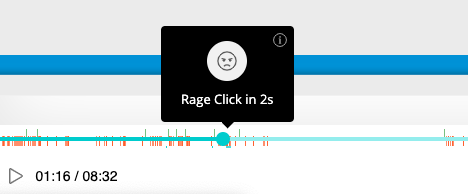 Advanced analytics within reach
There is no need to waste your time by learning how to set up GA or any other tool for advanced analytics. With having the CUX snippet implemented you'll codelessly set up any customer's journey in no more than just 10 minutes and you'll see your users' experience along the way. Moreover CUX auto-captures all events on your website – no more engaging developers, no more waiting for data to gather.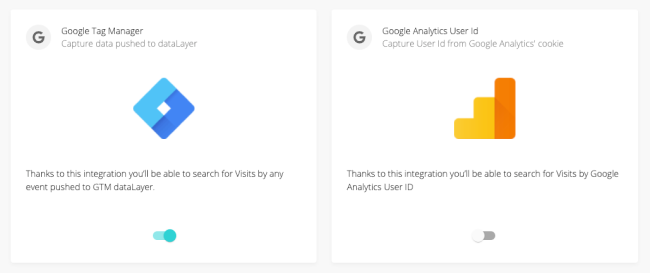 They've grown to like us!

Head of UX & Development at T-Mobile PL
Customer experiences are a priority for our business. On the web, the impact experience has on decision making is immense. cux.io integration with Google Tag Manager lets us save plenty of time as it allows our team to find a specific event in visit recordings. CUX shows something more than just metric values. The tool helps us understand what stands behind the numbers in Google Data Studio. When we get insights into what our users are doing, we can react quickly. We simply address clients' needs or fix issues by implementing optimal solutions for them.

CEO & Founder, F1Brand
I'm working with Paulina and Kamil from the very beginning. They offer the best tool for deep analysis of the customer journey on the website. Using CUX I'm able to verify my hypothesis based on Google Analytics data and convert them to the data-driven recommendations for my clients. They offer their knowledge, constant support and time - CUX is not only an app but also real human support! That's priceless.

Digital R&D Director, Kantar TNS
Testing cux.io was for me a great opportunity to extend my knowledge about UX research and web technologies at all. This tool has pretty great capabilities (for example real-time preview of tagged user). Their future plans are impressive and I'm looking forward to see new features. And Paulina and Kamil are so friendly and have a lot of positive energy... even that's why it's totally worth to work with them!

Senior Software Engineer at ShareNow
The people in Cux.io are really focused on giving the best service and inside knowledge to their clients. They are taking the Analysis of customers behaviours to a new Level, which at the same time marks a difference with other tools that just compile huge amounts of Data.

CEO & Co-Founder, Performance Labs
If you are serious about optimizing UX websites - especially for conversions and events - implementing Cux.io should be mandatory. Interestingly, Cux.io analyzes user behavior for indicators that are not so obvious and provides observations that suggest web page optimization in a completely new way. Besides, they have great support, which is really focused on helping rather than taking off the ticket from the CRM. Keep up the good work!
FAQ
UX automation is your very own time-saver and productivity booster! 😉 More precisely, it is a tool that – through machine learning for predictive analysis – allows you to recognize, detect and define behaviour patterns that indicate problems and frustration of the website/application user. Make your research process faster and more efficient by automating repetitive activities and focusing on making decisions on data-based insights tailored for your business goals.
What is conversion waterfall?
It's a visual representation of your conversion rate based on page loads and events, combined with visit recordings, enabling you to measure event-based conversion rate and find the quick wins. If you cannot or would not invest your (or your developers') time into setting up your own waterfalls – don't worry, we've got you covered! Our S.W.A.T (Special Waterfall Activation Team) is at your service.
Can every page event be measured?
Conversion is no longer URL-based only. With CUX you can analyse every single action no matter if it is a click, scroll, input fill, or form submit. This will enable you to precisely identify the issues at every step of the user journey.
Zooming, rage clicks, rage k-presses, chaotic movements, or constant refreshing – watch filtered recordings to uncover the patterns behind your user's frustration and understand why people drop out at each step of the journey. Turn annoyed visitors into satisfied customers!
What are the experience metrics?
The very data you need to understand why your users sometimes throw tantrums and how unexpected frustration kills your conversion. Those metrics will help you determine the breaking points on your users' journey and make sure they're to be avoided on the path to a successful sale. Thanks to Experience Metrics you'll see rage clicks, rage key presses, zooming content or chaotic mouse movements. This will allow you to analyse what pisses your users off. Often, it is data that will bring more constructive conclusions rather than analysing many positive recordings and the best part is it can be connected with CUX Alerts!
Why do I need heatmaps and recordings?
You can experience ravishing "AHA! moments" by watching real-time or replayed visits on your page and analysing heatmaps for single pages, group pages or single page apps. Going through heatmaps and recordings will not only help you understand what interest and irritates your customers the most, but will also allow you to make informed decisions based on actual users' habits and behaviours.
Don't worry! We would never leave you clueless and at your wits' end! You can sign up for a free webinar explaining the proper and efficient use of cux.io or contact our support team, ready to walk you through any difficulties.