Marketing automation. What is it and how can it be improved with CUX?
If someone asked you about the future and what might it look like, what would you answer? Flying cars? Space colonization? Robots who are responsible for our house chores? Self-lacing shoes? All those things remind me of The Jetsons TV series.
Fortunately or not, the current world does not look similar to the one from The Jetsons. However, there are still a few appliances that can give us such a futuristic feel and make our lives easier like for example roomba hoovers, Tesla cars, or marketing automation software.
In this article, we won't discuss new features of Elon Musk's car, but we will talk about something that can save a lot of time and effort spent on marketing activities. Yep, that's right. Our topic for this blog post is Marketing Automation and how it can not only make your marketing processes even more efficient, but also how it can increase sales and improve the customer experience at the same time.
What is Marketing Automation and how it can help businesses?
Marketing Automation is a software that enables automating almost all marketing tasks that used to be made by hand. Starting from sending emails, running paid campaigns, through taking care of customers, and ending on generating and nurturing leads for the sales team.
But it's not all about the marketing team. The main goal is to help marketing and sales to do their job in the most efficient way and of course increase sales. The fact that those two departments can work in the same environment saves a lot of time, improves communication, and speeds up the whole process. For example, let's take lead generation and lead nurturing. If marketing nurtures leads with the right content that suits their stage of Customer Journey and heats them up, sales will receive hot leads who are ready to purchase. Not some sort of cold leads that only take your precious time.
Marketing Automation also allows tracking lead actions and level of leads' engagement. It is a source of valuable and meaningful customer data to improve customer experience and engagement.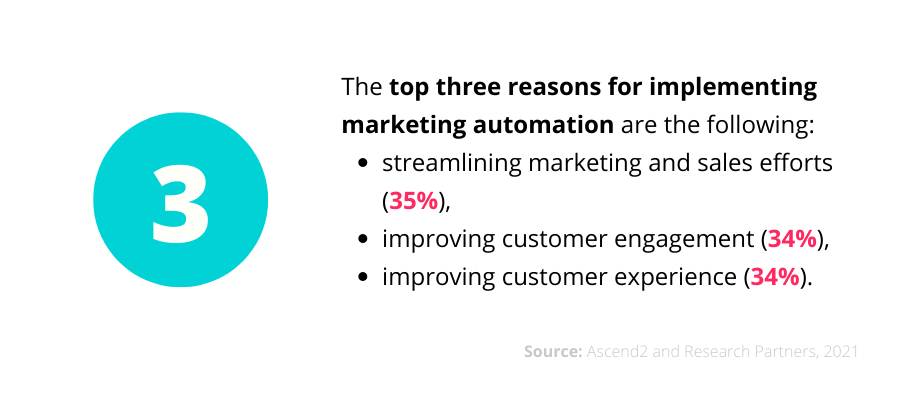 But what is worth remembering is the fact that behind every marketing automation software, automation cycle, newsletter campaign, or even a chatbot, there is a REAL person. Marketing automation will never replace a true marketer's work or make their job irrelevant. Always bear this in mind.
Benefits of marketing automation:
generating leads,
nurturing leads through newsletters or welcome campaigns,
improving customer experience,
targeting customers with content that suits their needs,
building sales funnel based on lead scoring,
automating repetitive tasks,
gaining new customers,
saves time and money,
CRM integration.
How does Marketing Automation software work?
Imagine marketing automation as a cause-and-effect sequence. For the desired action to happen (which is most likely a purchase) there has to be a trigger that starts our marketing automation machine. The trigger can take various forms like subscription, message sent or a link clicked. But there has to be one! If you skip this part, your automation workflow won't even begin.
Once it starts, a customer, or, as we should properly call him from now on, "a lead", falls into the sales funnel. At each step of the funnel, a lead is going to receive different notifications that are nurturing them. The main goal of nurturing leads is to create a desired need for your product or service. When you consider the contact to be a qualified lead, you can either send a dedicated sales newsletter with a special offer or give direct contact to the sales team.
How do you know it's a good time to give sales leads? You can segment your contact lists through different actions, scores, tags, or custom fields and see which leads are the most engaging.
Marketing Automation workflow [example]:
1. Lead generation
Email your contact list with the upcoming webinar about your product or service. To reach new customers, you can share this information on your social media channels and create a paid campaign. People who want to participate in the webinar need to sign up and leave their contact information.
2. Lead nurturing
After signing up, your lead must be caught up in the nurturing process. Otherwise, only a small percentage of those enrolled will come. Everyone who signed up for the webinar should receive a confirmation email and an email nurture campaign before and after conducting the webinar. To do that, you can use email marketing automation. Every message will be sent automatically after a certain date or time.
3. Purchase
Use the filter option to find the most involved attendees and send them a special offer with your product or pass the contact to your sales team, so they can follow up with them. Put less involved leads in the nurturing process.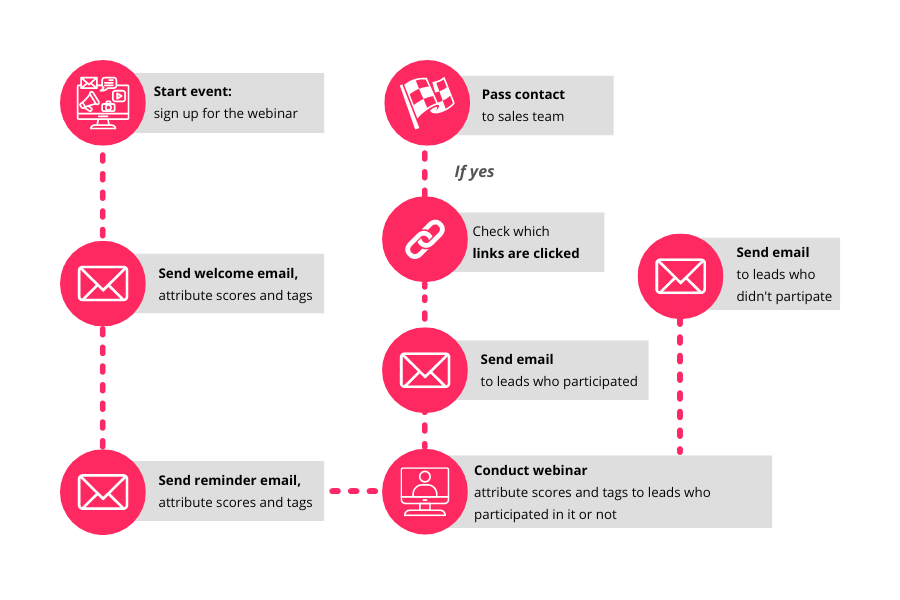 Most common Marketing Automation Features
Each Marketing Automation software provides different features. When making this decision, first and foremost you should determine what kind of features this particular marketing automation software delivers. Below you can find a list of the top features to look for.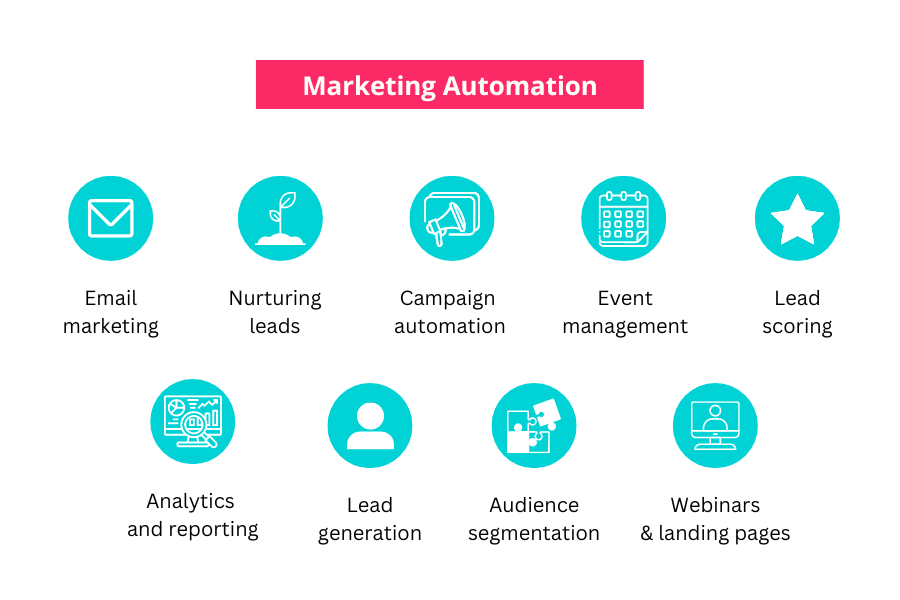 Email Marketing
Email Marketing is one of the crucial parts of marketing strategy in the majority of businesses. Globally, there are 4 billion daily email users, so why not take advantage of that?
Email marketing automation is responsible for sending newsletters and creating automated email sequences. It is the most well-known feature, available in almost every Marketing Automation software. According to statistics, 33% of marketers send weekly newsletters and 26% send even multiple emails per month.
Lead generation
Marketing automation can help marketers to get in touch with a completely new group of potential customers by seducing them with lead magnets. Lead magnets can be e-books, webinars, newsletters, or even courses that can be carried out by newsletter.
In 2021, Campaign Monitor established that 64% of small businesses use email marketing to reach new customers. It's a lot, especially if you know that there are 4 billion daily email users and the number is still growing. By 2025 the number is expected to reach 4.6 billion.
Webinars
Covid-19 turned webinars into must-haves. Without the possibility of meeting people face to face, hosting a training, or participating in a conference, webinars, and online meetings became essential. Even though the pandemic has stopped, webinars still play a major role in our society.
On the market, there are not only marketing automation platforms that offer webinar features; you can also find dedicated software for conducting webinars. Wouldn't it be nice to have everything in one place? Starting from building landing pages for webinar registration, through nurturing leads with invitations and reminders via email, and running webinars? While choosing MA software, check what kind of additional features it enables.
Paid Campaign
Pick a tool that allows you to create paid marketing campaigns tailored to your business needs. Use paid campaigns to activate existing contacts, retarget people who abandoned your site or cart, or just to find new leads.
Check if your software of choice offers a connection between Marketing Automation Platform and Facebook and Google Ads. If yes, prepare a different list and nurture those needs via emails and dedicated content.
Marketing Automation tools
The marketing automation tool market offers various tools that suit different segments of businesses starting from small businesses, and ending with big enterprises. To find the best marketing automation software for your business, you have to at least compare a few tools. It is your benchmark. Currently, the most popular tools on the market are Hubspot, Salesforce, ActiveCampaign, or Marketo, but it doesn't mean you have to pick any of them.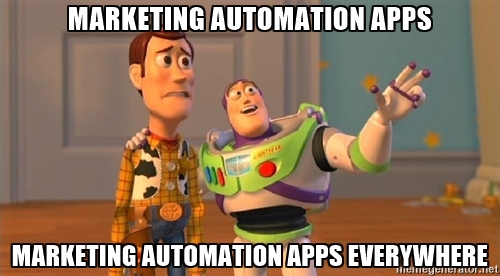 First, think about what kind of solutions you want to accomplish with the help of marketing automation software. Then, look for a platform that offers training or online tutorials – if you are a newbie, they'll help you learn how to use marketing automation. And last but not least, verify if the chosen software offers online support or assigns to you a dedicated account. Below you can find a description of 3 marketing automation tools.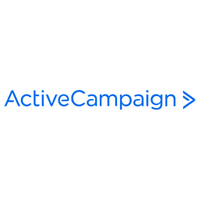 ActiveCampaign
ActiveCampaign is one of the most powerful marketing automation software. Well-known for email marketing, marketing automation, and CRM tools. With ActiveCampaign, you can build different communication at each stage of your Customer Journey. Advanced features include custom reporting and free design services.
Price: ActiveCampaign provides a free trial version. Although their pricing starts from $29 per month that can be suited for eCommerce, B2B or B2C. Cost depends on the number of your contacts and the subscription plan.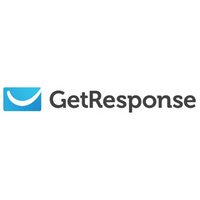 Getresponse
GetResponse is a marketing automation software that offers all-in-one online marketing tools like email marketing, building landing pages, organizing webinars, creating sales funnels, marketing automation, and much more.
Price: You can start using GetResponse by creating a free account that includes up to 500 contacts and unlimited newsletters. Paid accounts for marketing automation features begin at €54 per month. GetResponse also offers an email only marketing plan that starts at €16 per month.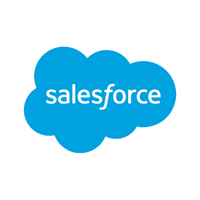 Salesforce Salesforce is a CRM solution that brings together marketing, sales and customer service departments. Through Salesforce, you can track and monitor each stage of your customer journey, automate communication, and generate reports. The highest subscription plan includes features like Artificial Intelligence for sales and marketing and predictive analytics and personalized product support.
Price: Marketing Cloud Engagement Pricing starts from $1,250 per month (billed annually) and allows up to 10,000 contacts. Salesforce offers 4 different subscription plans: growth, plus, advanced, and premium.
Analytics, Marketing, Sales in one place, what more could you wish for?
Marketing automation gives great chances for marketing teams to automate repetitive tasks, reach potential customers and generate new leads. Not to mention the amount of time that marketers can use to turn their crazy ideas into reality.
But still, it is the machine that won't build itself. To receive valuable and meaningful insights you have to build a scoring point system and proper tagging that allows you to track customers' actions. And don't forget building automation cycles. For that, you will need experience and technical capabilities. Trust me. I've been in those shoes more than once, and it is a process that requires time.
If you are a marketing automation newbie and want to speed up your analytics a bit, take a look at cux.io – the very first tool for UX Automation & Analytics. It won't substitute Marketing Automation software, but for sure it will shorten the amount of time to find behavioral patterns, bottlenecks, and user frustration points. See how CUX helps in achieving set business goals.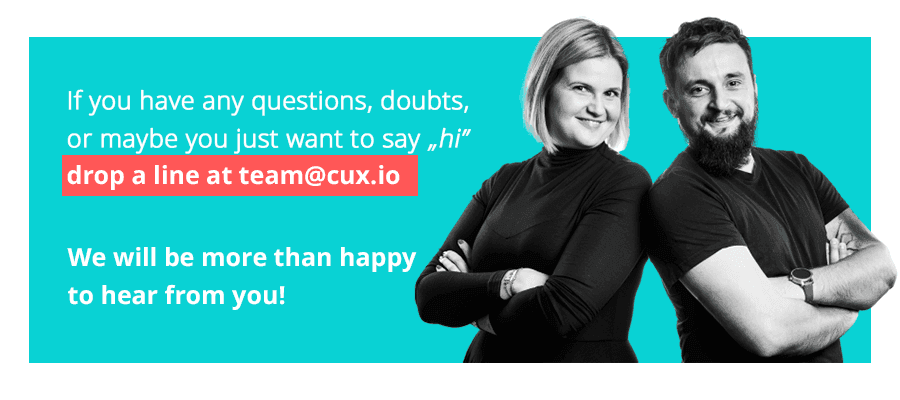 Read also: