Data-Driven E-Commerce
3.08.2022
Reasons for shopping cart abandonment – how to check what is the cause and eliminate weaknesses? [FREE GUIDE]
Did you know that as many as 70% of e-commerce shopping carts get abandoned? If you're an e-commerce entrepreneur, that's a terrifying number.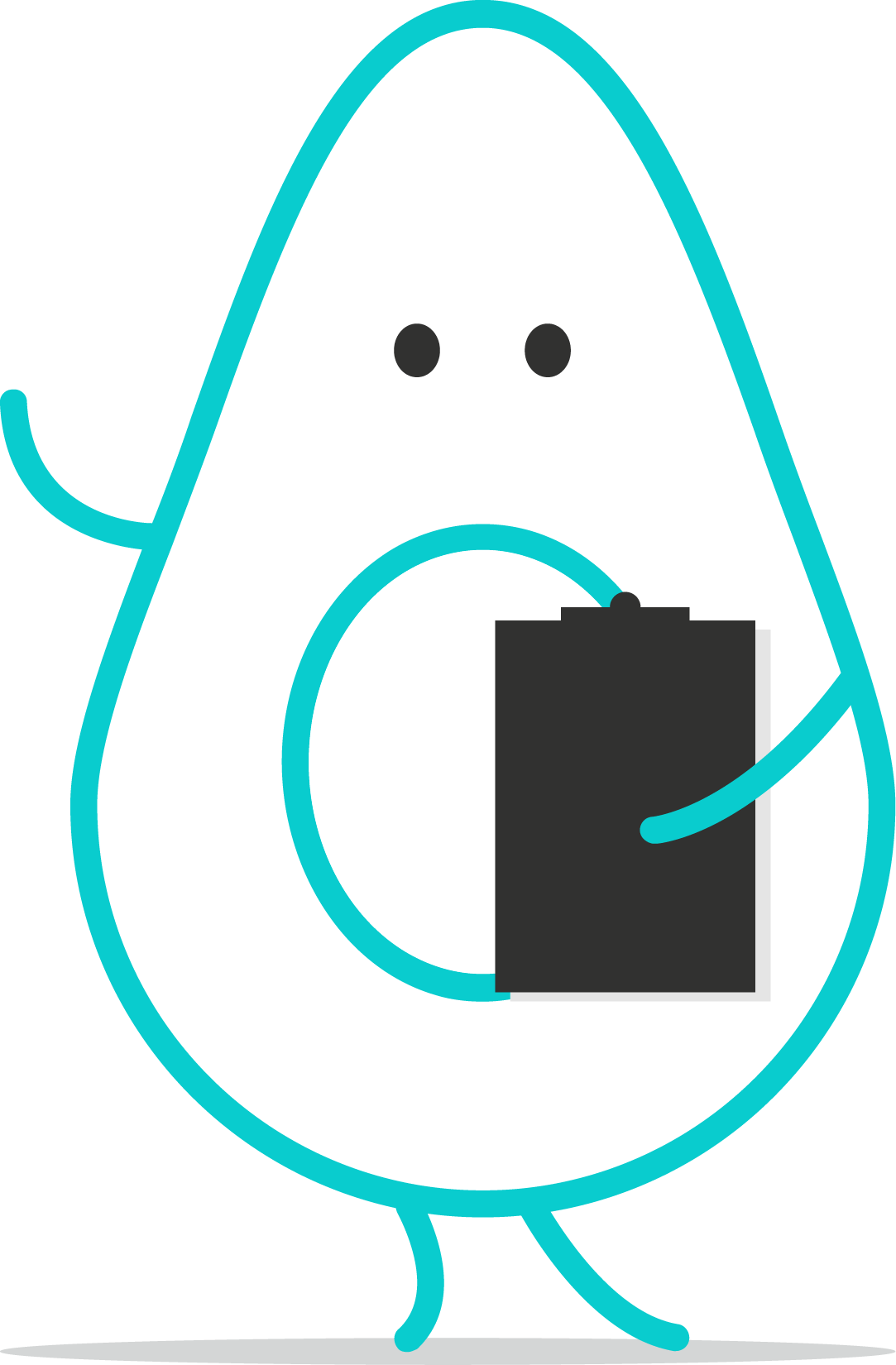 Did you know that as many as 70% of e-commerce shopping carts get abandoned? If you're an e-commerce entrepreneur, that's a terrifying number. But I'm here to sugar the pill and tell you that not all of your "abandoned" shopping carts are truly left stranded. See how can you check cart abandonment and quickly reduce shopping cart abandonment.
When do shopping carts get abandoned? The most obvious answer would be: when the user adds products to the cart but does not pay for them. Right?
Not really! While the e-commerce world would certainly be a better and simpler place if it was true, fortunately, data comes to help you identify truly abandoned shopping carts.
How to check shopping cart abandonment?
Before we get down to digital shopping cart abandonment and its negative effects, you need to understand the differences between a session and a visit. Broadly speaking, a visit is a collection of sessions.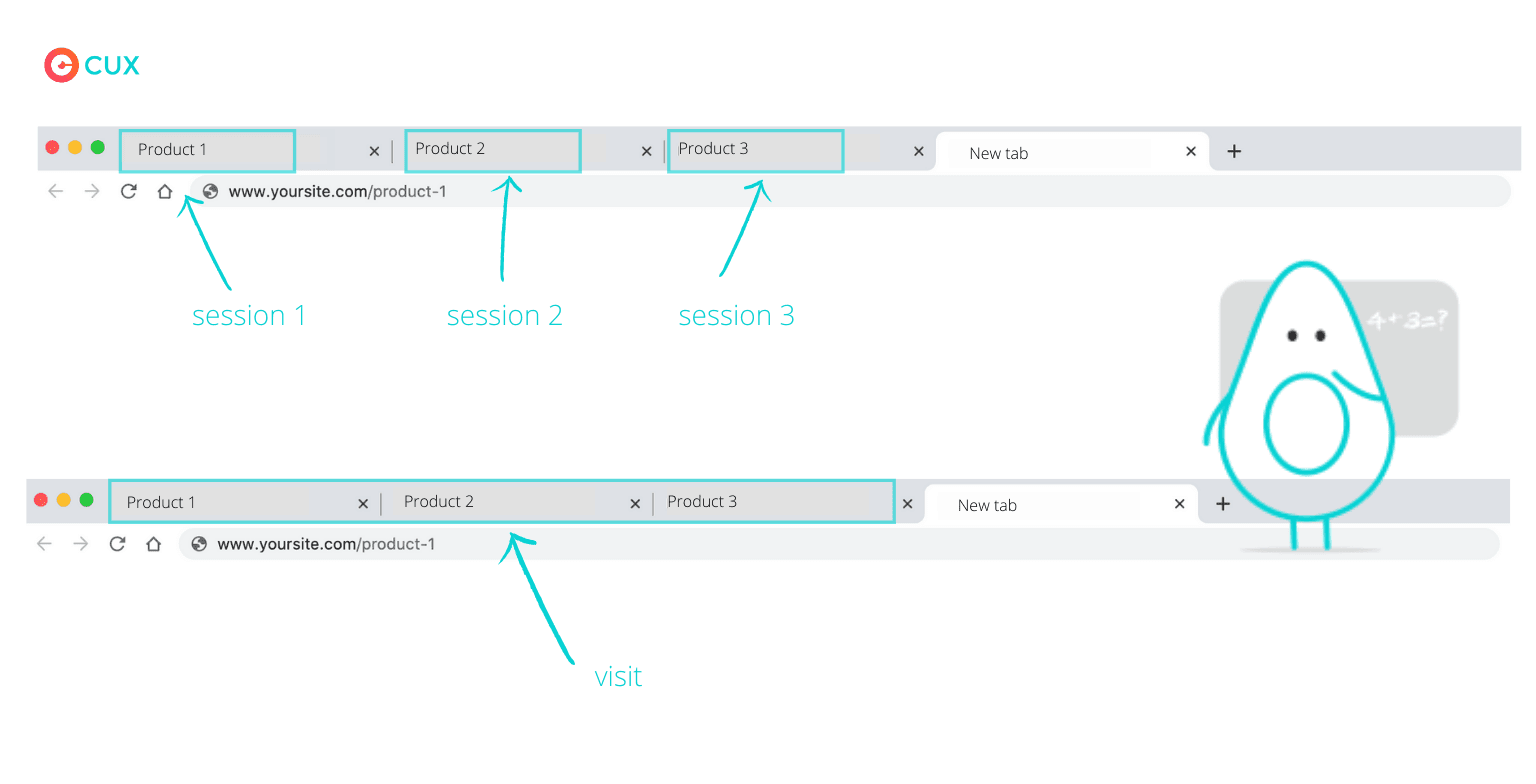 During a single visit to your website, a user is generating many sessions, e.g., by viewing various product subpages, checking costs, and opening many tabs. In terms of abandoned cart identification, the number of visits would be much more important than the number of sessions.
Identify the average number of visits per user
In order to understand the real e-commerce shopping cart abandonment rate, you need to know WHEN users are making a purchase. Well, maybe not when, but HOW MANY VISITS do they need in order to finish payment and complete their purchase.
It should come as no surprise that users rarely complete the purchase during their first visit to the store. In "traditional" eCommerce store, the purchase occurs on average during the second or even third visit. In specific cases – like companies selling luxury goods – making a purchase may take even from several to several dozen visits.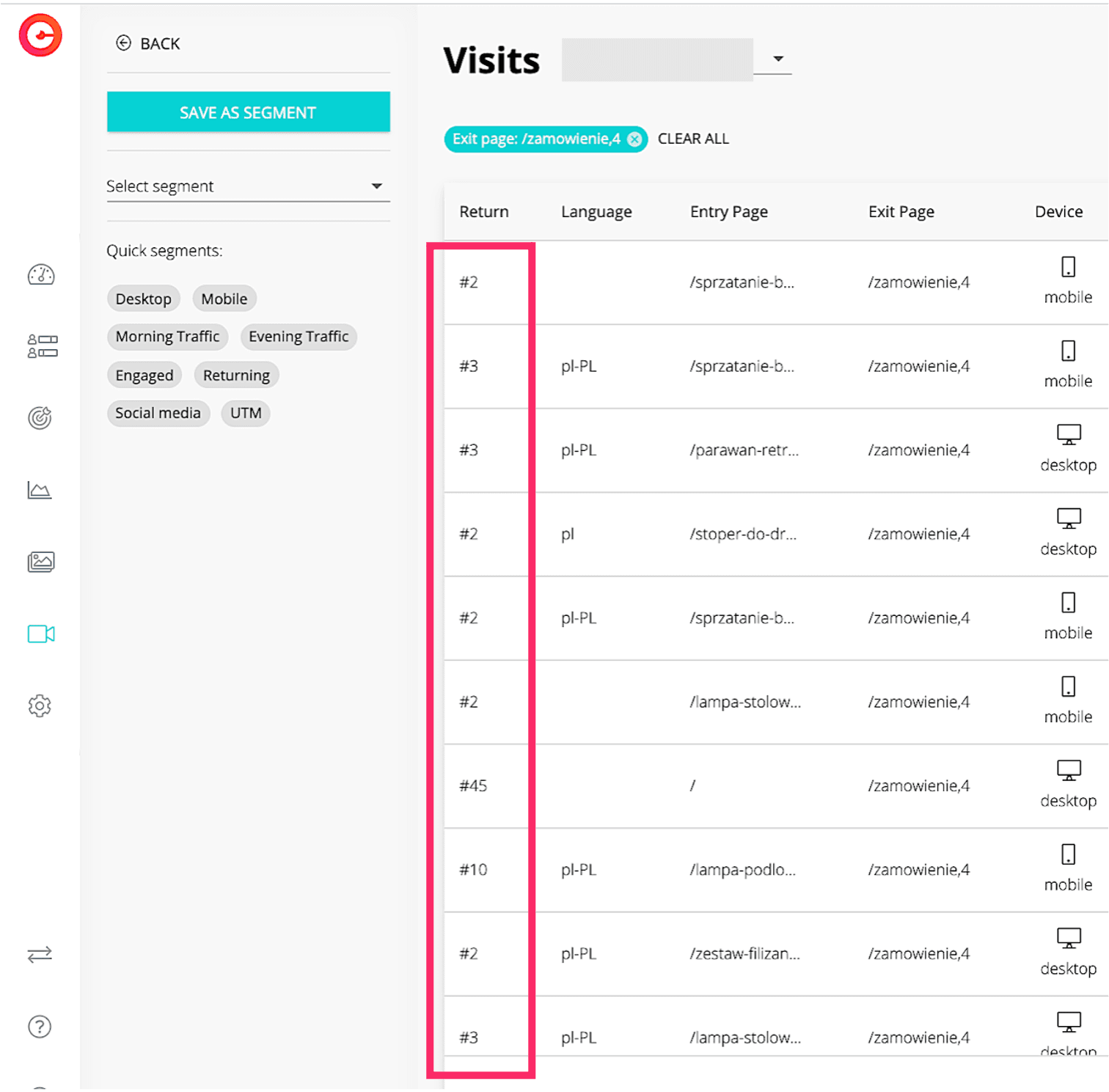 To check the average number of visits your customers make before purchasing, go to the Visits tab in CUX. In the filtering options, select only those recordings where the exit page is the order page with completed payment. Voilà!
The first column (Return) shows how many visits shoppers abandon before reaching this point. Now you just need to calculate the average for all users.
Check the exit pages
The exit page on your customers' journey is a piece of extremely valuable information in identifying shopping cart abandonment. If it is a checkout process (i.e., the payment process started), you can safely assume that the cart has been abandoned.
You can check the exit page in the same way you've checked the average number of visits. Go to Visits in cux.io, filter recordings by action (items added to the shopping cart), and see the last page visited by the user. If it's the cart itself – without the payment – you have nothing to worry about!
Customers often add products to the cart for comparison, to check whether they will get a discount, free shipping, etc. If the payment process started, you've found yourself in a pickle. The customer has just abandoned the cart.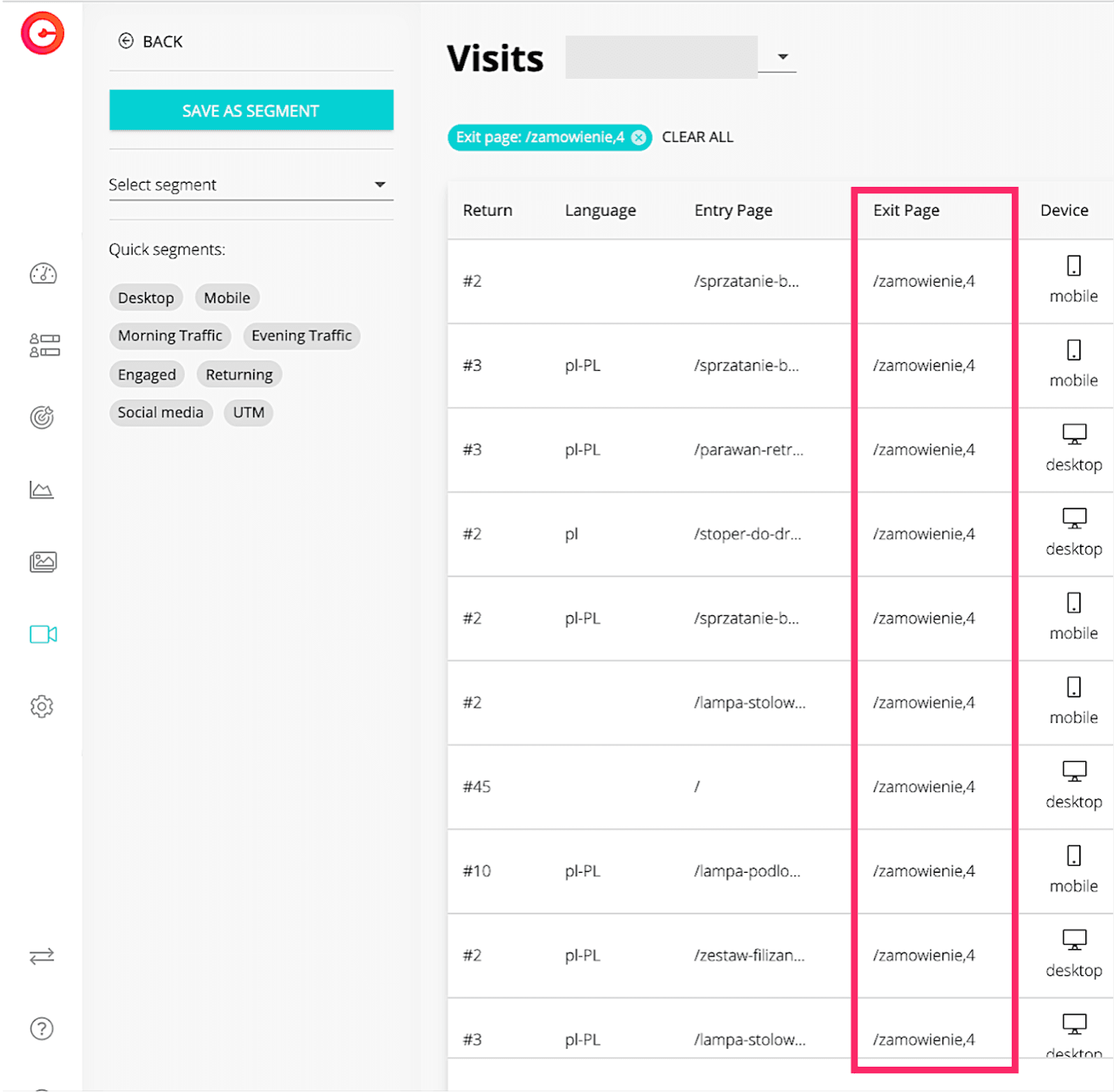 How to reduce the shopping cart abandonment rate?
To reduce shopping cart abandonment, in this case, would be to start a remarketing campaign. Consider offering discounts on products from the cart, remind customers about the nearing promo, or encourage them to come back to your site. This might improve their shopping experience and complete their purchase.
Track "Purchase Intention"
It's not that uncommon for e-commerces to confuse – analytically speaking – "purchase" with "purchase intention". A purchase means each visit that ended with payment and the display of a Thank-you Page. On the other hand, the purchase intention occurs when the user started the payment process but did not complete it. A phenomenon is misleadingly known as shopping cart abandonment.
Why misleadingly? Because not every visit that did NOT end with payment is a visit with an abandoned cart. Therefore, it is important for your business to make a clear distinction between converting visits, visits with high sales potential (purchase intention), and irrelevant visits (where carts are not being truly abandoned).

How do I view an abandoned cart?
CUX gives you (at least) two ways to track the intent to purchase and understand why your customers are abandoning their shopping carts. You can use both Goals and Conversion Waterfalls for this purpose.
Checking cart abandonment with Goals in CUX
To track abandoned carts in Goals, you can either create a pre-defined Goal "Purchase intention" or use Negation.
Track abandoned cart in Goals
Using Goals to track customers' behaviors on your site has many advantages. For one, you'll only focus on data relevant to your business – in this case, on the shopping cart abandonment rate. You'll also get access to Experience Metrics – meaning users' frustration – on all journeys leading to abandoning the cart. Use the conclusions from Goal's insights to build a very detailed Conversion Waterfall.
Use negation to track shopping cart abandonment
Negation in the case of Goal's events means that CUX will select for you all the visits that did NOT meet the given Goal. To view your abandoned carts, build a 2-step Goal. The first event would be adding products to a cart, the second a display of the Thank-you page with the "Reverse this step (Negation)" checkbox ticked. This way, you'll build a Goal with the purpose of filtering out visits with abandoned carts.
Checking cart abandonment with Conversion Waterfalls in CUX
Conversion Waterfalls differ from Goals in a simple way. The sequence of steps in Waterfalls is important. If you want to analyze the shopping cart abandonment issue, set up an appropriate Goal to see what the path to a finalized purchase looks like.
Map the most popular customer journeys – ending with a sale – in Conversion Waterfall. At each stage of the funnel, you will see smaller or bigger drops. With each such drop, you'll see a list of recordings. Watch it to view abandoned carts and understand why customers don't complete a purchase.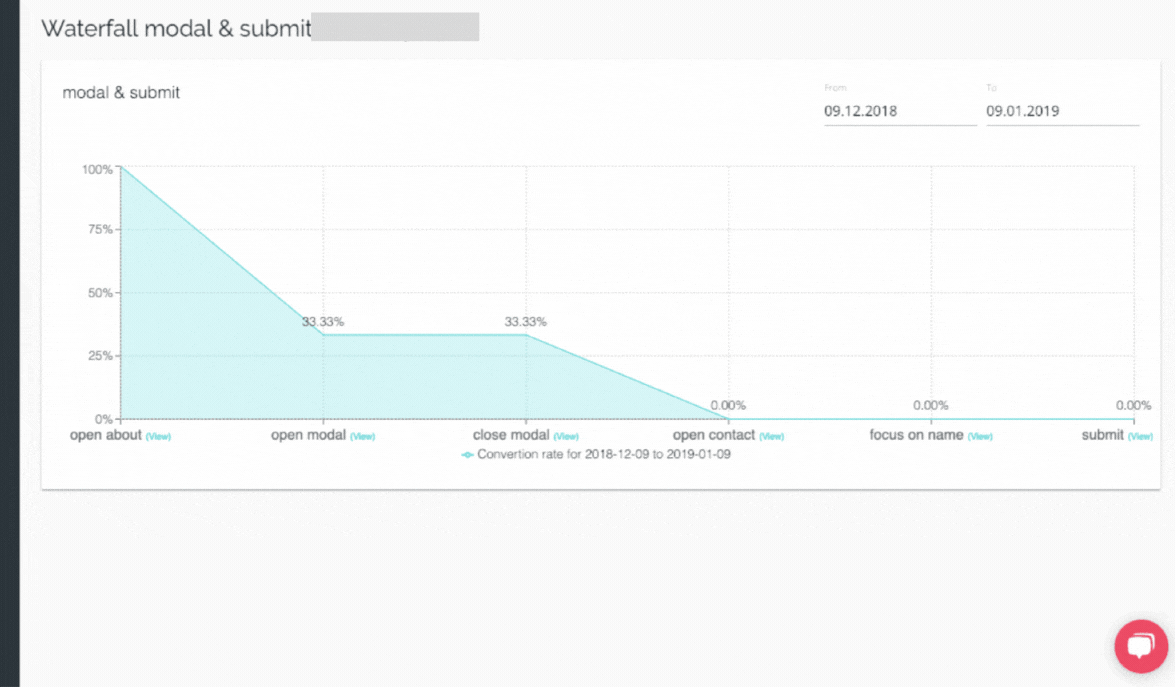 What are the reasons for abandoned carts?
There may be numerous reasons for cart abandonment. The most common causes of shopping cart abandonment may be (via Finances Online):
negative peer reviews,
slow-loading sites,
lack of good return policy,
sites that are not deemed secure,
required registration,
a small selection of payment methods or lack of popular payment options,
too long/complicated checkout process,
clients are simply not ready to make a purchase yet,
too high prices/hidden extra costs,
slow delivery time.
Why does a high shopping cart abandonment rate mean a great loss for your business?
For eCommerce, it's crucial to establish the reasons behind shopping cart abandonment. Especially if you're aware of the influence it may have on your business. The most significant one can be easily depicted by the Swrve study in 2021. They've established that the estimated value of goods abandoned by online shoppers exceeded $4 trillion.
Introducing user behavior analytics to your daily routine, can not only help you check the shopping cart abandonment rate, but also fix it. The more your eCommerce pages and marketing efforts will match up to your client's expectations, the better the conversion rates, and your business prosperity will grow.

Waterfall conversion – the new quality of measuring and calculating the conversion rate

Users don't consume content linear way. Users are chaotic and really often not rational.

Read more

How to support the customer journey on the client's website – The F1Brand case

Aside from promotional activities carried out for their clients, marketing agencies analyze hundreds of pieces of information every day to make sure their campaigns are working properly.

Read more

E-commerce conversion rate 2.0

In reality, our users do not use websites linearly. They open many tabs, they invent their own ways of using the solutions we propose.

Read more