How CUX helps in achieving set goals. Analysis of business goals [FREE GUIDE]
When we talk about goal achievement, the first thing that comes to our mind is a list of New Year's Resolutions. Who hasn't done it at least once, please raise your hand.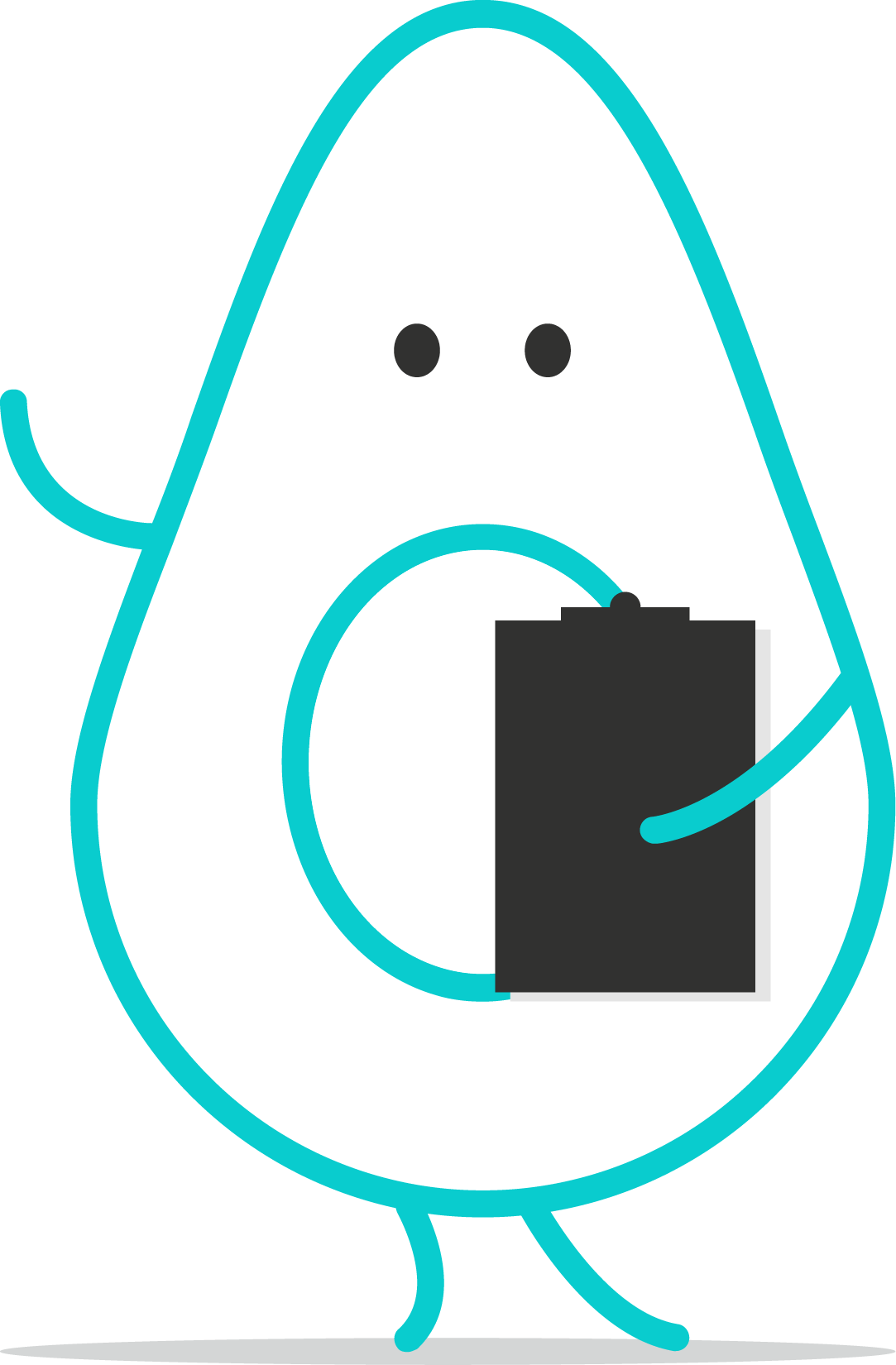 When we talk about goal achievement, the first thing that comes to our mind is a list of New Year's Resolutions. Who hasn't done it at least once, please raise your hand.
Such a list is a great way of motivation to set and reach your goals. But if we talk about business, success, and increasing revenue, it's not a good idea to rely only on a piece of paper and your goodwill. Not to mention waiting until the 1st of January.
A better, more efficient way to do this is by providing a goal-oriented analysis of your business. So roll up your sleeves, because in this article you will learn everything about goals and how they can bring your business to the top!
What are a business's goals and objectives, and does your business really require them?
The business goals are the success that the company wants to accomplish in a given period of time. They can take a variety of forms, from becoming a leader in your industry to increase revenue or improving business relations.
Whether you are a small business, an enterprise, or a one-person operation, setting business goals is the first step to a prosperous future. There are several ways to do it. You can work with SMART goals' method, CoNVO analysis, or OKRs. Each way may be great to establish your set of business goals and objectives.
Business goals are like a compass, they help drive businesses in the right direction. So there is no doubt that every organization needs them. Furthermore, business goals are the motivating force that drives employees to action, directs the daily work, and stands behind the company's success. It's an excellent way to check how the company is developing. Without business goals, your company is just a drifting ship with no purpose.
Tracking and measuring the progress – Goal Analysis
Access to data has never been easier. We keep track of everything and everyone that is connected through the Internet. We are eager to learn more about our users than ever. Not only that, but we want to know why users behave the way they do, why didn't they choose a path that was designed for them, what kind of feelings accompany them, etc.
But at the same time, we are truly overwhelmed and intimidated by the amount of data that we can gather. And already, have. So how not to go haywire? The answer is simple, focus only on data relevant to your business goal. Regardless if it's a purchase, form submission, file download, registration, go to check out, click, scroll…
To track and measure the progress, you will need a proper tool for Goal Analysis. You want to be 100% sure that you're indeed moving towards your goal. And that's when cux.io comes in handy. Unlike the competition, CUX doesn't stop at the presentation of quantitative and qualitative data, goes much further. Interpret the data in relation to business goals.
How CUX can help in analyzing and achieving company goals?
CUX is really serious about the "NO DATA SPAM" policy. That's why we're focusing only on the finest data-driven insights. The tool displays users' interactions with your website, online store, or single-page app. Finds users' pain points and places where people experience frustration and negative emotions. CUX immediately points out places that require your attention. Always in relation to your set-up goals!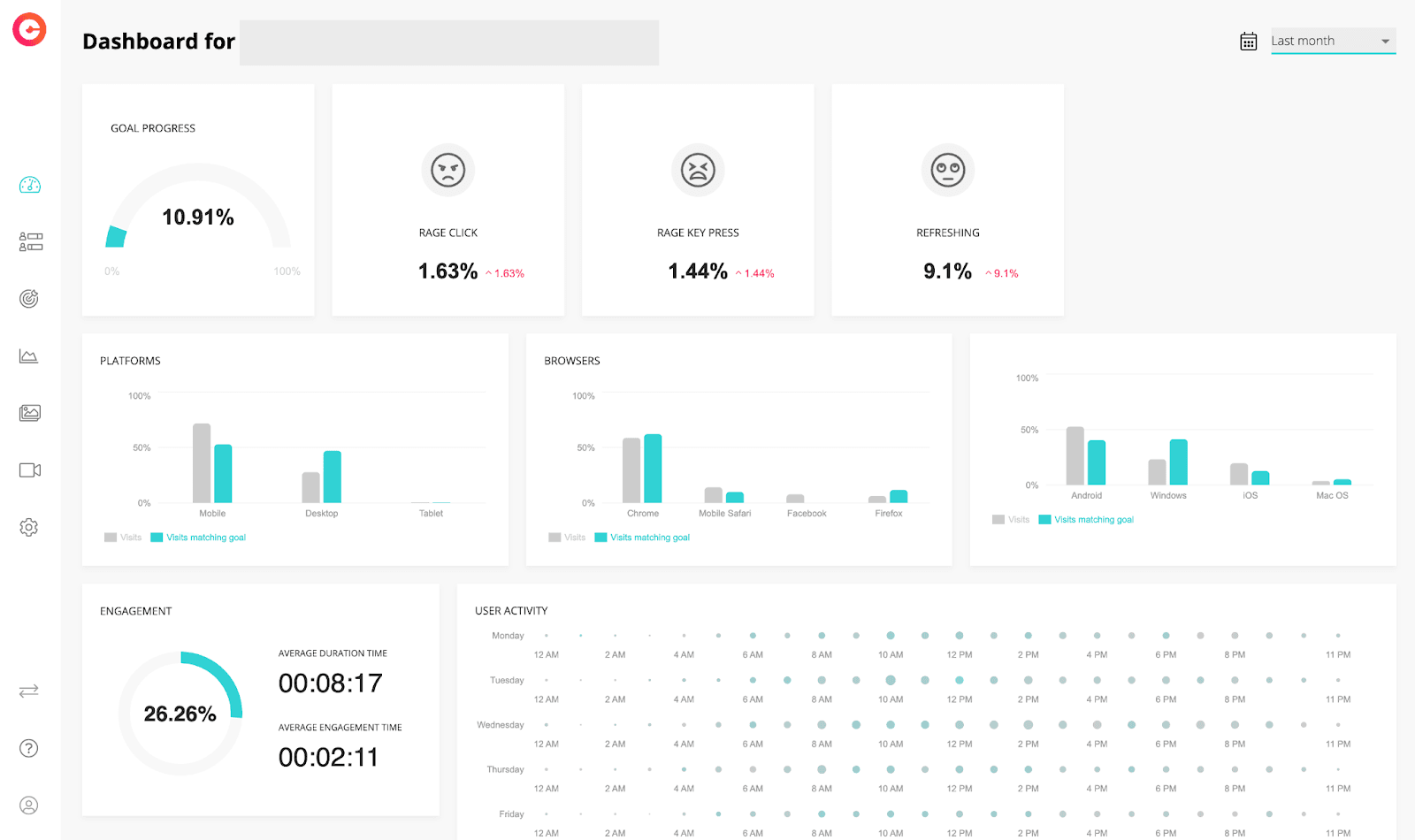 Analytics doesn't have to be tedious and lengthy. It really can be easy. And believe it or not, it can be even fun! With CUX you are looking for a quick-win solution that will bring you closer to achieving business goals.
Goal-Oriented Analysis in CUX
What is a Goal?
The definition is simple. As a goal itself, we describe the amount of the number of recordings that meet your stated goal, e.g., newsletter sign-ups to all visits' recordings. Based on Goals, CUX's scripts know exactly what is significant to your business. Set up Goals to make your business understandable to the tool, by translating it into code, and defining how it should interpret your data by focusing on the most significant insights in the goal context.
There can be different kinds o goals. You don't have to focus only on sales but also on intentions to sell, abandoned carts, traffic from social media, sending the contact forms, user registrations, subscriptions to newsletters, etc. Anything that matches your business objectives!
With a properly configured Goal, you'll be able to track clicks, scrolls, page loads, and activities connected to form filling or traffic from referrals.
How to set up a Goal in CUX?
CUX provides two options while setting goals. You can either create your own custom Goal or use a predefined example. There is an unlimited number of Goals for one project, and they do not have to be related to each other.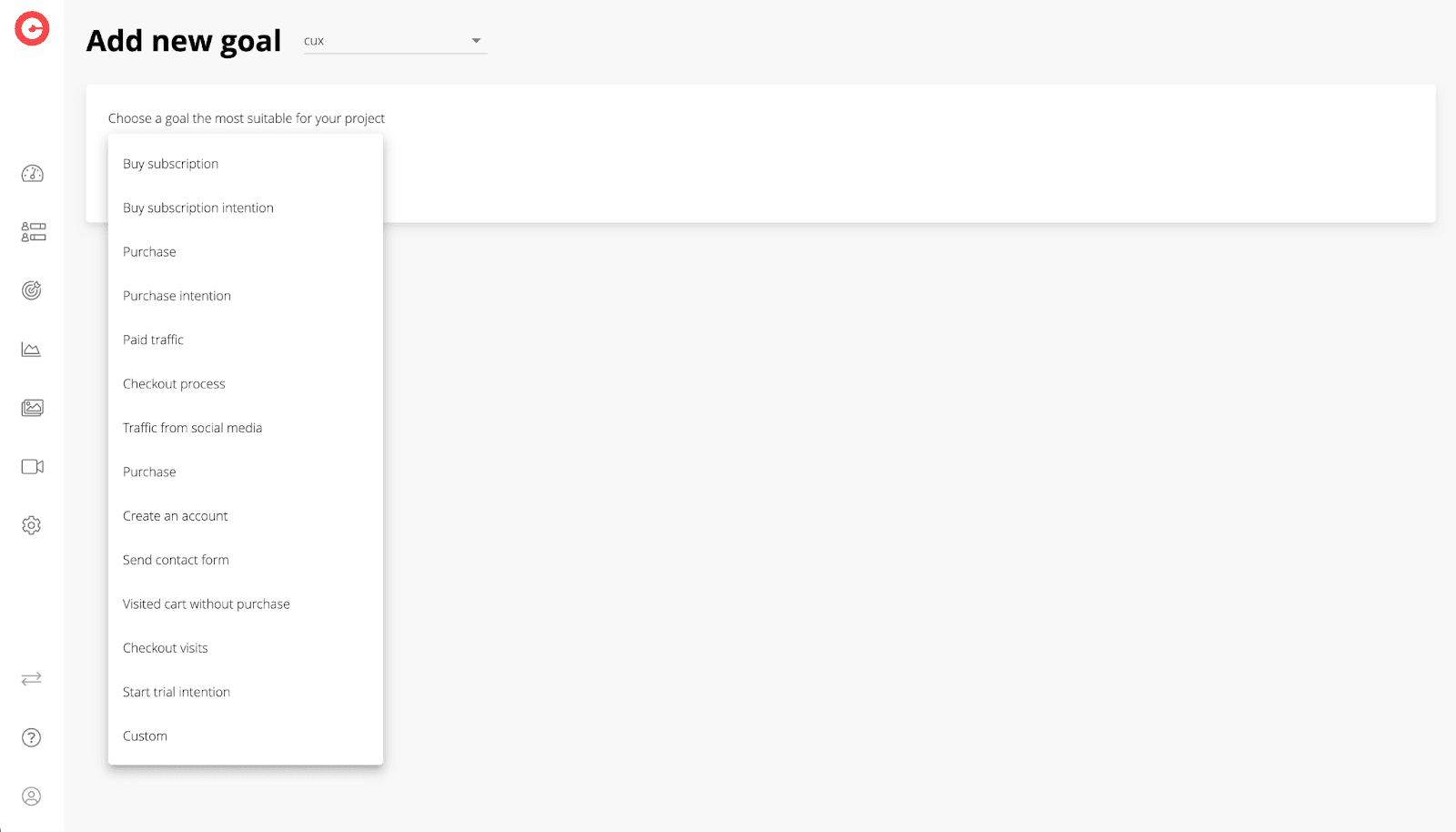 With predefined Goals, you'll get directions on how to create an analytical path to measuring your users' behaviors. Following the prompts, you will still have to name your goal, add its internal description (optional) and modify the steps so that they'll match your project – add XPath or referral page, set appropriate form fields, etc.
What is important is that CUX doesn't require developer assistance to add goals. CUX auto-captures events on the websites, so you do not need specialized knowledge or help from the IT department to set Goals. See how to set your own custom goal or watch a video tutorial.
Analyze the data
Goals can save even 5x time on analysis. CUX's script sieves out the data that isn't related to your Goals. This lets you focus on those users who have entered the process of achieving a given goal. On the dashboard, you can find detailed information about particular goal progress and places where users struggle.
In the "Goal" tab, you can track user experience, see their activity, and get information about the devices they're using. And if something doesn't work, you will be able to find causes by watching Visit Recordings or seeing Heatmaps.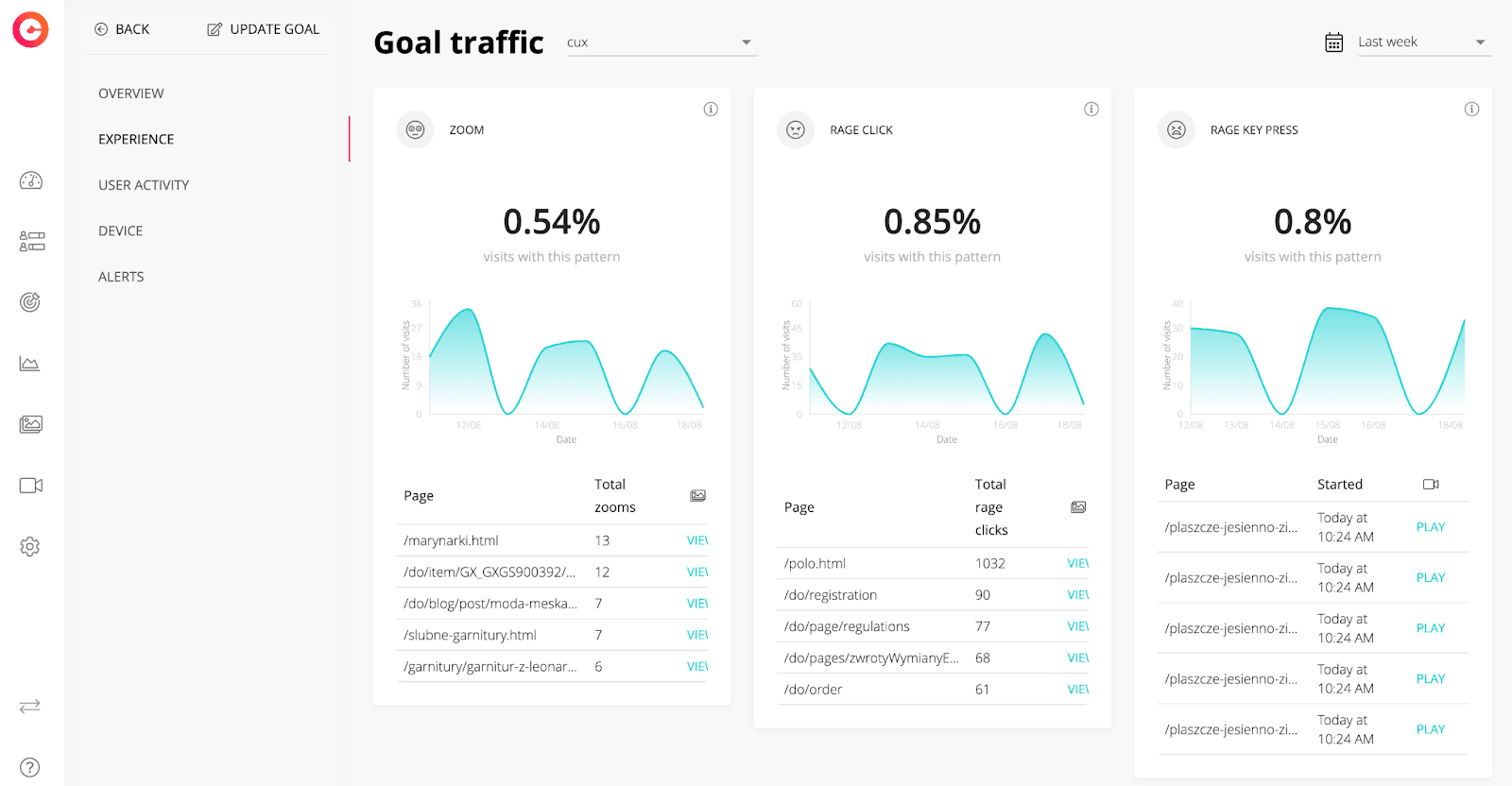 How to check Goal progress?
The goal progress chart is available from the dashboard, or it can be accessed from the Goals section. The chart shows to what extent the goal has been achieved in the last week.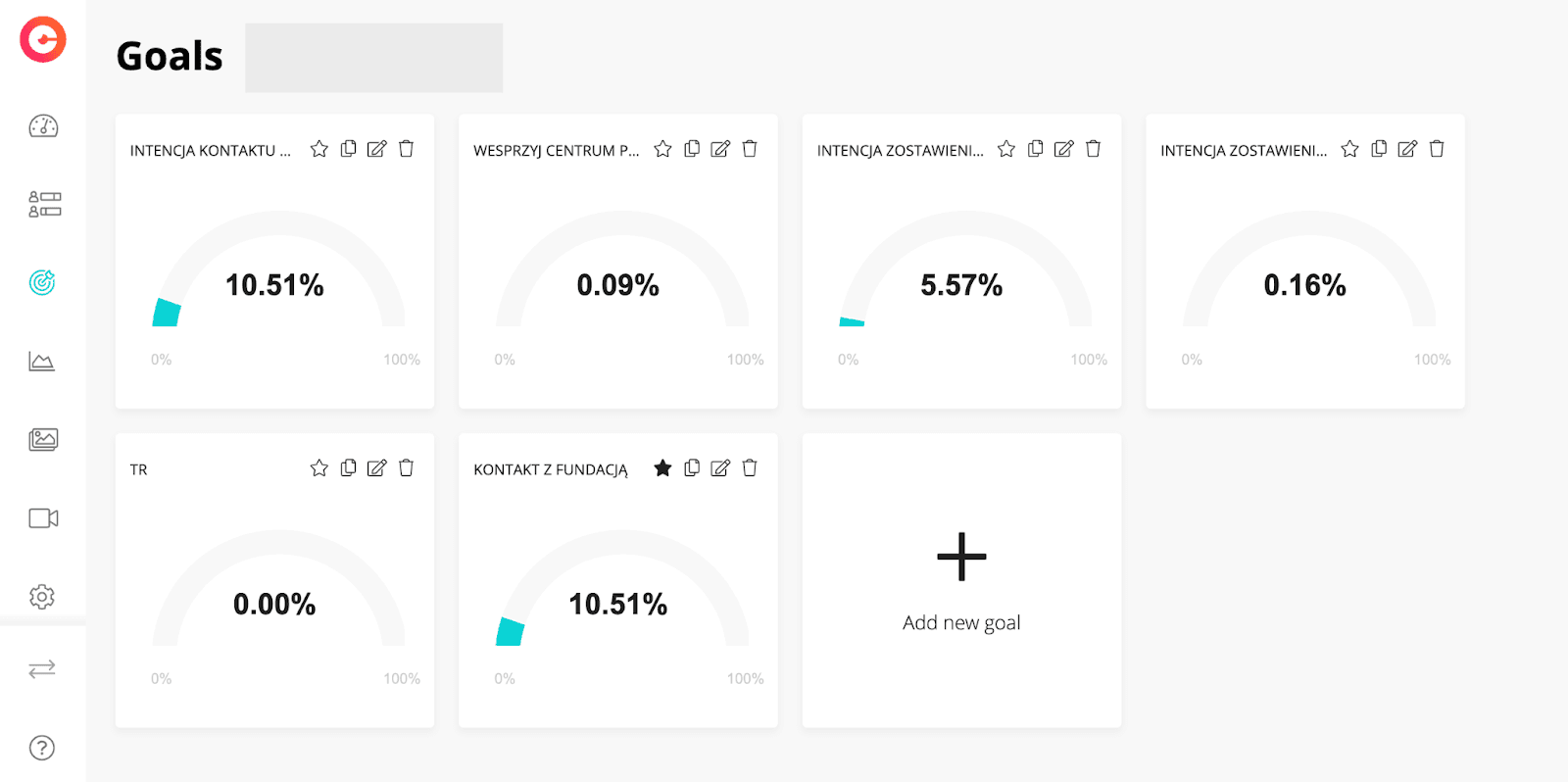 What is great about Goals is the fact that you don't have to check analytics updates every day and spent a lot of time analyzing them. You can create dedicated alerts, that will inform you whenever your goal reaches defined progress or sudden drops will appear – whether it is 1% or 100%. You will get an email notification every time.
How to set up alerts in CUX for Goal progress?
Log into your account.
Go to Goals, choose the specific target, and select the "Alerts" tab. Click "New Alert".

Fill in the necessary information like alert name, -mail address, and set up a preferred variable and its value.

From now on, you never have to worry again about the constant need of checking your analytics!
Why analysis of business goals is more beneficial than typical analytics? 
You are not still sure about analyzing goals and milestones? Those are a few benefits of goal analysis that might convince you to implement them into your daily analytics.
Goal analysis saves the company time on manual analytics (even up to 5x times).
Focus only on the key data that is relevant to your business or projects.
Pre-selects data for you.
Straightway to finding quick wins.
Catches users' problems and frustrations on the website.
Allows you to follow the progress of the goal from the dashboard.
Sends you an alert every time your goal rate changes by the amount you specify.

How not to spend a tremendous amount of time on analytics?
You are aware that it's not worth spending a tremendous amount of time and money on things that are not necessarily valuable for your business. A better idea is to consume this time in a different sort of way.
CUX makes user behavior analytics as simple and pleasant as possible, giving you quick-win implementation possibilities! It gives businesses opportunities to not only save time, but also increase revenue by finding user behavior patterns that might inhibit conversions.
You know the importance of goal analysis, so are you ready to implement it and increase revenue? The next step is easy, you just have to sign up for a free trial version or book a demo to find out what a game-changer goal-oriented analysis is!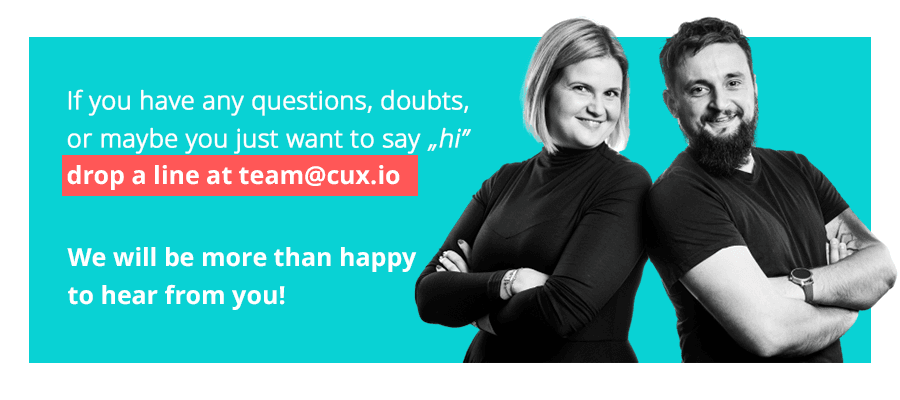 How to monitor a campaign with CUX? The T-Mobile case

T-Mobile - as one of the largest mobile operators in Poland and the world – cannot afford a lack of media presence.

Read more

Why does your analytics data need goals?

The Goal is the ratio of the number of recordings that meet your primary purpose (conversion) to all visits' recordings.

Read more

Mobile app user segmentation, or how to make your analytics effortless

You probably work with filters in your daily – or less frequent – analytics. You check the results of website traffic coming.

Read more