Data-Driven Business
21.01.2021
Why does your analytics data need goals?
The Goal is the ratio of the number of recordings that meet your primary purpose (conversion) to all visits' recordings.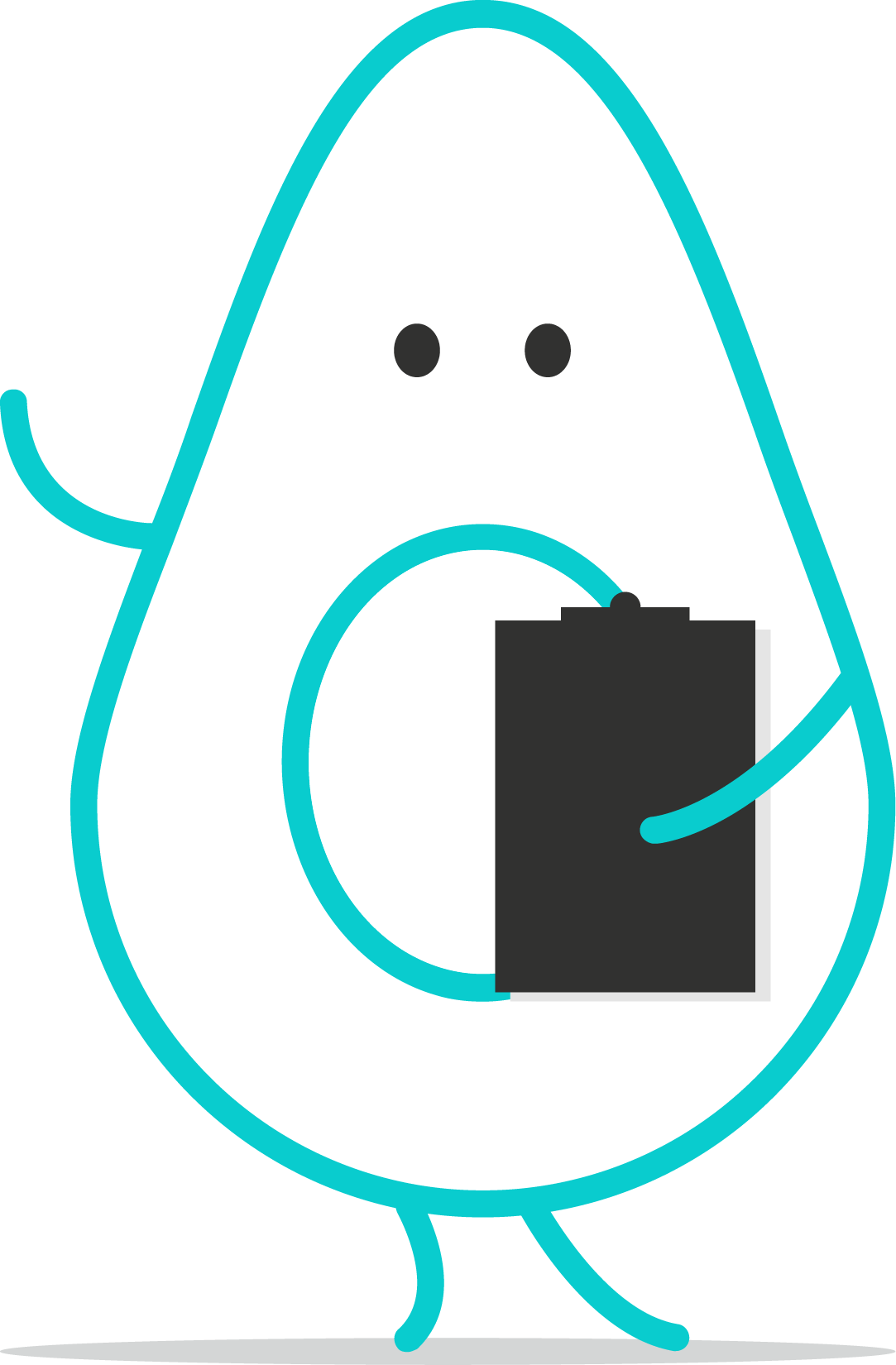 The Goal is the ratio of the number of recordings that meet your primary purpose (conversion) to all visits' recordings. In other – much simpler – words, analytics goals are here to tell CUX's scripts what is important to your project. They translate your business into code understandable to the tool and define how it is to interpret your data. And all you have to do is reap the benefits.
Imagine for a moment this scenario. Your consumers' buying intent is very high – you're already opening a bottle of your best champagne. Suddenly – looking closely at data – you're realizing that the conversion rate still falls way behind the other metrics. People are not converting! In such a situation you require a simple answer not to the questions "how much?" but "why!?". And the correct analytics goals setting in CUX can answer that question immediately.
What do goals in analytics do?
Goals let you measure only what matters for your business by focusing on the most important data insights. The types of analytics goals can be different – you do not have to focus only on sales, but also intentions to sell, abandoned carts, user registrations, subscriptions to newsletters, going through specific categories on the website, form fill-outs or specific paths to be overcome. Thanks to properly configured Goal you'll be able to track clicks, scrolls, page loads, activities related to form filling or traffic from referrals.
Setting up analytics goals can shorten time you've previously spend on analytics as it filters the data only relevant to your intended purpose. You can build custom goals with as many steps as you want or use one of cux's predefined goal settings.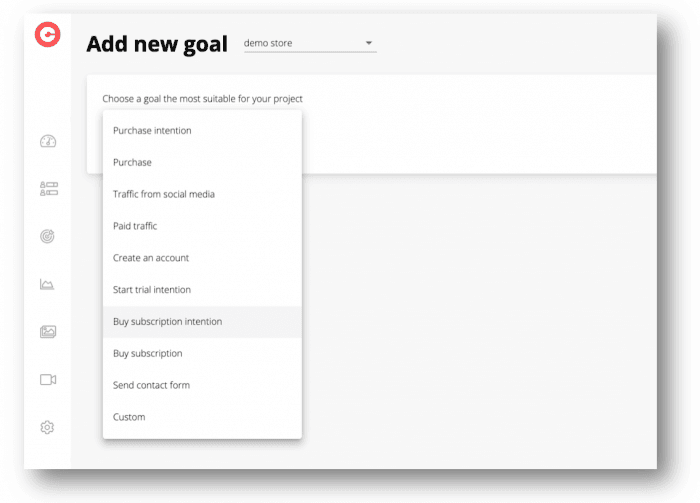 Predefined Goals in cux.io
Thanks to analytics goals, you will be able to focus on those metrics that affect your business, instead of looking for important information in the flood of data.
Imagine your business goal is for customers to fill out a contact form – it's the main place where your sales operate. There will be no important information for you – at least in the context of monetization – in how much time users spend reading your blog or scrolling through the privacy policy. Setting the goal to "Send contact form" will allow you to automatically filter out those visits that will show the achieved goal. Thanks to them, you'll be able to streamline the contact process, spot problems faced by your users or change the page layout so that they convert more and faster.
Building your own custom Goal
Each business is different, therefore each business can be after a completely different business goal. At CUX, you have the ability to create as many of your custom own goals as you wish, with an unlimited number of steps to be completed by your users.
CUX auto-captures events on the websites, so you do not need specialistic knowledge or help from developers to set goals – it's as easy as pie! See how to set your own custom goal.
To build your goals, you can use different events prepared by CUX, such as:
page loads
referrers
clicks
scrolls
activities around forms
You can also use "Reverse this step (Negation)" functions when building your own goal. Negation in the case of events means that CUX will select for you all the visits that did NOT meet the given Goal. For example, if you select an even "Click the "buy" button" and check the "Reverse this step (Negation)" box, you will only see the visits' recordings where users did not fulfil the Goal (did not click the button).

Reversing step in Goal settings in cux.io
The use of data analytics goals has many benefits
Saves your time on manual analytics.
Selects only the data that will be relevant to your business.
Pre-selects data for you.
Allows you to find quick wins faster.
Catches users' problems and frustrations in the most important places on the website.
Allows you to follow the progress of the goal from the dashboard.
Sends you alert every time your goal rate changes by the amount you specify.
Are you ready to enter the world of Goal settings?
Want to harvest the freshest analytical crops? Sign up for the cux.io nourishing newsletter! Be careful! We may grow on you! 🥑 😉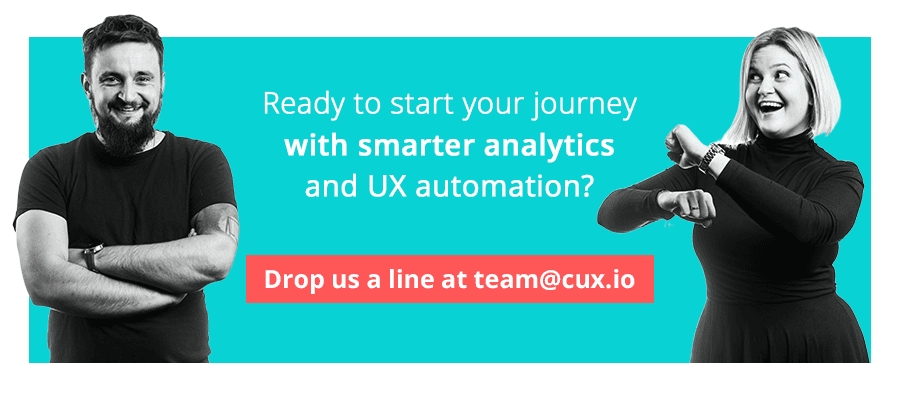 5 tips to make analytics easier for you

The importance of analytics in business is no novelty in 2020. Experts say that everyone should implement analytics in their business as soon as possible.

Read more

How to analyze qualitative data? That is the question

Making the right business decisions is not always easy and can at times be a real headache. In order to make sure you do the right thing each time.

Read more

Why grouped heatmaps are the only thing your Analytics is missing?

Seeing places on your website that are specifically disturbing for your user can in fact save you a lot – not only analytical trouble but also your high CRO.

Read more