Mobile app user segmentation, or how to make your analytics effortless
You probably work with filters in your daily – or less frequent – analytics. You check the results of website traffic coming.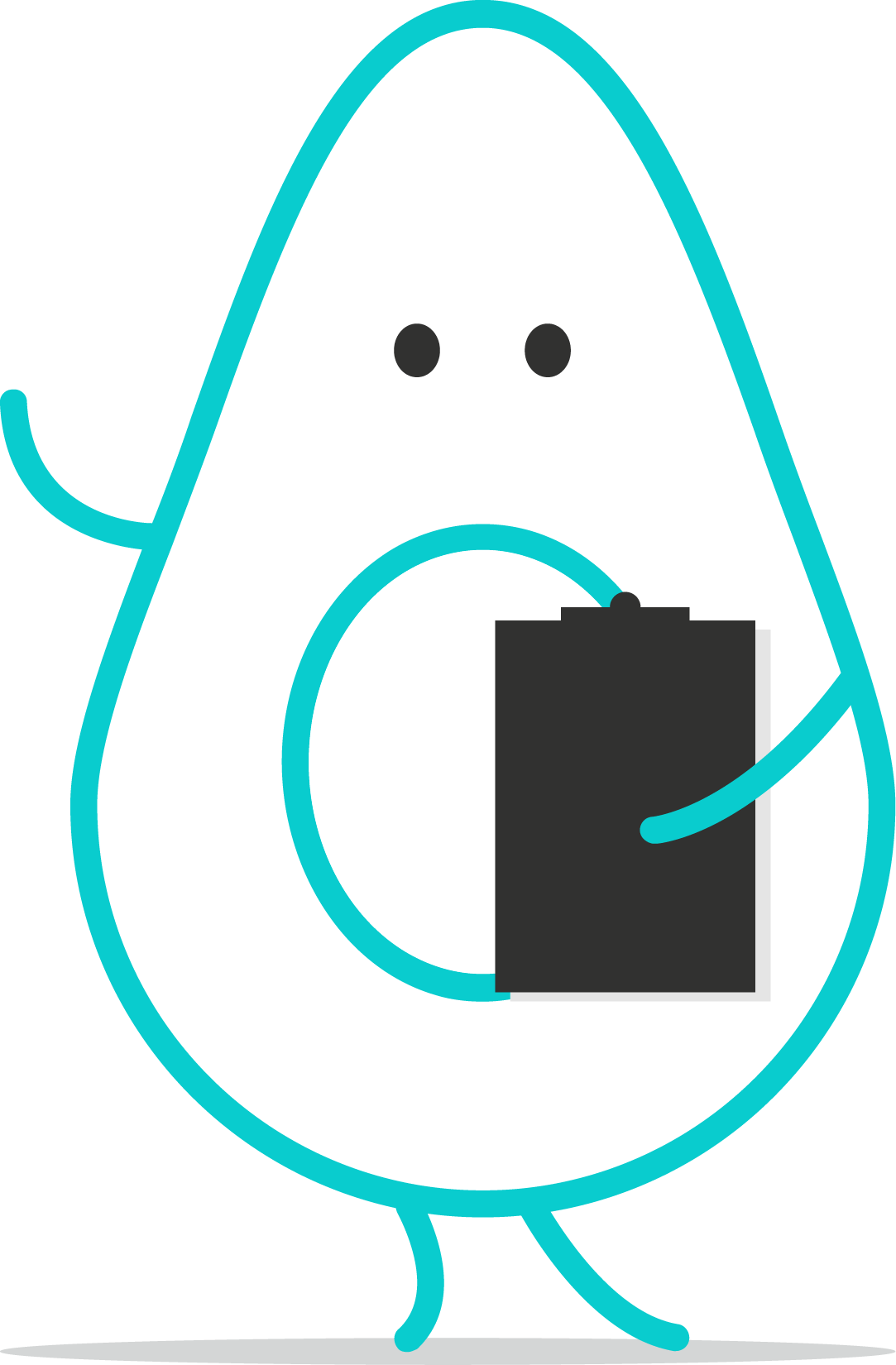 You probably work with filters in your daily – or less frequent – analytics. You check the results of website traffic coming from Uruguay, conversion on iOS phones or form filling via consoles. The world of filtered data can be fascinating, but the world of user segmentation can be much more enjoyable.
Why do you need data filtering?
Before getting into user segmentation and segments itself, lets talk about data filtering. Data filtering allows you to expand the analytical context and quickly catch errors or problematic places on your website. Suppose your goal is to increase sales on mobile devices. In the analytical tool, you can see that: well yes, mobile traffic is hugely growing, but the sales itself seems to still be a desktop thing. Why is that? After filtering visits from phones, from various operating systems and reviewing the recordings, you will see that iOS users cannot load the cart page, and Androids are unable to fill the shipping form. Time to roll up your sleeves and fix these shortcomings. Easy-peasy, isn't it?
In CUX, you can create custom filters at the recordings page. There are tons of possibilities – you can choose between entry and exit pages, duration, engagement on specific days and times, number of previous visits, user languages ​​and devices, and many other variables. And the best thing is – after selecting a specific filter configuration, you can save it in a Segment.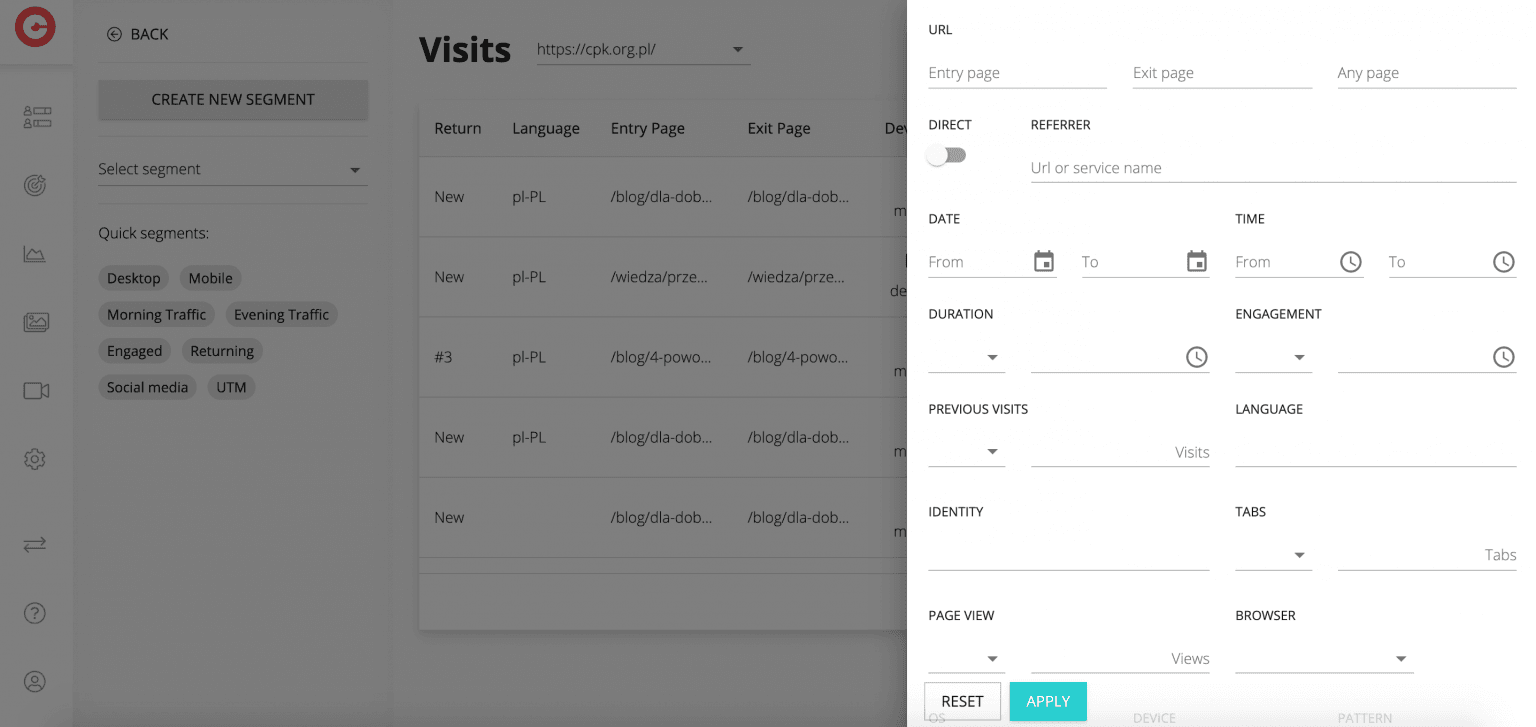 To create a filter, go to "Visits" page and click "Open filters"
User segmentation – hot or very hot?
The point of segments is that when you already choose the filters that you need (e.g. users from Poland operating Android mobile phones), you can save this filter setting as a segment. Each segment has its own unique combination of filters and a name that will make it easier for you to find it. The great advantage of this solution is the fact that you can immediately reload the segment by entering the filter bar and clicking on the segment name – filtered data will apply at once.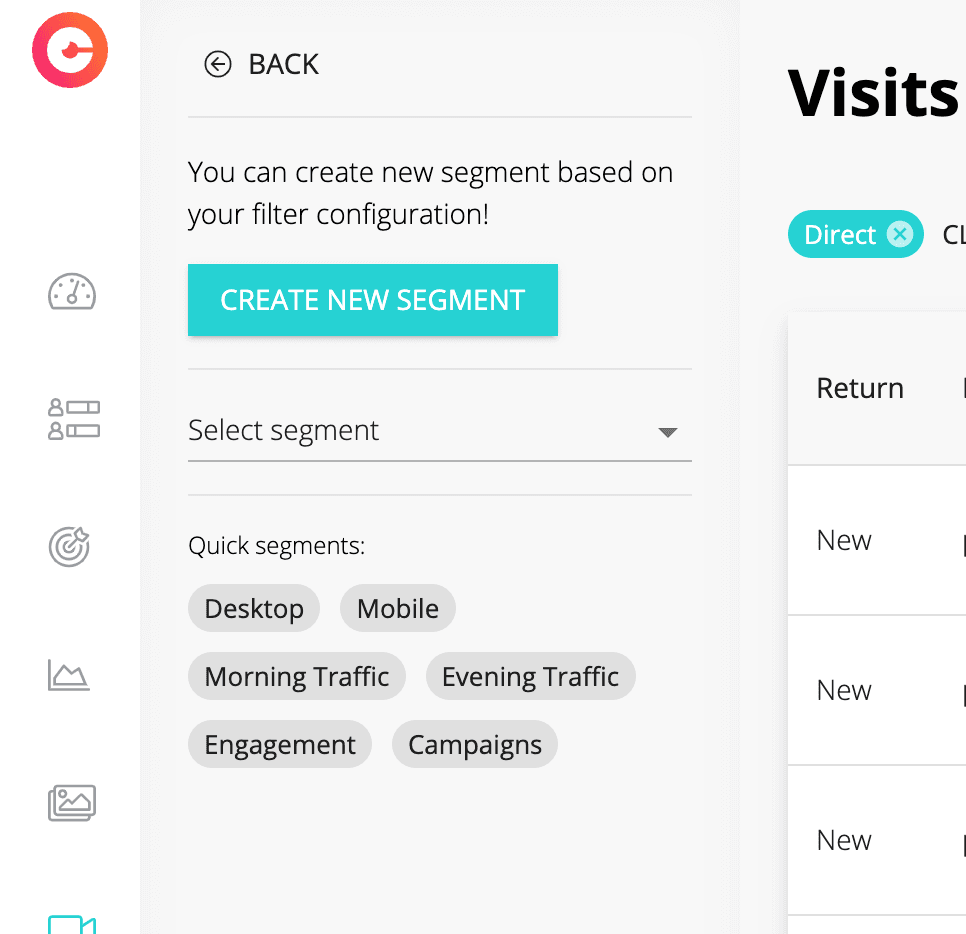 Create a new segment in CUX
However, that's not the only reason why you should incorporate user segmentation into your analytical routine. In addition to quick loading of filters on the visit list, each segment will also appear on your main dashboard as a widget with the number of visits that meet the filter configuration you have set (segments). By clicking on such a widget, you will be immediately transferred to the list of visits with the segment already applied – what a great way of saving time and nerves (I know that manually setting filters used to piss you off – after all, I'm researching user frustration)!

Creating a new segment in CUX
Quick segments
If playing with filters is not your level yet – do not worry! You can easily use one (or all) of the predefined segments created by our IT magicians. There are 5 ready-made segments of your data in cux:
Desktop – the tool will filter the visits of only those users who visited your website on a computer,
Mobile – check only those recordings of visits from mobile phones,
Morining traffic – see only those visits that took place between 6:00 and 10:00,
Evening traffic – see only those visits that took place between 18:00 and 22:00,
Engagement – we will only show you recordings of visits that were more than 3 and lasted more than 30 seconds.
To use ready-made segments, just select the filtering option on the Visits page, under the "Create new segment" button.
What else? Alerts, my dear!
As I believe you know, we've been working on introducing smart alerting to CUX's daily analytics for some time – the feature that will allow you to forget for a while about data, results or spikes and drops in conversion. And that's exactly what the segments feature is equipped with now as well!
You can now turn on an alert for each segment. It is a notification that you will receive by e-mail each time the number of visits from a given segment increases or decreases drastically – by the amount you've set yourself.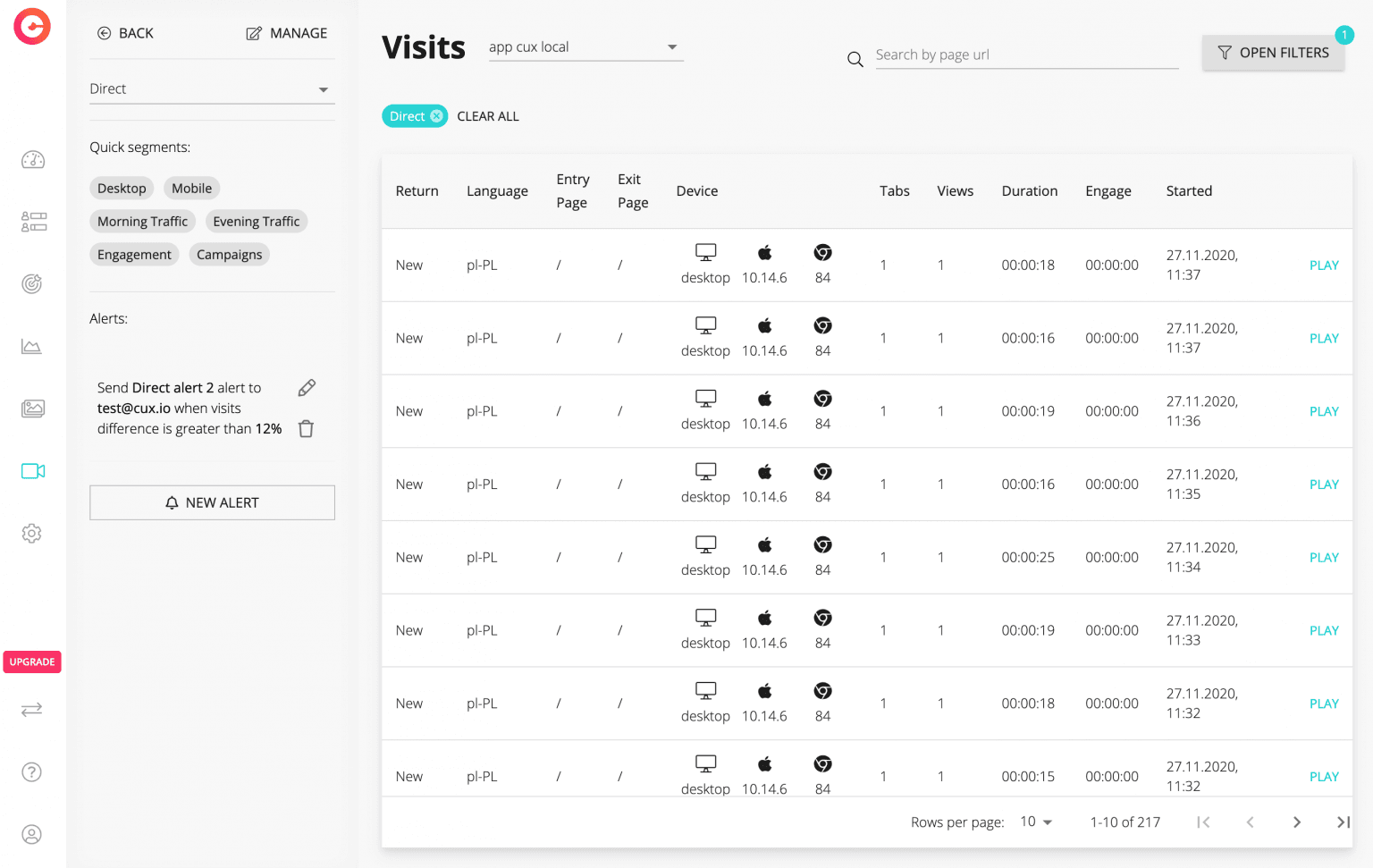 You can get alerted every time users from your segment reach a certain Goal
To set up an alert you'll need to type its name (e.g., traffic from Polish users on iOS), e-mail address to which you want to receive notifications and the value that the segments are to reach when the notification is sent. You can choose from two options "greater than" and "lesser than" and the percentage of decrease / increase.
At the moment, alerts are available only to users with early access. Would you like to implement alerts to your project? Ask us about the possibility!
Working with data segments does not only save time spent on manual, unassisted filtering of results. It's also a way of introducing a faster and more precise approach to finding bottlenecks and places causing users' frustration on your site or product. Try them out now and see how they can boost your business analytics overnight.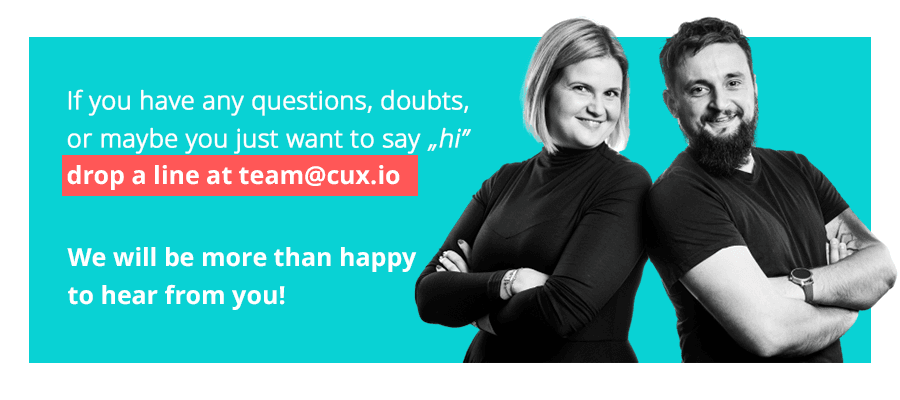 Want to harvest the freshest analytical crops? Sign up for the cux.io nourishing newsletter! Be careful! We may grow on you! 🥑 😉
Why to improve conversion with CUX over HotJar or other alternatives?

I cannot count the times I answered this question over the last 2 years. That's totally understandable.

Read more

Waterfall conversion – the new quality of measuring and calculating the conversion rate

Users don't consume content linear way. Users are chaotic and really often not rational.

Read more

Why does your analytics data need goals?

The Goal is the ratio of the number of recordings that meet your primary purpose (conversion) to all visits' recordings.

Read more