Why to improve conversion with CUX over HotJar or other alternatives?
I cannot count the times I answered this question over the last 2 years. That's totally understandable.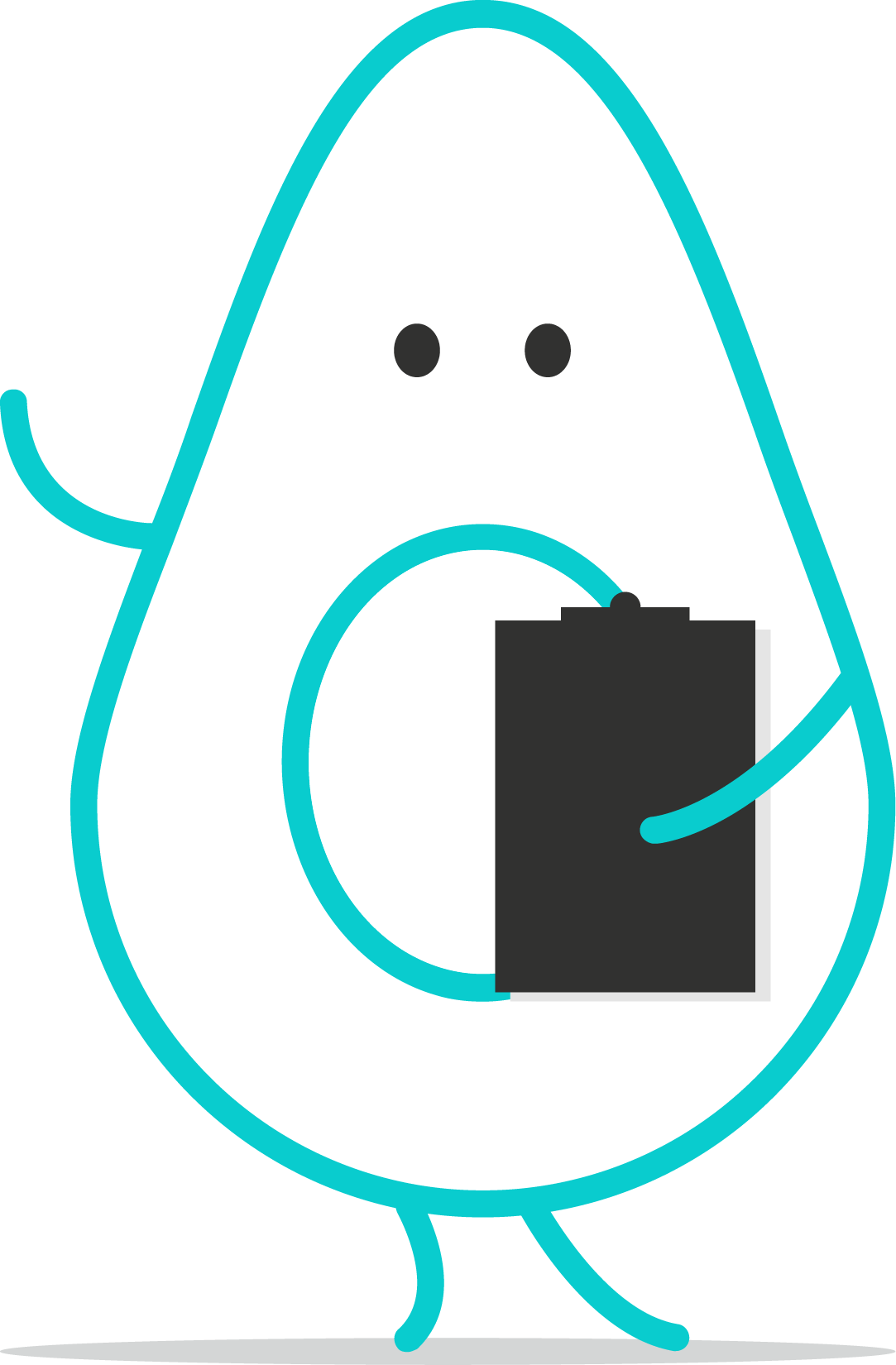 I cannot count the times I answered this question over the last 2 years. That's totally understandable – there are more and more tools for analytics and observing users so it's easy to get confused by all the features and metrics. Which of them do you need and what will be the results?
It's time to explain once and for all why CUX will change the way you get to know your users and their behavior.
Of course, it mostly depends on how you use this type of tools, what is the key feature for you, and what kind of product/project you analyze. But I would say that for all of us the main goal is to optimize the conversion rate. Am I right?
Get to know your users behavior
When it comes to knowing online user behavior, context is what matters the most. We put a lot effort into showing you the broadest possible contexts. Even though you cannot be at home with the users, you can still learn as much about their interactions with your product as it is technically possible.
Why advanced methodology no longer equals overwhelming user interface?
I know it's not sexy at all, but it's also time to start saying out loud that methodology determines how well you know your customers. Advanced methodology no longer equals overwhelming user interface. CUX is a simple solution, so you can go as deep as you need and explore more and more tool capabilities. There's no need to configure heatmaps for e-commerce or recordings, CUX does it for you all the time, and you can filter what exactly you want to analyze at the moment.
CUX features in comparison to Hotjar or other alternatives
Let's have a quick look at the features and see what CUX give you in comparison to similar tools:
1. Conversion waterfall to take next best action
Our game changer, dynamite and a reason we can be so proud of our product team. Till now you've probably used URL funnels to check what's the conversion rate on your website, or you've worked with analytics and developers at your company to go through the whole application and paste integration code for each of events you wanted to measure. It's no longer just a simple funnel. CUX Auto Capture functionality automatically recognizes almost all website events so you can build as big waterfall as your project requires.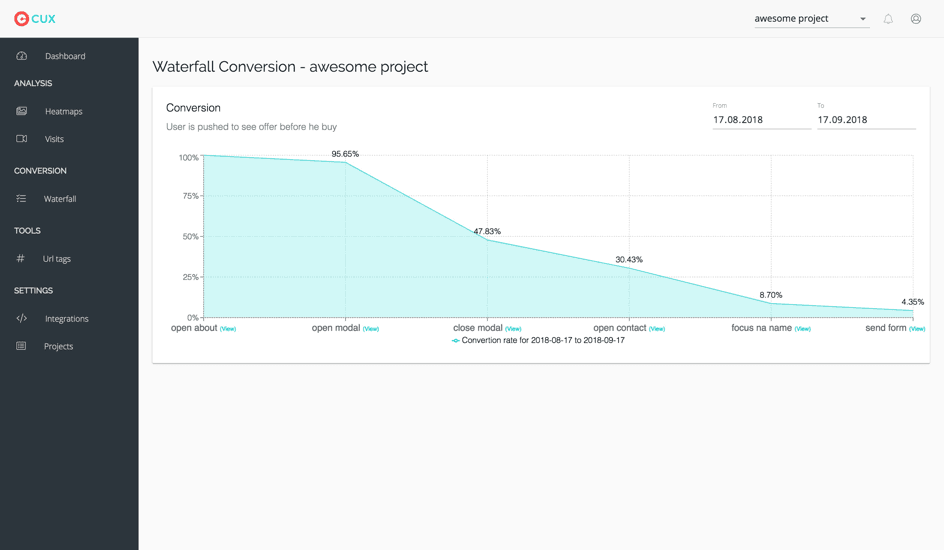 Sounds nice? So imagine that it's not everything! After your waterfall is done and you'll exactly see how looks the numbers for each step and the conversion rate per se. You'll also get a filtered list of recordings showing you the exact reasons why people drop out of there. Your role here – just getting insights and making the decision. Easy as pie.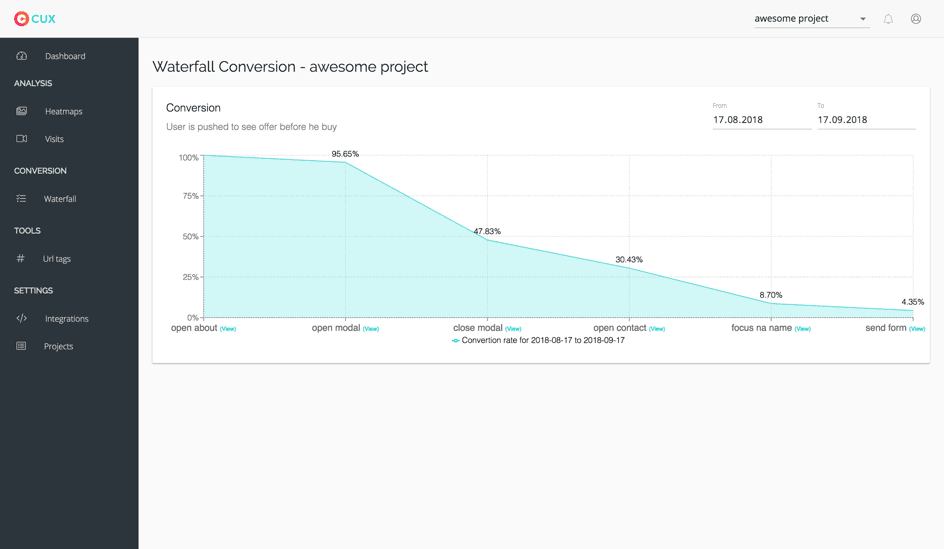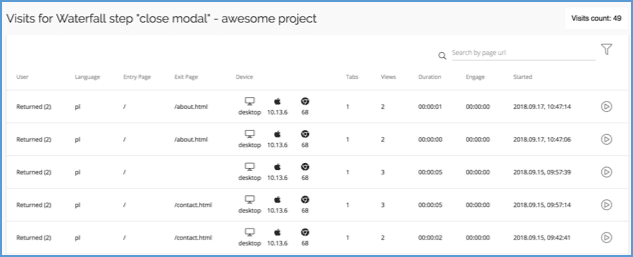 2. Heatmaps dedicated to e-commerce (not only 😉)
It's hard to imagine better heatmaps for e-commerce than CUX gives you. Besides regular heatmaps, cux.io allows you to:
a. see pixel perfect images for the most popular resolutions (based on your users' data) and design an ideal website/app for them: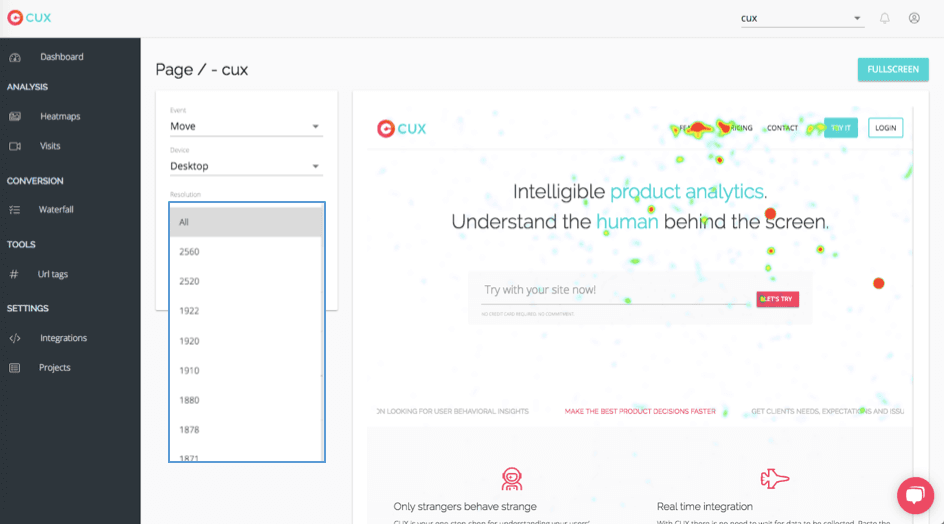 b. check all devices users possibly use and while designing focus on the most important for your business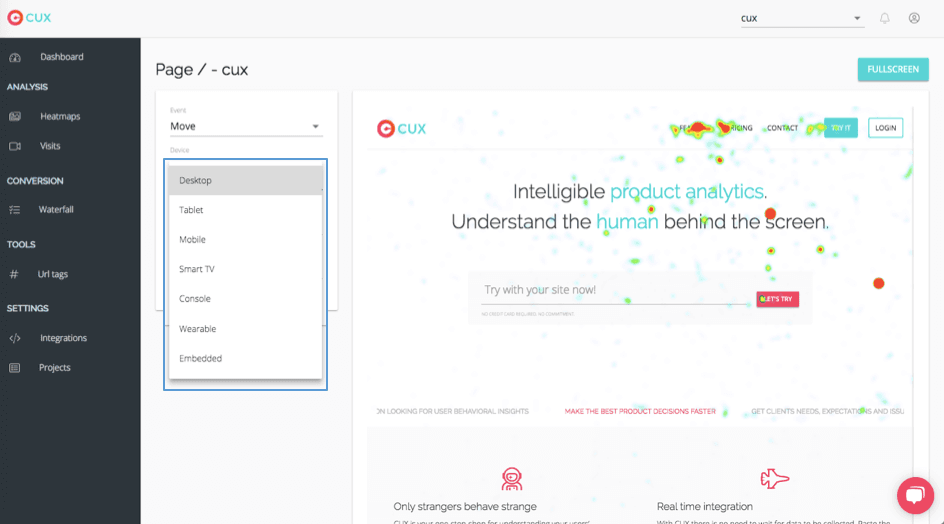 c. aggregate results of identically designed pages or categories of products to get one heatmap, which will give you the knowledge how to redesign UI and what are the exact results for all users.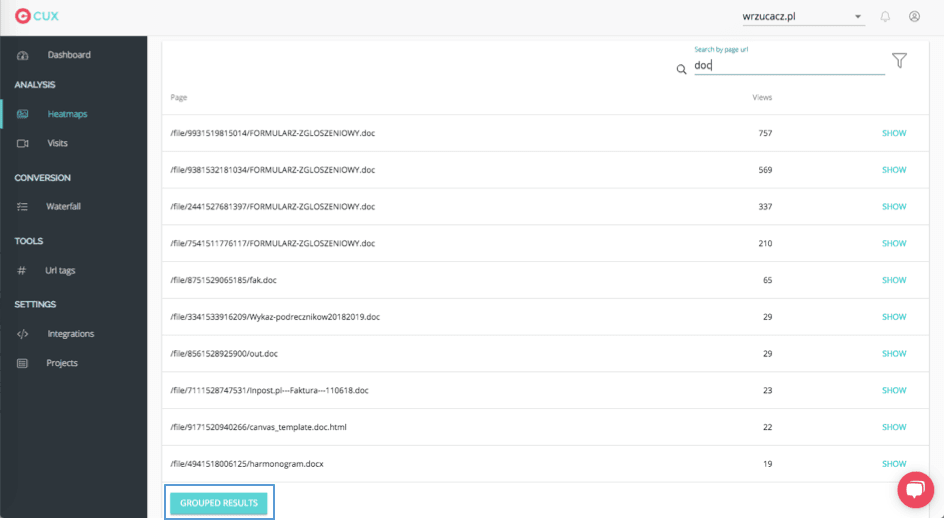 3. Visits recordings, because online we might go crazy
Let's face it – we don't use internet in a linear way. We mostly don't use websites the way they were designed (not ideal resolution, not designed user journey etc.). Users are chaotic, there are several studies showing that especially Millennials are used to open gazillion tabs and are unpredictable. We take it for granted, that's why in CUX, as one and only on the market, you'll see the whole user visits from the very beginning, through all tabs opened till the very end.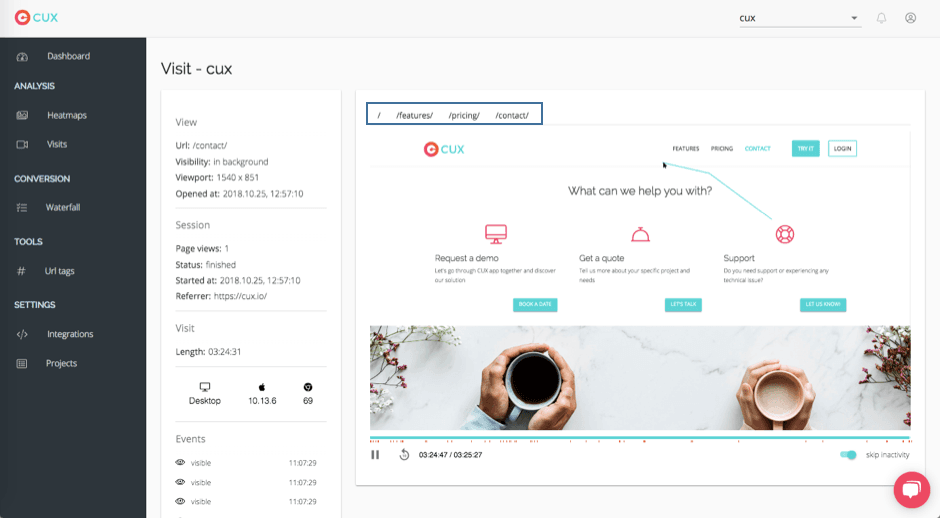 Moreover, CUX gives you advanced filters and support for any devices allowing to browse through the Internet.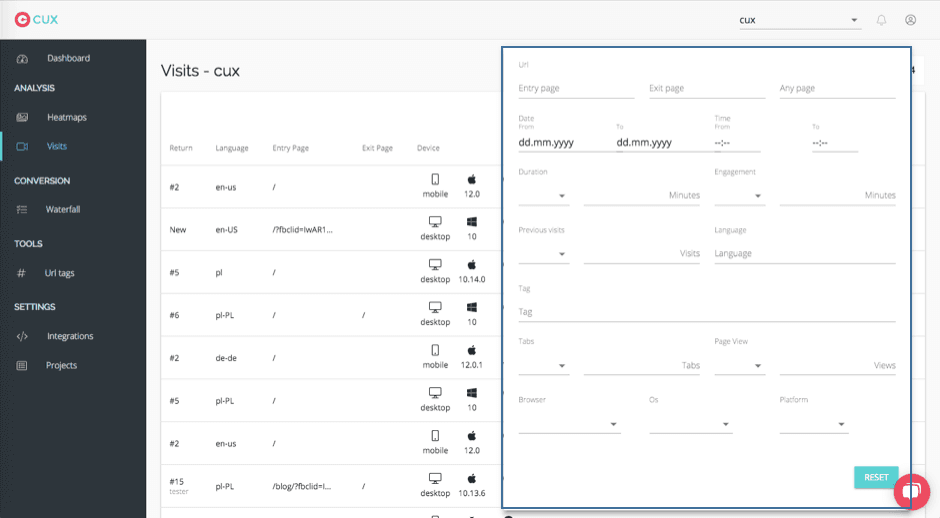 4. URL tagging – for remote user tests and campaign tracking
As I mentioned before, CUX gives you real-time preview. Thanks to that and URL tagging feature, you're able to conduct remote user tests and get all recording after the interview. One thing you have to do is to send a tagged link to the tested user. As soon as he opens it, you'll see this tagged visit on the list and you're free to go through the scenario. No start recording buttons or external tools needed.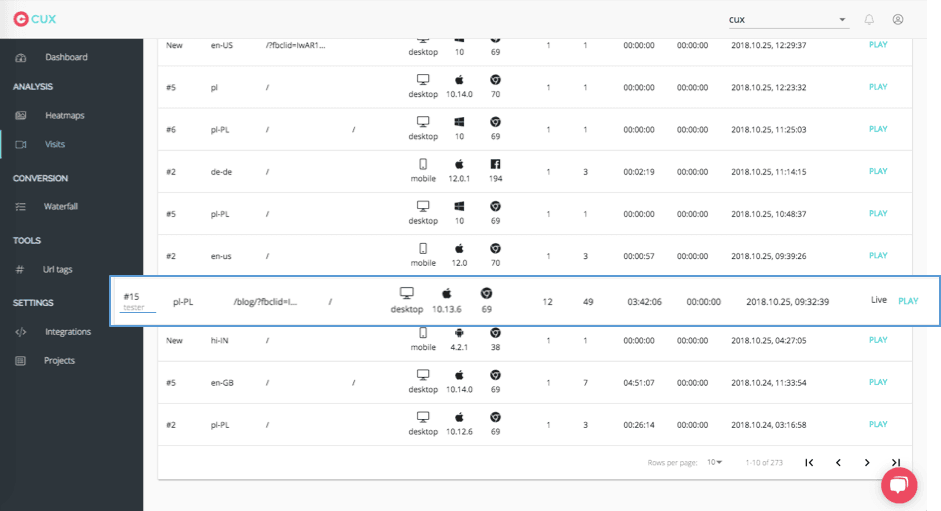 This feature can be also helpful to tag any links you'll ever send in emails/campaigns etc. You'll be finally able to not only see how many users opened the link or converted thanks to some campaign, but also what is their user journey after and how the different segments of users interact with your content, depending on the link they've clicked.
5. Transparency
CUX doesn't have any magic algorithms, because we don't think we can decide which user visits are more important for you. CUX shows you up to 100% of visits, obviously excluding bots. We know, how our customers care about data privacy, so it's important to say that CUX has data center in Europe. We are building our own infrastructure based on bare metals leased from OVH so we know exactly where your data is physically located.
IS CUX a better to improve conversion over Hotjar or other alternatives?
CUX also gives you unique metrics, like user engagement time, shows you information if you analyse data about new or returning user (and which time on the website it is for him) you can even filter all his visits and much more details which you can experience while using.
We already test alerts for atypical user behavior like zooming on mobile devices or rage clicks. Our roadmap leads us to develop predictive analytics features, so your data-driven decisions will be even easier to make. Learn more about Hotjar alterantive.
Believe me, it's a big challenge to develop a simple and advanced tool at the same time, so let's try how it works! You can be sure, the era of #yolomarketing comes to the end, now is #datadrivenmarketing time!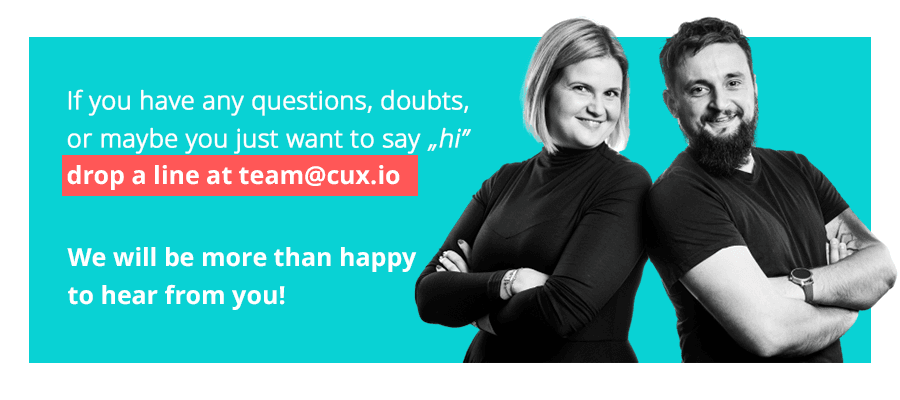 And if you would like to receive newest information about our product, sign up for the CUX newsletter.
How to analyze qualitative data? That is the question

Making the right business decisions is not always easy and can at times be a real headache. In order to make sure you do the right thing each time.

Read more

The competition doesn't have to be worse, it's just different

There is a whole range of analytical tools. From those that offer the simplest solutions, providing basic data, to those that are incredibly advanced

Read more

Tools in the times of plague. How to analyze the behavior of users behind the screen?

If you own an online business and care about its fast growth, you know that using some kind of analytics tools is a must-have nowadays.

Read more