How to increase conversions with the optimisation of company blog
The vast majority of companies with a digital presence have a blog on their website. Unfortunately, only a handful of them make active use of it or run it in an optimal way.
And it's a great shame, because of the huge opportunities to increase conversions that lie within a well-established blog.
Why you should focus on your blog to increase conversion rates
Before we get down to how you can drive conversions with your blog, let's take a look at some hard facts about the benefits of blogging (and what you are missing out on if you are not in the game):
53% of marketers say blogging is their top content marketing priority.
B2B marketers who have blogs get 67% more leads than those who don't.
57% of marketers say they were able to drive conversions specifically through blogging.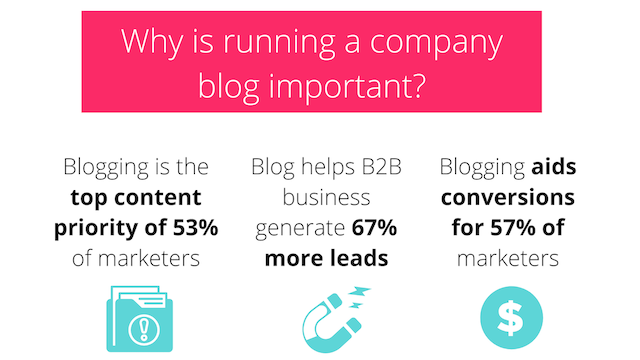 Having a well-optimized blog is a low-hanging fruit you cannot miss out on, unless your goal is to drive your competitors' businesses up to the stars and your own into the ground.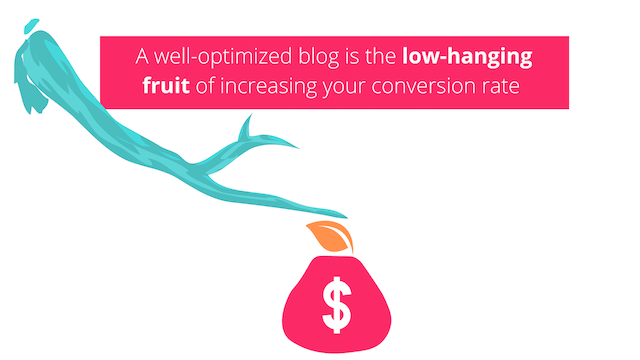 Focus on creating truly valuable content
Newsflash! It's not enough to set up a landing page for your blog, upload a couple of blog posts and then sit back and hope visitors and revenue start pouring in like autumn rain.
If you don't upload new, relevant, and valuable blog content consistently, you won't see any tangible results coming from your blog.
People read blog posts in search of answers. If they come to your blog, it means that they believe you may be the one to help them, so you definitely don't want to disappoint them.
Therefore, it's important that your blog posts are well thought out – with the aim to engage and educate the visitor, as well as create conversions for your business.
The whole idea of writing well-crafted, educational, and strong blog posts is that the visitor (and therefore potential customer) finds your content so good that they end up buying from you.
The goal is to provide your visitors with all the information they need to keep them on your website. If you can successfully match the content you create to your target group and their interest or questions, you:
Prevent them from seeking information from your competitors.
Increase the perceived trust between you and the visitors – you are establishing yourself as an expert they could turn to for knowledge.
Drastically increase the chances of the now well-informed and highly engaged visitors actually converting.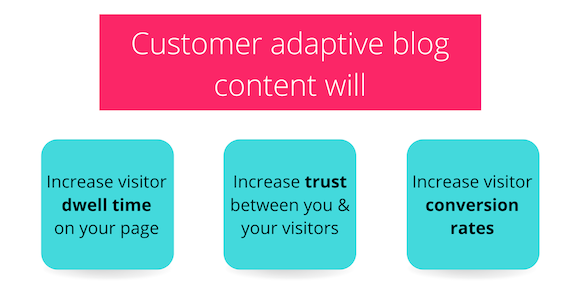 Now the big question is: how do you get around to creating this great content in the first place?
Empathize with your target audience
You will never write a valuable blog post if you don't know what interests your target audience. And no, Google Analytics is not enough to really get to know your target audience.
Empathizing with your target audience will help you get to know them on a deeper level, which is absolutely necessary not only for blog conversion optimization but the overall growth of your business.
Where to start in order to do that?
Use Customer feedback tools to empathize with your target audience
Customer feedback tools are used in a variety of processes, from A/B testing to market research.
Customer feedback tools are your best friend in investigating your customers' needs, interests, pain points, likes, and dislikes. With these tools you can:
For a good start, you could investigate the user experience on your website. Look at how your customer moves through your website – is there something they seem to be particularly interested in? Do they find anything confusing?
Find out what elements engage your customers and which ones give them headaches and start crafting your blog posts around them.
Educate your customers
Now that you know the interests of your users and what seems problematic for them – you can start educating the readers with your blog content!
Teach your customers how to use your products or services for the best results. Let them know how you are different from your competitors and how you can help them solve their problems. Give them more insight into the aspects of your industry that interest them.
Your effort to educate the readers will never go unnoticed.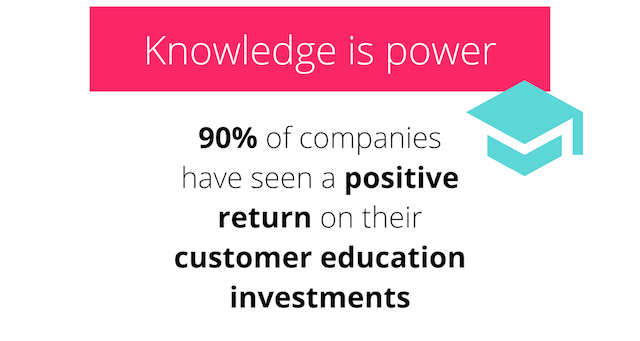 Build trust with social proof
Whether or not customers see your business as trustworthy will have a massive effect on your conversion rates (see: What is conversion rate?).
Utilizing social proof is a powerful marketing tactic to use in your blog conversion strategy. Just how amazing it is to use your existing success to generate even more sales?
As a result, testimonials help in achieving a higher conversion rate.
Although it may not be easy at first, do try to include your customers' testimonials in your blog content.
Crafting a blog post focusing on a case study of how your product or service has helped your customer is a fantastic way of building credibility.
Leverage guest posting
You don't have to create content internally all the time. Leveraging guest posting is an excellent way to enrich your blog and increase conversions at the same time. Here is a recipe for a guest posting collaboration that could drive your conversion rates up:
Find an expert in your industry/niche You need to select the authors of your guest posts wisely. Hosting expert authors on your blog will ensure that the content they provide is highly informative and concise.

Reach out to them via LinkedIn Cold emailing is of course an option as well, however, reaching out to a potential author through LinkedIn makes it more personal. You can use this reach-out template to contact blogging leads:
"Hi X, this is Y from (name of your company). I'm reaching out because I have an idea for a collaboration that I think you might like. Please let me know if you'd like to hear more details – I can share them here or send you an email instead, whichever way you prefer😊 Hope to hear from you soon! Best regards, Y"
Reaching out and connecting with people on LinkedIn will also help you grow your network with potential authors in the long run.
Set the topic
Once the author agrees to write a guest blog post, make sure to choose a topic that matches the goals of your blog and their area of expertise, so that it's fun for them to write about.
Promote the article
Once the blog post goes live, you need to promote it – and ask the author to do the same. When they share their guest post on their social media platforms, their friends and coworkers will want to check it out to show their support, thus driving loads of traffic to your blog!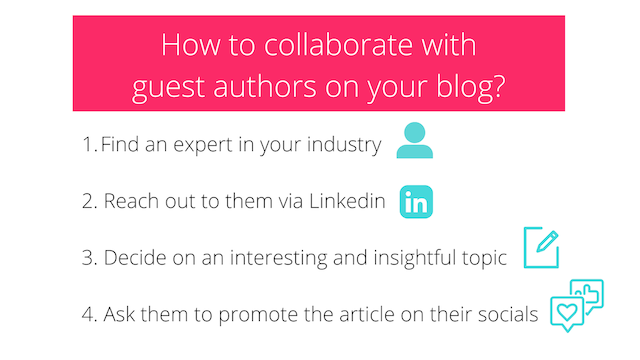 Hosting guest posts on your blog, if done thoughtfully, has virtually no downsides and is an excellent way of expanding your customer's knowledge base, increasing your brand's recognition, and creating a positive SEO effect for your website.
What to avoid when optimizing your blog for conversions
Now that we have covered increasing the conversion rate, we must also warn you about the things you should never ever do on your blog. Not taking this advice can get you into serious trouble, and make your conversions plummet faster than you can imagine.
Avoid being sales-y on your blog
Despite your blog having the power to increase your conversions, it is absolutely not the place to sell your product or service. Your blog's main purpose should be to educate your customers and build a high level of trust and recognition.
The relationship you build with your customers through your blog content marketing is what will ultimately convert them.
Constant sales pitches waved into every single one of your articles will not help you with that. It will only annoy your readers and drive them further away from converting.
Don't distract your customers
Even though the possibility of making some extra income with Ad placements on your blog sounds like a pretty sweet deal, it's probably not worth it. By giving into the temptation you risk severely undermining your blog's quality in the eyes of your customers.
Placement ads will not only distract your readers and bring down the overall experience but potentially drive your customers away from your page.
The same applies to pop-ups on your blog landing pages. Be honest, you find them annoying on other companies' blogs, why would you want to go down that road if you already know the outcome?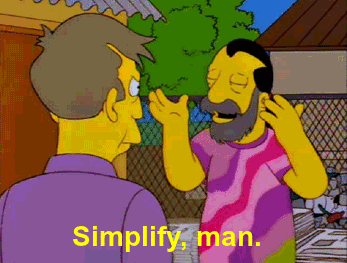 Summing up
A good blog conversion strategy is grounded in the basic principles of content marketing – provide value and value will be returned to you. Treat this article as a call to action to finally sit down and write that blog post you have been planning, and your marketing strategy will thank you for it.
Focusing your blog content around your users' interests and the challenges they face will increase traffic on your website, build the readers' trust in your business, and help convert them into loyal customers.
Read also: