What is Glassbox, and what are its possibilities?
You already know what a game-changer for your business analytics is, but finding the best tool that will suit your needs is not easy. Finding the crème de la crème of analytics tools is a bit like searching for a Cinderella. You have to put shoes on an enormous number of feet before you find one that fits. It is the same with analytics tools. You have to get to know their pros and cons, what they're monitoring, pricing, and other features before making a decision. No one wants to buy a pig in a poke.
If you are looking for an answer to what a Glassbox tool is, what are its possibilities, and whether this tool is most suitable for you or you need to find a Glassbox alternative, read on.
What is the Glassbox?
Glassbox is an analytics tool that captures every customer session on websites and mobile apps. Glassbox tool analyzes customer experience for every customer journey, it helps enterprises to create frictionless digital journeys for their customers.
Customer Experience, also known as CX, is the consumer's overall perception of the experience associated with your business. It is the result of every interaction between the brand and the customer – from entering a website, through in-app actions and contact with customer service, to receiving a product or service.
UX is short for User Experience, it refers to any interaction a user has with your product or service. A good User Experience provides users with the most positive experience while using it, which has a huge impact on your conversion rate. Without a well-designed, functional, and intuitive website, it's hard to expect a great conversion rate in your online business. Learn more what are the most common mistakes made in UX design.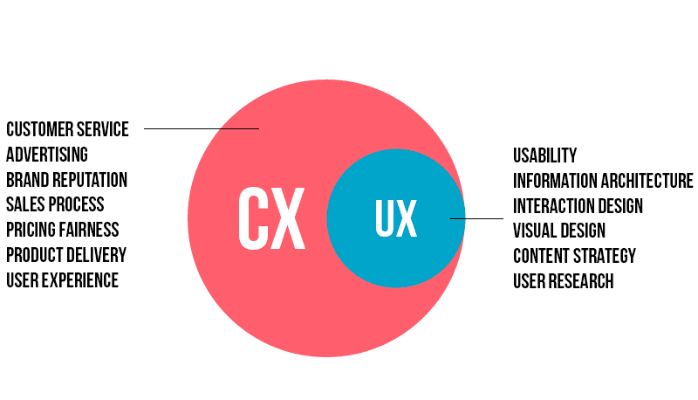 Differences between Customer Experience and User Experience
source: https://sergushkin.medium.com/
What Glassbox is monitoring?
Glassbox is an analytical tool based on AI and machine learning that helps entrepreneurs to understand and visualize their customer journey, prioritize customer experience, and last but not least improve their digital product.

Glassbox homepage
Most analytics tools have features that focus on customer experience and simply make your customer happier. Glassbox, like cux.io, allows you to recognize, detect and define behavior patterns that indicate problems and frustration with your website in real time. Both tools capture, visualize and analyze every user journey.
Glassbox main features
Session recordings
The Glassbox tool captures events occurring on the client-side and server-side on web and native mobile apps without the need to predefine or tag anything. Glassbox collects data and analysis it.
Unlike CUX, the Glassbox tool only registers sessions, not full visits. Learn more about the differences between visits and sessions, here.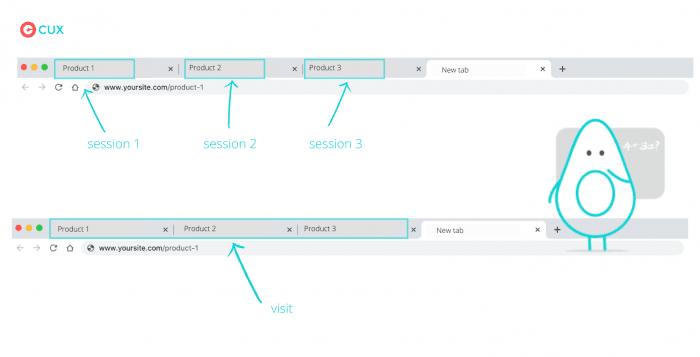 The difference between sessions and visits
This analytics tool has a session replay possibility, but wouldn't it be nice to analyze a whole customer visit?
Customer journey map
Another Glassbox feature is the customer journey map. Based on session recordings, Glassbox makes visualizations of your customers' journey based on users' digital sessions in real-time.
Same as CUX, Glassbox shows you when and why your customers abandon a journey, so you can remove the cause and increase your conversion rates.
Mobile app analytics
Same as the websites, Glassbox allows you to see and understand what your customers are experiencing on your mobile app in real time. Glassbox tracks user engagement, network, and device performance and app crashes.
Who Glassbox is best for?
Glassbox is a big data analysis tool that helps to understand the digital experiences of customers and native mobile apps. Based on information from G2 this analytics tool is most suitable for companies from financial sectors, insurance, retail & e-commerce, travel, and telecommunications.
Like CUX, the Glassbox can facilitate the work of various departments and teams within the company – from marketing, through sales, the IT department to product development and management.
CUX – an alternative to Glassbox
Based on the title, you probably already know what might be an alternative to Glassbox. Yes, that's right, CUX is one of them! But it isn't obvious why CUX is the reasonable alternative to Glassbox, please let me explain.
CUX is the very first UX & Analytics Automation tool that allows organizations and companies to identify their users' behavior patterns and learn about customer experience. The tool enables you to understand individual customer segments, track campaign traffic, make decisions after A/B tests, and even detect rogue partners on sites and in web applications.
If you want to know what are CUXs' capabilities and what CUX is for, necessarily watch Paulina's demo.
Let's face it, not everyone has hours to pore over numbers and uncover what's behind all metrics. That is the reason CUX gathers data relevant to your business (of course, like any other analytical data, CUX can present a complete picture of data).
CUXs' policy is no more data spam! That's the reason CUX's dashboards change in relative time. It's a center of command for your analytics.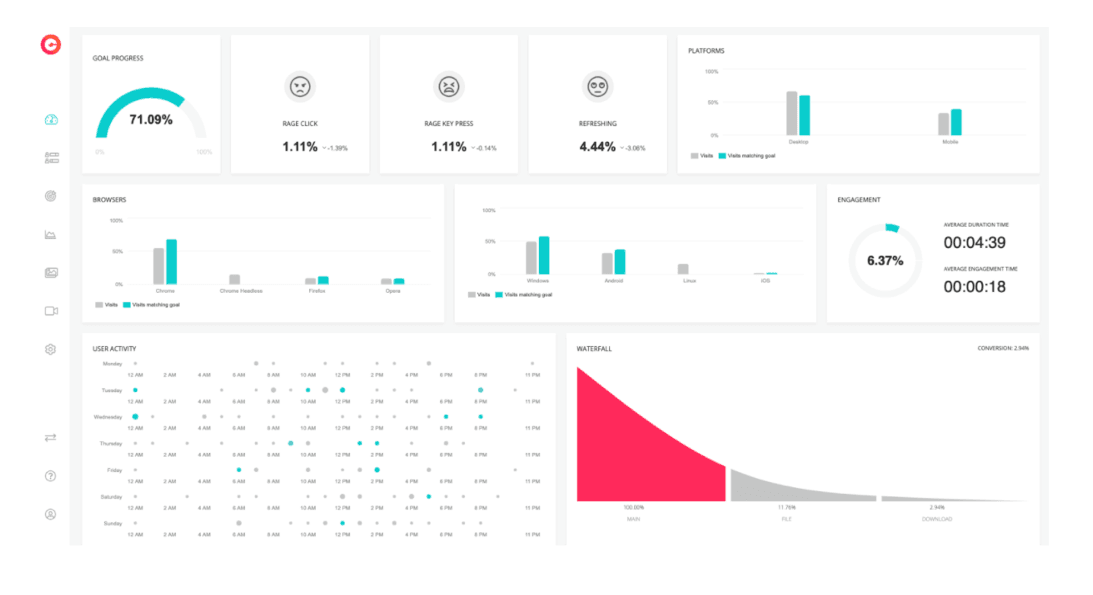 CUX Dashboard
With CUX, you'll never again waste time watching too many session recordings or analyzing irrelevant metrics. It will alert you on what matters to your company goals, and all you have to do is implement quickly profits on your business site and watch your conversion increase.
Data analytics related to your business goals
Setting up Goal(s) can shorten the time you've previously spent on analytics as it filters the data only relevant to your intended purpose. Thanks to Goal(s), you will be able to focus on those metrics that strictly affect your business. You are free to build custom Goal(s) with as many steps as possible or use one of CUX's predefined goal settings.
At this point, you can quickly create funnels on the most impactful opportunities and drill down to individual user sessions to see the events that are impacting your customers' experience, conversions, and more.
CUX's main features
- Goal-oriented analysis
- Auto-captured events
- Experience metrics
- Visit Recordings (instead of sessions)
- Smart Alerts
As we said earlier, CUX is not only about data itself. It's about solutions easy to implement into your web and rock your business.
CUX users reviews
What do you like best?

I love the fact that I can track user experiences and behavior and gather insights into their pain points. It's amazing that our team can draw meaningful conclusions in just a few minutes after implementing the tool and setting up proper goals and waterfalls.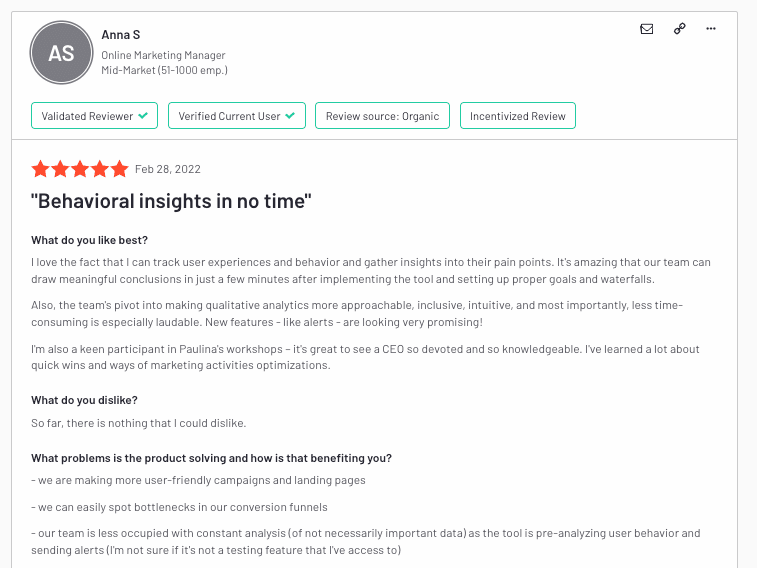 CUX review from G2
What problems is the product solving and how is that benefiting you?

CUX helps analyzing the whole user journey on the website. It shows all the tabs opened by the client and treats them as a one visit, which is very important in analyzing online users' behavior. Thanks to this tool, we were able to find immediately bottle necks in our client's purchase path and suggest him necessary changes to improve process.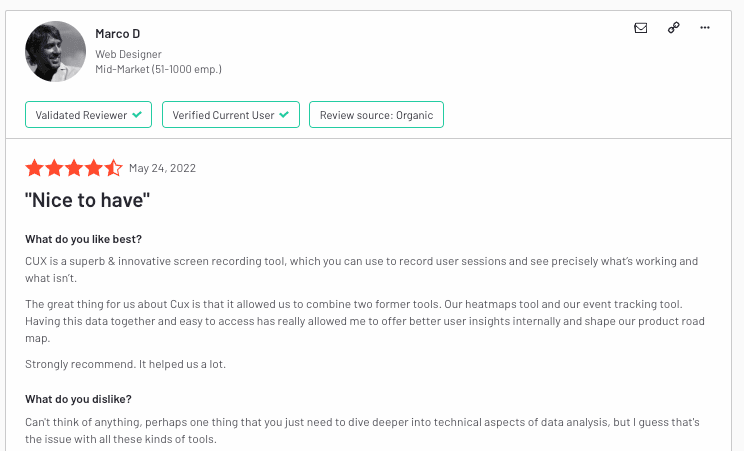 CUX review from G2
CUX vs Glassbox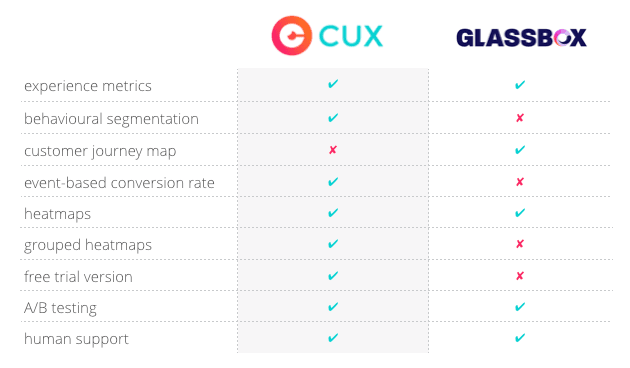 CUX vs Glassbox
4 main differences between CUX and other analytics tools
1. Business-oriented analysis
In the sea of data, CUX not only presents quantitative and qualitative data but also automatically selects the data that have the most impact on your conversion rates. Glassbox alternative immediately finds your customers' problems, and frustrations. By fixing them your customer will be happier.
2. Codeless implementation
With CUX snippet implemented, you don't need to engage your developers. You can set up the tool easily on your own in less than 10 minutes. You just have to add CUX tracking code directly to your site and you're free to use it. Furthermore, you'll gain access to data right away!
3. User behavior from all devices and multi-tab observation
Heatmap is not the only thing that CUX presents. CUX gatherers all events on the website and records them. You'll see data on clicks and scrolls on the website, filling in forms, and going through the various stages of the funnels - all related to your business goal.
4. Experience Metrics
CUX helps teams to detect and recognizes customers' frustration points like rage clicks, zooming, or rage key presses which of course has a huge impact on your customer experience and conversion rates.
Which analytics tool should you choose?
There are several analytics tools on the market to analysis mobile apps, sites and users behavior. But which tool is the best one?
It is not an easy decision, but it might be a good solution to take an example from prince charming and try their free trial version before committing. In case, not to regret it later. 🙈
If you have questions about Glassbox alternative and want to learn about it? Book a 30-minutes free demo with Kamil or drop us a line at team@cuxio.
Want to harvest the freshest analytical crops? Sign up for the cux.io nourishing newsletter! Be careful! We may grow on you! 🥑
Read also: