Why this is happening? Don't we care about social contacts any more? Or have we become less sociable after the pandemic? That's not true. The cause that we spend so much time online is the content that we get. It has been particularly selected to meet our needs and interests. Currently, browsing the Internet is like a packet of chips. It's impossible to stop after just one bite.
But it's not the ingredients or the sound of eating chips that make our website so observable. It's the analysis of user activity, their behavioral patterns, and implementing solutions that catch users' eyes. In this article, we will discuss what is user activity tracking, why we are doing it, and last but not least, how to track user activity on website.
What is user activity tracking?
User activity tracking (UAT) also known as user activity monitoring (UAM) is a process of tracking, collecting, and analyzing users' behavior on websites, apps, or devices. UAT track website visitors and their activity, including the use of applications, actions performed on the website like a scroll, click, form filling, etc., windows opened and URLs visited.
The most common tool to track user activity on the website is Google Analytics (GA). This analytical tool is used for website visitor tracking, website performance and gathering users' insights like traffic, the number of page views, the average time spent on, sessions, bounce rate, etc. – BUT it has a few limitations. GA only points out things that happen, but doesn't explain why. It's like the tip of the Iceberg. You see it, but don't know what is under the surface.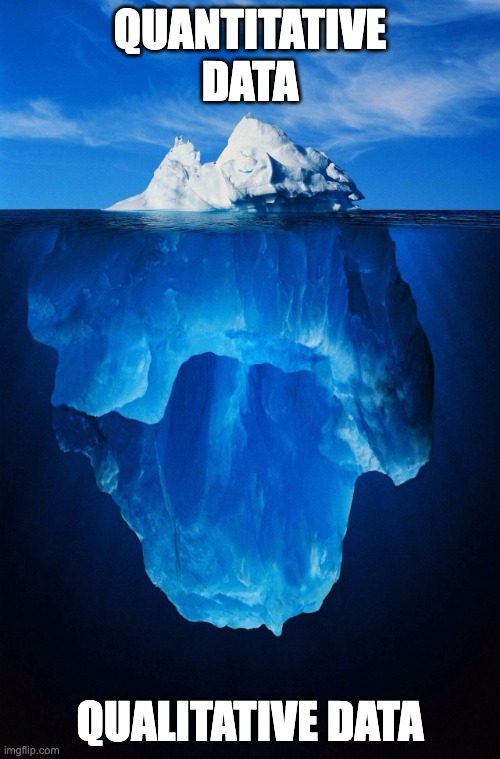 Why are we tracking user activity on the website?
The main reason that stands behind tracking user activity is curiosity and the need of understanding visitors behavior not only as Marketers but Sales and eCommerce Specialists, UX Designers, or Content Creators.
Why else should we track website visitors?
Several advantages can be conducted by tracking user activity like understanding target users better and identifying performing pages, and ones that are not. From an eCommerce perspective, website visitor tracking can be a great source of finding reasons why customers are abandoning charts, understanding purchasing behavior, and increasing conversions.
5 benefits of user activity tracking:
Source of useful insights about your customers that allows for creating a detailed behavioral profile for the target groups and individual personas.
Better knowledge and understanding of your customer's behavioral patterns and their point of view.
Spot and eliminate users' frustrations points and problems that lead to churn.
Adjust product or website to users' needs by analyzing user activities and finding behavioral patterns.
Design content suited to users' interests and needs
How to track user activity on the website?
The easiest way to track user activity on the website is to use an analytics tool. You can start by using Google Analytics, which is essential when it comes to web analytics. But you must be aware that from GA reports you won't be able to find user experience issues and receive an answer to the "WHY?!" questions. Google Analytics only tells you what users do, not why they behave in that sort of way.
A better idea is to find a tool that combines analytics of quantitative and qualitative data. It will give you a whole picture of your business and an understanding of what stands behind users' actions.
Imagine that in your e-Commerce shop appear a sudden drop in sales. You know that thanks to quantitative data. But why has it happened? For what reasons? You won't get an answer to that from quantitative analytics. To find out, you need a tool that provides qualitative data analytics. By using Heatmaps (a visualization where users interact with your website) and Visit Recordings, you will be able to find a reason, and spot negative events on your customer purchasing path.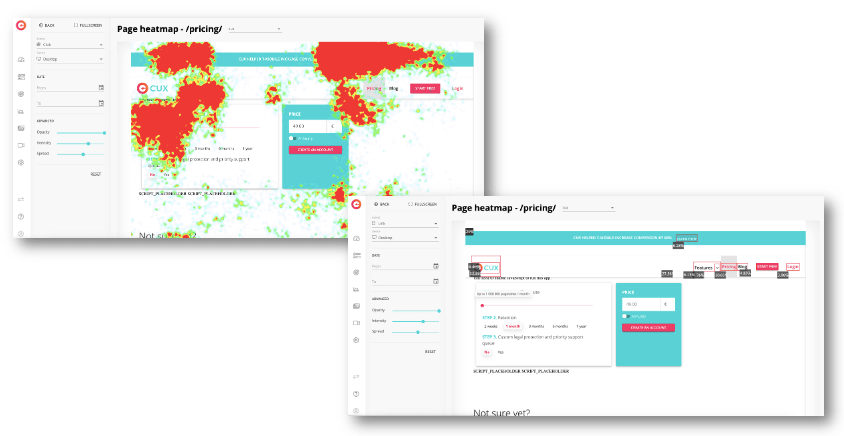 Users' website activity visualized by Heatmap
What is the best tool to track user activity on the website?
You already know what you need to look for. But on the market, you can find several tools like this. Free or paid, will allow you to track user activity on the website. But getting knowledge about users' behavior from tracking activity is one thing, but doing this efficiently in a short period and concluding is another.
Time is the biggest currency, which is why the best tool to track user activity needs to do a fair amount of analysis for the user and relate to business objectives. That kind of tool is cux.io.
CUX not only provides that but additionally, identifies user frustration points that may inhibit conversion metrics. It gives you occasions to optimize your website or product, increase conversion, and make your business grow.
CUX user activity analytics: key features
User Behavior Analysis – indicates what kind of emotions accompany users during their activity on the website. Analyze what annoys users.

Visit Recordings – unlike the competition, CUX concentrates on user activity throughout the entire visit, not a single session. It gives a whole picture.

Retroactive Analysis – lets you create, track and modify customer journeys with historical data because CUX collects data ALL THE TIME.

Conversion Waterfalls – analyze real user journey and points out missed opportunities for conversion.

Heatmaps – based on pixel-perfect graphic visualizations, you can discover how people experience your website on different devices and screen resolutions.

Pre-analysis & Alerts – CUX value your time more than anything, the app will e-mail you a notification whenever your Goal reaches defined progress.

Auto-capture Events – you don't need the support of IT guys or have any special skills, the tool will capture events for you

Privacy-first tracking – CUX does not collect sensitive data and analytics is based on 1st party data which makes your company cookieless-future ready.
Using CUX to tracking user activity
There are a lot of insights to take from tracking user activity, but to do that you need a proper tool like CUX. Here's how you can harvest the crop from tracking user activity on the website even today:
Signup for the free CUX trial version - the trial contains ALL functionalities of a paid subscription version. You'll gain access to 1 000 visit recordings that you can collect on your account.

Connect cux.io with your website - all you have to do is to implement the CUX code in the page code. It can be installed anywhere, but we recommend locating this before the closing BODY tag.

Do a small investigation, of what is happening on your website - go to the Visits section to see recordings of your user activities or go to Heatmaps to see user behavior. Understand what interests your users the most and see what catches their eye.
Tracking individual user activity on a website
If you are interested in the context of a single customer, or you want to follow the exact customer journey of a specific user, you can track the history of their behavior.
How do I track individual user activity on a website with CUX?
You can filter visits for individual users in two ways.
Log into your CUX account.
Go to Visits and select a user's visit you would like to play.
If this user has paid other visits to your sites, you'll see this info displayed below the visit info on the left.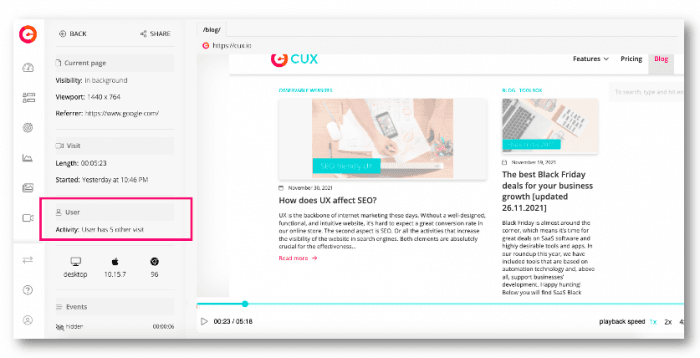 4. Click the button to see a list of all visits' recordings of a given user.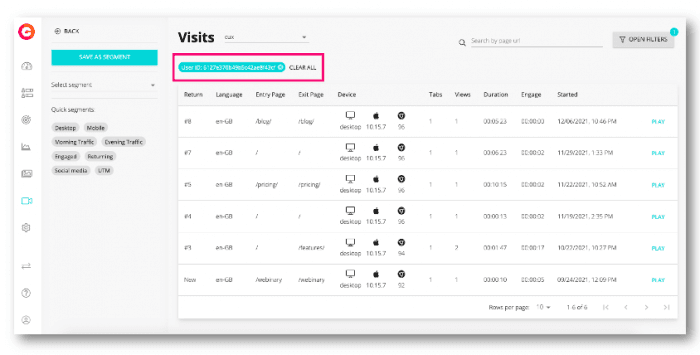 Log into your CUX account.
Go to Visits.
Click Open Filters.
Find the "Previous Visits" parameter and set the values that interest you.
Select the visit you want to watch from the list.
On the left, you should see info on how many other visits this user paid to your website. Click the button to see a list of all visits' recordings of a given user.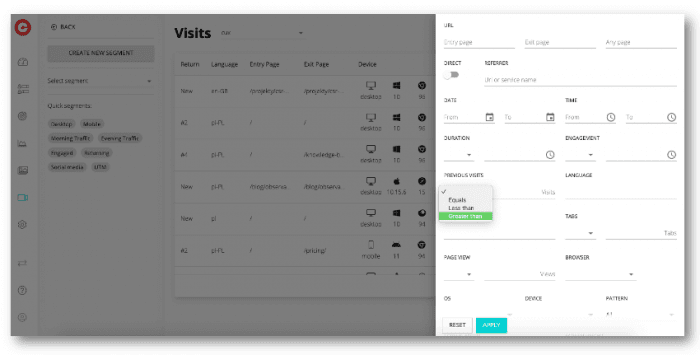 Why is tracking the number of visits per user useful?
You can thoroughly examine the context of a single user's customer journey.
Facilitate users segmentation due to their behavior leading to the achievement of the given goal.
You'll be able to create an exact behavioral profile of users.
It helps you track real cart abandonment (e.g. your clients may need 3-4 visits before making a purchase, so there is absolutely no need for you to pour money down the drain and set retargeting campaigns).
How to track the behavior of an individual user using different devices?
Do your customers visit your website from different devices? Do they browse products on mobile or smart TV, and make purchases on computers and tablets? There is a way to track the activity of a single user who is interacting with your website on different devices.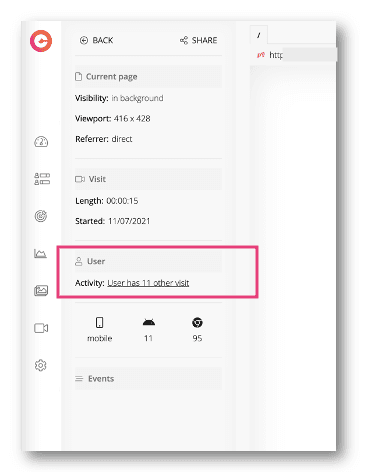 IF a user on each of these devices is logged into his/her account on your website, CUX will be able to combine all these visits – coming from different devices – into one list. You'll see them displayed as visits of a single user.
Remember!
We store your visit recordings for individual users, depending on the retention time of your project (how long you've set for us to keep your data).
If the user accesses your website on several devices (e.g. mobile and desktop) and is not logged into your website – you will see his/her visits as visits of several users.
You won't see everyone's visits. CUX doesn't record ALL visits to your site. We sample traffic to be representative of your goals.