Data-Driven Business
9.05.2023
cux.io as a tool for enterprises
Enterprise software plays a crucial role in managing business processes and improving overall efficiency. Ensuring GDPR compliance, CUX provides actionable insights into customer behavior and helps optimize digital products.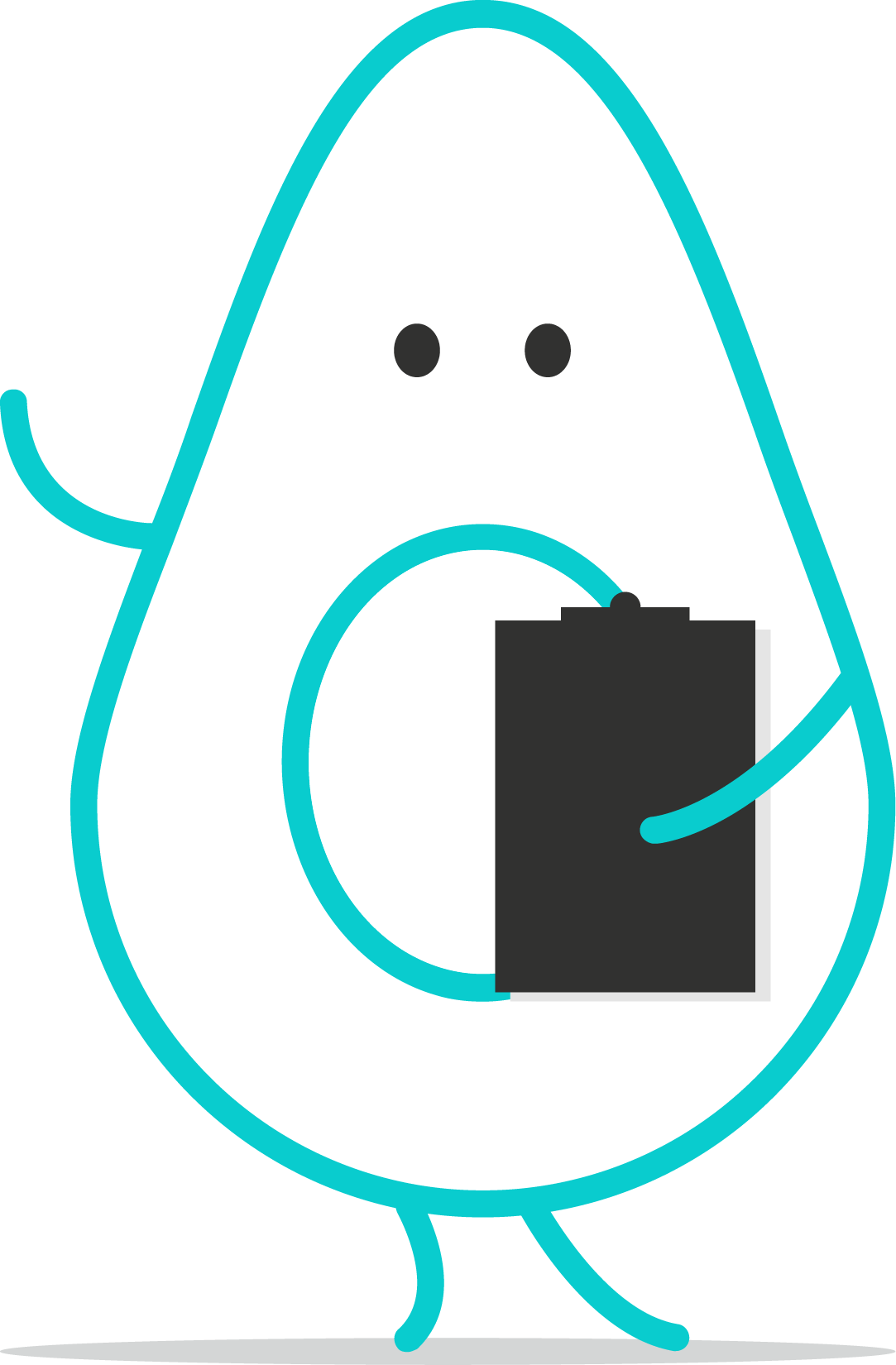 Enterprise software plays a crucial role in managing business processes and improving overall efficiency.
Enterprise software solutions
Among the different types of enterprise software available, the enterprise resource planning software (ERP), customer relationship management (CRM) and human resource planning are some of the most widely used ones. However, there are other enterprise software solutions that cater to various business functions such as supply chain management, project management, accounting, inventory management, business intelligence, and marketing.
CUX for large businesses
CUX a data analytics software, is such enterprise application software that can help businesses gain actionable insights from complex data. With cux.io, enterprises can optimize their digital products and services, as well as increase customer engagement. The business intelligence software offers extensive, automated data analytics features, making it easier for businesses to manage their workflows and strategic initiatives. By leveraging CUX, enterprises can easily measure key performance indicators, understand customer behavior, and make data-driven decisions to optimize their digital products and services.
CUX offers different features for small and large companies to make sure that we can meet the needs of every client. So what are the biggest benefits of choosing CUX as a large enterprise?
Goal-oriented Analytics
One of the key features of CUX for enterprises is its goal-oriented analytics feature. By choosing CUX as the enterprise software tool, companies are able to define and track custom goals based on user behavior, such as a purchase, form submission, online payments, file download, or registration. The unlimited number of goals can be chosen either from a predefined list, or be custom-built by the client, which is an important element in behavior analytics. This allows businesses to identify areas where they can improve their digital experience, optimize their website or mobile app, create more individualized marketing campaigns, increase customer engagement and ultimately drive business growth. CUX's goal-oriented analytics also provides businesses with actionable insights into new and existing customers' behavior, helping to make data-driven decisions to improve the digital products and services.
CUX is particularly well-suited for large companies, as, thanks to the goal-oriented analytics, it can help deal with complex data by only working with relevant information. This prevents unnecessary data SPAM and helps ensure that marketing teams are making data-driven decisions. Read more about why does your business need defined goals in our article.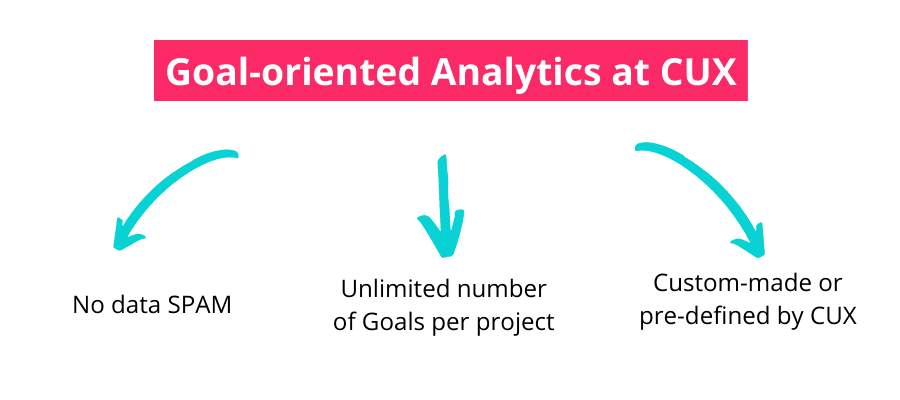 Development-free analytics
CUX as a specialized computer software offers development-free analytics features to enterprises, providing businesses with the necessary insights to improve customer experience and increase revenue. With such specialized software, companies can easily track user behavior on their web browsers or apps without any coding or development knowledge. This allows businesses to quickly implement changes based on customer data without the need for a developer, saving both time and money.
All key features that CUX offers, such as session recordings, heatmaps, or user journey analysis, can be implemented in a matter of minutes, without any coding or IT experience. Our onboarding and employee training explains in detail how to set up the project and define goals to allow you to start data analytics immediately after setting up the account.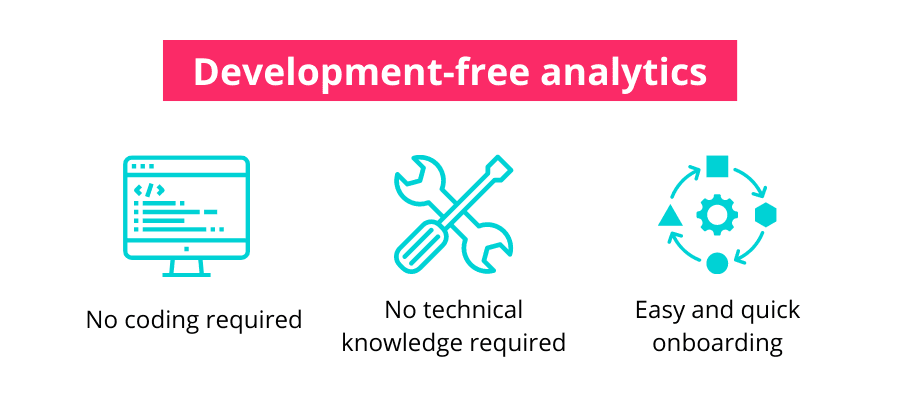 Retroactive analytics
There are several enterprise apps available on the market. However, not all of them offer retroactive analytics. For example, when using Google Analytics, the company has to manually set up tracking for every element that they want to analyze – such as a button or a form field. Therefore, the developer needs to predict what fields on the website are important for the user interactions, and constantly improve the software. When dealing with large amounts of customer data, this process can be extremely time-consuming and inaccurate, not to mention the technical knowledge required for the setup.
CUX's retroactive analytics, on the other hand, allows large companies to track user interactions on their website automatically, without having to manually set up tracking for each element. This means that large businesses can analyze every aspect of their website retrospectively, allowing them to identify patterns and trends in user behavior that they may have previously overlooked. Such software can provide valuable insights into how customers are interacting with their products or services, helping businesses to make data-driven decisions to optimize their website for improved user experiences. Additionally, with CUX's retroactive analytics, businesses can save time and resources that would otherwise be spent on manual tracking, freeing up their teams to focus on other critical tasks and improve their performance management.
Data privacy
Privacy by design is an essential feature when choosing the right tool for large businesses. With great volumes of complex data and increasing regulations on data privacy, businesses must have enterprise software tools that prioritize the security and confidentiality of their customer's data. CUX provides big enterprises with privacy by design, which is a significant benefit in any data analytics or marketing tools.
CUX ensures that all customer data is collected, processed, and stored in compliance with the latest data protection regulations. This means that big enterprises can trust that their customer data is secure, which is an important step in building trustworthy customer relationships. When users know that their data is confidential, they are more likely to engage with the platform and share their information. This, in turn, leads to better insights into customer behavior, allowing enterprises to optimize their products and services for improved user experiences.
GDPR rules
CUX is fully compliant with GDPR regulations regarding access to both sensitive and metadata. Thanks to anonymising IP, we never collect data that allows to identify individual users. Moreover, sensitive data can be hidden before the preview is sent to CUX servers. It is an essential part of any enterprise software solutions that ensures the data safety for both the enterprise and their clients.
Safe data centers
CUX uses OVH servers to store all the data, an infrastructure known to provide high levels of security, reliability, and performance. They are designed to be environmentally friendly, with energy-efficient cooling systems and renewable energy sources. All the servers are located within European territory to ensure the highest level of safety.
SSL secure
Every connection established through CUX uses SSL encryption. It ensures the safest communication possible between our servers and the users.
Code security
CUX provides on-demand tracking code for security audit purposes, which is essential when using enterprise software applications. It enables verifying the integrity and accuracy of the tracking data, helping to identify and prevent security breaches, as well as allows demonstrating transparency and accountability to the stakeholders and business partners.
Only for enterprise clients: Client-side script hosting
Client-side scripting (embedded scripts) is a code that exists inside the client's HTML page. It has numerous benefits, such as:
Greater control over the way data is collected and full control over the CUX publishing cycle.
Avoidance of blocking and excluding the analytical script by tools such as AdBlock.
The user's actions will result in an immediate response because they don't require a trip to the server.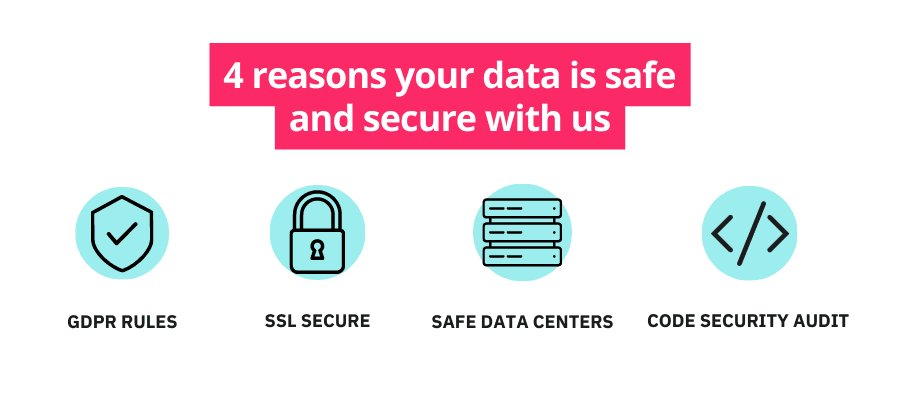 Client support
Client support, also known as human-to-human (H2H) support, is a critical component of any software used by enterprises. CUX offers H2H support to all enterprise customers, and there are several benefits to this approach. Since the insights given by CUX are implemented by different business units, it is important that the entire organization has needed knowledge about how the tool works. And here is where our team comes in handy!
With H2H support, enterprises can receive faster resolution of issues compared to automated or self-service options. This is because H2H support allows enterprises to work directly with a human expert who can provide immediate feedback and solutions. Moreover, CUX offers live chat and priority queue for all enterprise clients to make sure that the issue can be solved as fast as possible.
To better understand each project and business processes involved, CUX assigns a dedicated customer success manager that is familiar with the client, their data management, and operational and strategic initiatives. The person responsible for the project has the knowledge needed to answer any questions quickly and accurately. Lastly, if you need, we will configure the tool to meet your requirements - such as the goals, conversion waterfalls, or map customer journeys. Moreover, we also review and process all paperwork, such as customer agreements, questionnaires, DPAs, and NDAs. We are here to make the project management processes as easy as possible!
Summary
CUX is a powerful tool used for behavior analysis, which can provide better understanding of the behaviors of both new and existing customers. By providing special features designed for large enterprises, our clients can be sure that their projects are secure, and that the power of analytics is used to its fullest potential.
From data-driven webinar to building an analytical strategy - The Prisjakt case [FREE UX CASE STUDIES E-BOOK]

From a custom webinar to the use of UX Automation on an internal analytical strategy to build a Content Visibility Strategy.

Read more

5 tips to make analytics easier for you

The importance of analytics in business is no novelty in 2020. Experts say that everyone should implement analytics in their business as soon as possible.

Read more

How CUX helps in achieving set goals. Analysis of business goals [FREE GUIDE]

When we talk about goal achievement, the first thing that comes to our mind is a list of New Year's Resolutions. Who hasn't done it at least once, please raise your hand.

Read more