Why do users click on non-clickable elements? The answer is in your data
If you monitor customer behavior in your e-commerce store, you've probably heard of heatmaps – graphical representations of user activity. Do you see cold, blue shades? These are areas with a low level of visitor activity. The more interactions, the more red you will see. But what if the hotspots light up in non-clickable areas?
E-commerce store customers rarely behave predictably. This is particularly evident when performing behavioral analysis. Designed paths turn out to be the least frequented, while side routes to conversion are the most crowded. However, to understand why users don't behave in the way we planned, we need to gain basic analytical knowledge. So let's start with the differences between heatmaps and link maps.
Heatmaps are visual representations of the areas with the highest activity of visitors on a given webpage. They include ALL activities. Therefore, you will notice mouse movements, clicks, rage clicks, and even content zooming (on mobile devices).
Each recorded activity makes the area "hotter". Places where users click most often are marked as hot regions (with red being the hottest color). Places where users click less frequently are marked as cold (blue and green). Areas without colors indicate where there is no user action.
So, what can you observe on heatmaps? The places where users click the most, as well as those where they don't want to click (and perhaps they should). You will also find broken links and identify missed opportunities for having links (so-called dead clicks).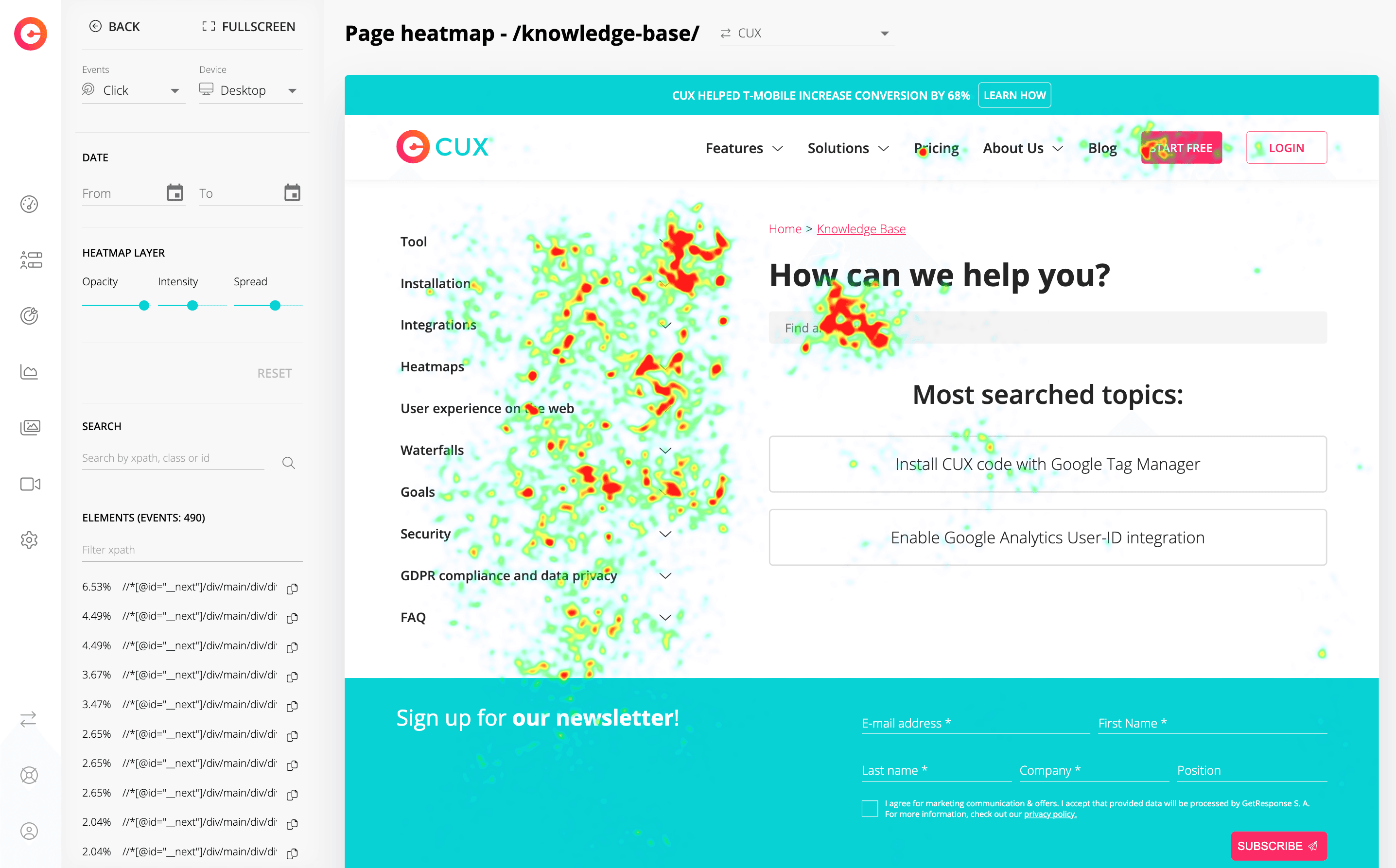 The more red on the heatmap, the greater the activity of users in that area
Link maps, although very similar to heatmaps, work in a slightly different way. Above all, they only show interactions that occur on the page in places relating to links. Therefore, you will ONLY see clicks on so-called clickable elements such as links, CTA buttons/form fills, hyperlinked images, etc.
Why are link maps worth-using? It is a very straightforward and intuitive feature to:
track user activity,
see which links visitors click or tap (on mobile),
identify ineffective links, calls to action (CTAs) and images that are ignored,
identify clickable content that is most popular or generates the most traffic. Find out more about the differences between Heatmaps and Link Maps on our website!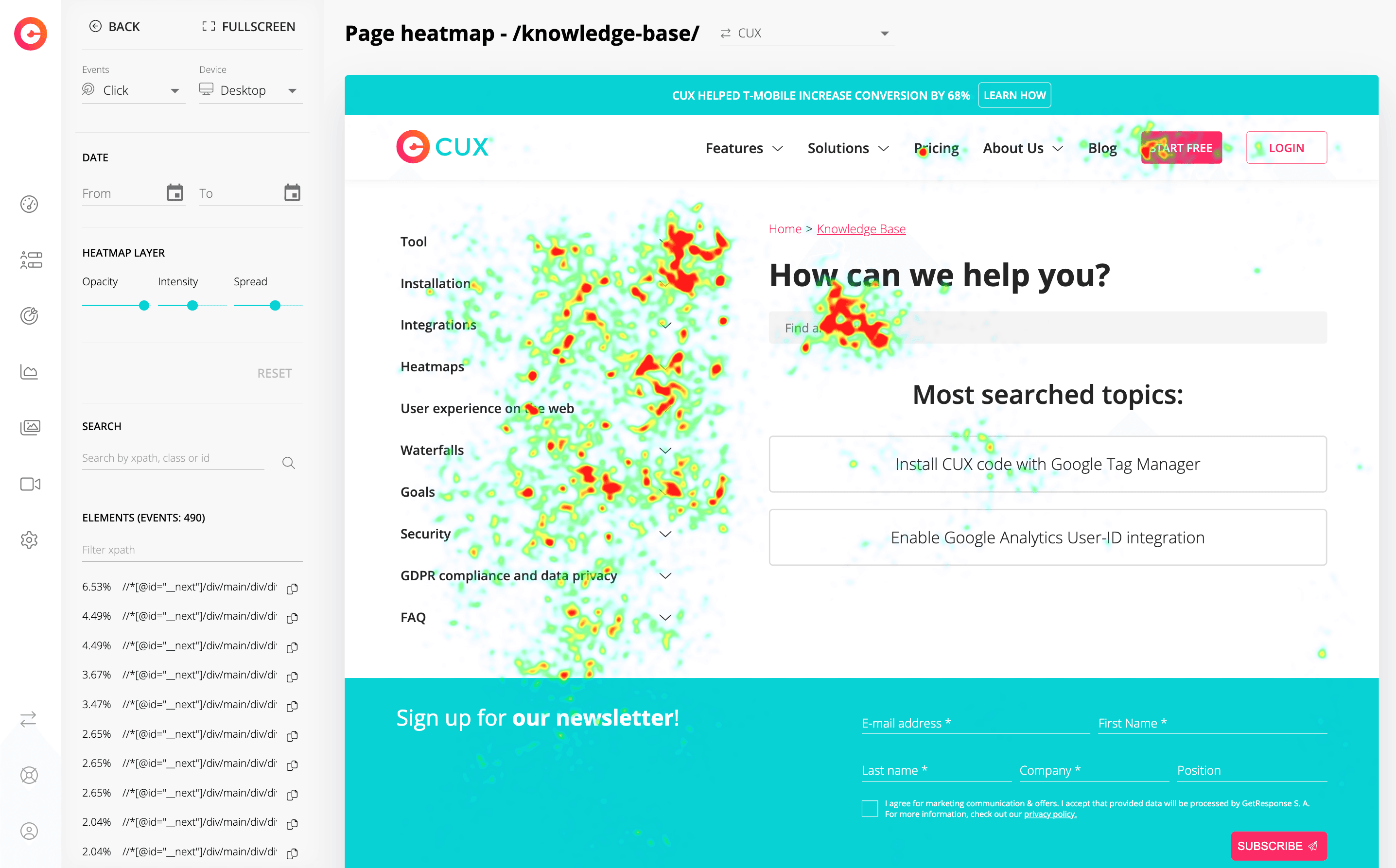 The link map shows which linking elements are clicked and to what extent Important! When looking for a behavioral analysis tool, pay attention to how data is collected and presented on heatmaps. Many analytical tools call a visual representation of clickable elements a heatmap, when in reality it is just an image of interaction with clickable elements!
Why aren't users clicking?
You surely have elements on your website with which interactions are more important to you than other parts of the store. These are probably individual fields in contact forms, CTA buttons, links to the most popular product categories, and so on. However, it may happen that user activity maps (both heatmaps and linkmaps) will be completely empty in these places. Customers are not clicking.
What to do in this situation?
Check if links are not broken (e.g. typo in the link).
Check if the elements you are examining are linked at all.
Display maps in different device views – maybe the link doesn't work or is not visible on some devices.
Check clicks on different browsers (with particular attention to default mobile browsers).

In CUX, you can display heatmaps/link maps for many types of devices, such as tablets, consoles, or even wearables (like Smart Watches).
By working simultaneously with heat maps and link maps, you have the means to quickly identify missed opportunities for conversions. Combined insights will allow you to find non-clickable areas that generate clicks or track broken links. You will also receive optimization tips such as the need to check if the link is anchored in the right place or identifying places that should be clickable but are not.
Why do users click on non-clickable elements?
Have you ever observed user activity on the heatmap that does not match clicks on the link map? Bingo! You have just found areas on your website that require optimization.
Users clicking on non-clickable elements, such as "bare" text, images without hyperlinks, contact information without links, etc., give you a clear message that the conversion is slipping through your fingers!
What insights are gained from observing user interactions with non-clickable elements in an e-commerce store? Perhaps the title of an article on your blog looks like a call to action (CTA), and therefore should be a clickable button. Maybe moving to the next page should start with clicking on an image rather than just hovering over the arrow. Perhaps the email to your Customer Support department should include a clickable "mailto:" command.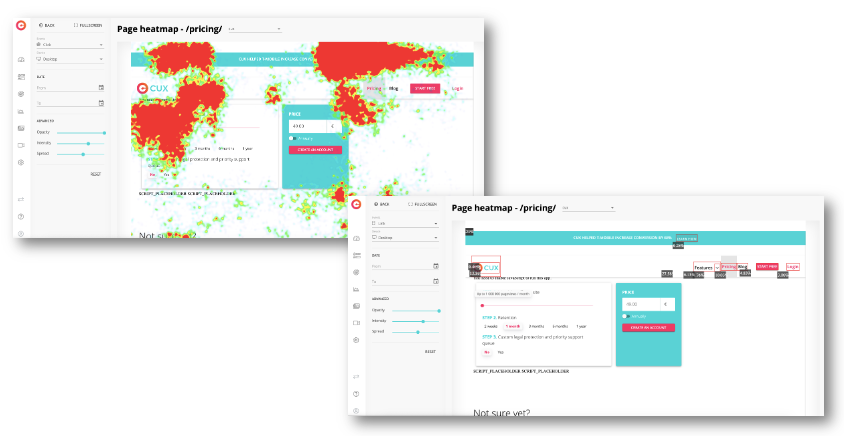 Combining insights from heat maps and link maps is a good tactic in analyzing user behavior in e-commerce
Important! Keep in mind that heat maps are static images (screenshots of your website). So, if you observe "flying" clicks, for example, around the menu bar, consider whether it might be just an interaction with a hoverable dropdown menu.
Comparing the results of heatmaps and link maps is a real treat for optimization enthusiasts. The small suggestions that result from customer behavior and their interaction with your e-commerce site are a treasure trove of knowledge that allows you to constantly increase conversions. Next time you analyze user behavior, pay particular attention to the type of interaction with links - perhaps you are sitting on a ticking time bomb that has the potential to launch your business to the next level! 😉
Read also: