Quick Wins #2 – Intuitive sequence
To say that it is important to know the specifics of our target group is to say nothing. It's the knowledge that will not only tell us how and why customers buy, but also what they expect from us as a provider of shopping experiences. Among other things, it will be information in what order and arrangement they want to interact with our platform.
Check-out problem
One of our clients – a shop offering air purifiers for industrial spaces – has found out about this truth. Despite an efficiently operating e-commerce store, they could not cope with the huge number of customers who abandoned their full carts after placing the order. The problem was quickly detected by analyzing the customer behavior during the check-out process.
While analyzing the visits' recordings, it became clear that the problem for the users was generated by the delivery and payment option. The store did not take into account the option of cash on delivery, which customers definitely preferred. So the obvious solution would be to add this option to the possibility of payment selection. Unfortunately, that wasn't the only problem this e-commerce had to face.

Customers abandoned their shopping carts because they were unable to find the payment method they were interested in – cash on delivery
The heatmap analysis showed that customers, while navigating through the check-out, did not try to change the method of delivery or payment – even when introducing new options, which they had previously lacked. The change turned out to be definitely counterintuitive for them.
Quick win
Changing the sequence
The problem – thanks to quick wines – was solved in a few minutes, by changing the default delivery option to the one with the option of cash on delivery, i.e. the courier service. This reduced the number of direct contacts and orders via the hotline and e-mails by an impressive 37%!

Changing the default shipping and payment method reduced the number of orders placed through the hotline by 37%
Proper observation of user behavior on the website is able not only to spot problematic or frustrating places for customers, but also to direct us to quick implementations that can irretrievably solve those problems.
QUICK WINS are quick solutions that immediately respond to the needs of your online consumers. Deployments do not require significant resources, implementing takes up to maximum 60 days (although it can be implemented right then and there). Quick wins are based on the constant observation of analytics metrics and customers' behaviors. Thanks to analytics, we're able to choose the right solutions that allow us to make business decisions based on data, and not on the intuitions or stakeholders' wishes.
Quick wins in brief:
do not require expenses (or generate only small costs)
carry a low risk,
easily accepted by business,
recognized on the basis of data,
results warranted,
implemented in max. 60-90 days,
the project team can implement them autonomously.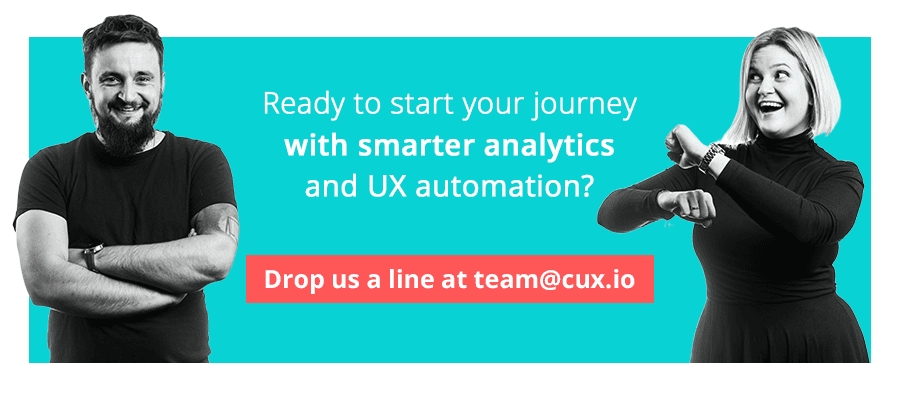 Want to harvest the freshest analytical crops? Sign up for the cux.io nourishing newsletter! Be careful! We may grow on you! 🥑 😉
Read also: