Rapid results, minimal costs: a user journey makeover case study
Summary
This case study uncovers the strategic transformation of a major player in the footwear industry where data-led quick wins transformed a seemingly hopeless situation. In the dynamic world of e-commerce, assumptions clashed with reality, and true insights paved the way for remarkable results.
Scope of Work
Understanding users' behaviors; Quick wins
Our client, a prominent e-commerce platform specializing in branded footwear at affordable prices, faced a challenging dilemma. Despite maintaining satisfactory website traffic, their conversion rate remained alarmingly low. Seeking solutions, they initially focused on abandoned cart strategies, bypassing a deeper analysis of the user journey.
The client came to us with preconceived notions, looking for validation of their beliefs before investing in campaigns. Their conclusions included:
Mobile users do not make purchases on mobile devices; desktop is preferred.
Multivendor marketplaces do not generate sales.
Investing in abandoned carts or new campaigns was the way forward due to the perceived failure of their current efforts.
Data vs. Assumptions
While many metrics seemed favorable, the conversion rate posed a significant challenge. Despite substantial traffic and an acceptable bounce rate, a preliminary examination revealed that 55% of users accessed the platform via mobile devices. Furthermore, 90% of traffic came from marketplaces, which were wrongly blamed for low sales. A major issue was the exceptionally low conversion rate from mobile users.
Insights
By integrating the client's website with our analytical tool and focusing on mobile traffic, we uncovered a hidden world of user behavior. Nearly 25% of users zoomed in on content, which was a sign that something might be wrong. Initial user recordings revealed prolonged browsing times before reaching the desired product due to distractions, notably intrusive pop-ups. Shockingly, users spent up to a minute navigating to the "buy" button.
Further analysis unveiled a complicated user journey:
Product view -> close cookies notice -> close newsletter pop-up -> scroll past a large discount banner -> Add to cart (finally!) -> proceed to purchase
Thanks to the recordings, we saw that not everyone closed both pop-ups. Some closed only one and tried to scroll further, which made it even longer to get to the CTA (if they've reached it at all)! We also saw that the button to close the newsletter sign-up window was too small. It caused mobile phone users to repeatedly click around the button, zoomed in and – worst of all – get extremely frustrated.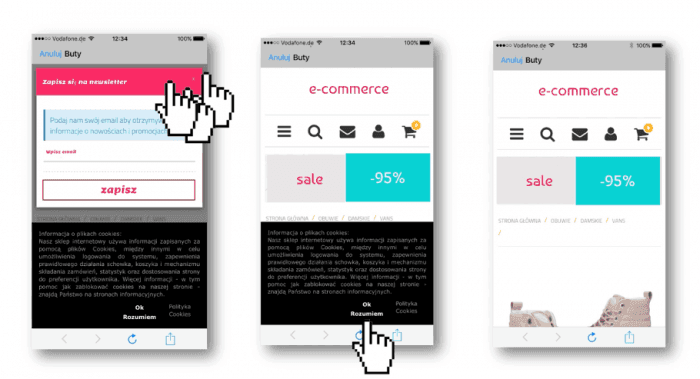 Quick wins
In situations like these, it's crucial to remember a fundamental reality: visitors arriving from the marketplace are on a mission – to score their dream sneakers. At this stage, they're not looking for loyalty cards, newsletters, surveys, or blog entries. Their single goal is a seamless checkout with their ideal footwear.
Understanding this, we identified key quick wins, easy-to-implement solutions that directly address user needs:
Eliminate extraneous content for marketplace visitors.
Focus users on the purchasing process.
Significantly minimize the steps needed for a purchase.
Impact
By implementing these recommendations, our client invested just two days of designer and programmer work to transform their user journey, a stark contrast to the potential costs of launching a campaign to salvage abandoned carts. The outcomes were remarkable:
Conversion rates surged.
Mobile users experienced a seamless purchasing process.
Frustration decreased significantly, leading to improved user satisfaction.
This achievement not only saved substantial time and resources but also validated the concept of quick wins in optimizing user journeys. The decision to prioritize user experience over costly campaigns exemplifies the value of a user-centric approach in achieving tangible and cost-effective improvements in conversion rates.
Conclusion
This case study serves as a testament to the power of data-driven insights and the importance of understanding user behavior. By challenging assumptions and focusing on the user journey, we turned a seemingly difficult challenge into a swift victory, demonstrating that quick wins can be achieved by making strategic and user-centric adjustments.
Curious for more? For an in-depth exploration of this case study and a deeper understanding of conversion rate, feel free to visit our detailed blog post.
Start your FREE Trial today and start improving your digital user
experience with data-driven decisions.