The analytical market has more tools to offer than ever. Each of them offers different solutions. From the simplest one, which provides basic data, to those that are incredibly advanced and allow analyzing every aspect of user behaviors.
One alternative to Mixpanel is cux.io and in this article, we will discuss its possibilities and features.
Mixpanel alternative - CUX, the first UX & Analytics Automation tool
CUX is an analytical tool that eliminates sales inhibit in eCommerce, providing you with the finest data-driven insights gathered from your website. What distinguishes the Mixpanel alternative is the fact that this tool works primarily on data related to your business goal.
By combining both quantitative and qualitative data, CUX allows you to increase conversion, turn negative emotions into happy ones, build significant market advantage and raise revenue.
CUX is like Sherlock Holmes, on the trail of investigation. It connects all the dots on the customer's journey for you and automates your work from raw data to making the right business decisions.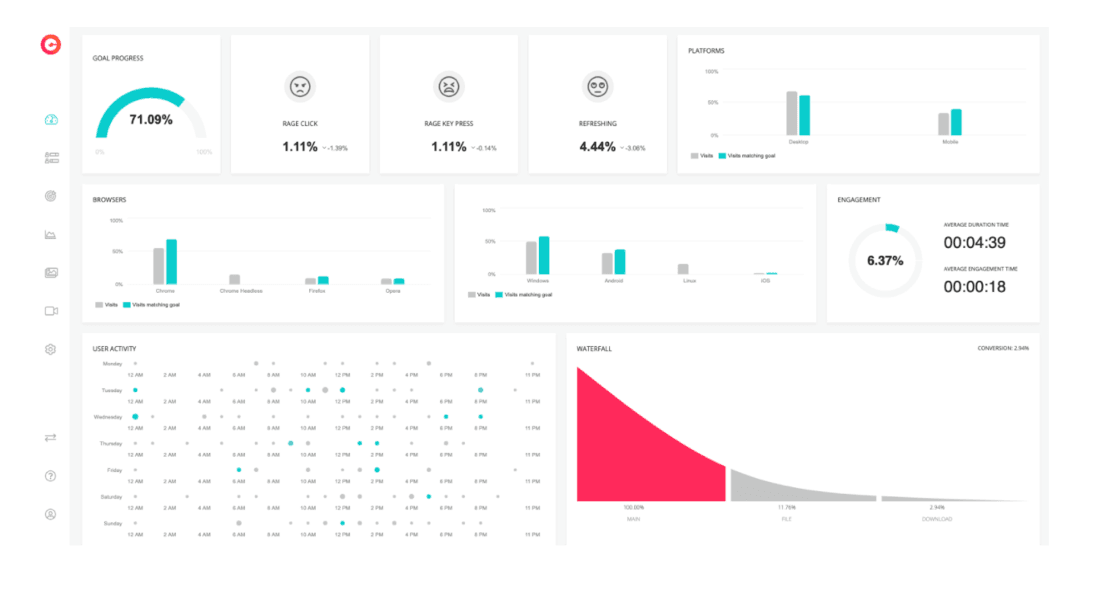 Alternative to Mixpanel - CUX Advanced analytics within your reach
CUX is a ready to go application. What does it mean? You can start your adventure with CUX all by yourself! You don't need special skills or completed courses. All you have to do is signup and install the CUX code.
You can install CUX code can be installed anywhere on the page, BUT the easiest and the fastest way to do this is by using Google Tag Manager. All you have to do is to create a new Tag and paste your CUX code in the HTML field. Save your new GTM tag configuration and publish it. Ease peasy lemon squeezy.
In our Knowledge Base, you can find step-by-step instruction how to install CUX code with Google Tag Manager.
CUX code makes sure the CUX database is always up-to-date and has relevant pieces of information about visits, clicks, and your visitor data. After having the CUX snippet implemented, you can set up a customer journey in less than 10 minutes!
Mixpanel alternative - CUX Visits recordings
Users don't behave linearly. That's a fact. Visitors love to have a million tabs open, just to compare products, receive an additional discount or wait for better days (e.g., for a payday). Relying only on data from sessions, you won't get a full picture of your users and their behavioral patterns. To do that, you need to analyze the whole visit.
With CUX Visit Recordings, you can see how users interact with your pages, no matter how many tabs they have opened and for how long.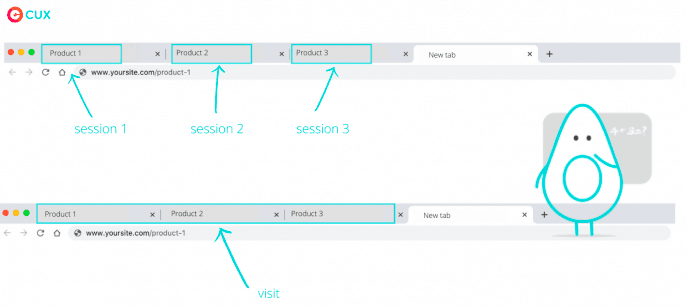 Mixpanel alternative - CUX Time-saving alerts
Tired of spending hours on constant analytics? With CUX you can forget about that. Whenever your goal progress increases or decreases, you receive an automatic e-mail notification. You just have to set goal's values that interest you the most.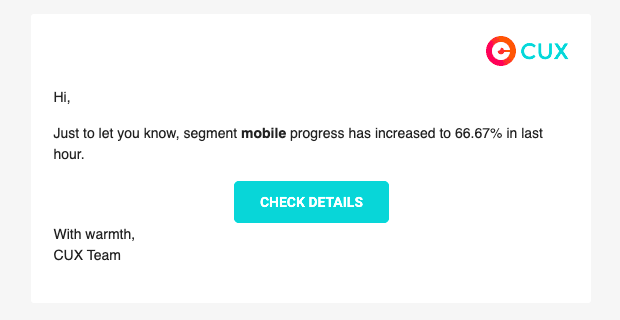 Furthermore, alerts select for you a list of Visit Recordings with the most relevant information. No more searching for insights all by yourself to find the source of changes in your project! Meaningful analytics at your convenience, thanks to Mixpanel alternative!
Don't believe CUX is a perfect alternative to Mixpanel? See for yourself!
Okay, it's totally understandable that you might still have some doubts and questions about CUX and its possibilities. Right now, you're at a crossroads. Why not approach it like choosing a wedding cake? Try them before ordering!
CUX's free trial version has no functional limitations. It contains all functionalities (Conversion Waterfalls, Visit Recordings, Goal-oriented Analysis, Heatmaps, etc.) available in a paid subscription. The only limitation is the amount of data gathered. After reaching 1 000 visits, you need to select a subscription plan to continue monitoring user behavior.
BUT even with a scrap like this, you will be able to know all CUX capabilities and its features. And decide if this is what you were looking for. Or you need to try another bakery.
Mixpanel alternative - Find out why users chose CUX
Business goal-oriented analytics, is what makes cux.io stand out! And one of the reasons why CUX users have loved this analytical tool.
CUX gathers all the data from your website, but focuses only on data relevant to your business goals. You probably ask why? Searching for missed conversion opportunities in a sea of data can be quiet time-consuming. CUX feeds you with the finest data-driven insights. With such an approach, you will be able to immediately find spots that are holding back conversions and implement quick wins solutions. Find out what else CUX users value the most: relevant.
All reviews have been provided by G2