Measuring eCommerce Conversion Rate from paid traffic. Part 1
Advertising campaigns are the driving force behind most eCommerce. Regardless of whether you sell products, services, or ideas, you certainly support activities – occasionally or permanently – with paid promotion. But do you know how to measure on-page conversion based on the ads that generated it? Let us find out in the first part of this guide. Shall we?
Analytics and data purpose is not just – contrary to popular belief – to summarize and measure outcomes. Wisely conducted observations allow you to optimize your activities on a daily basis and make changes that aim to increase conversion. This is especially true when it comes to analyzing data from advertising campaigns.
What is a Conversion Rate? 
Before we dive into the whole conversion optimization, you need to ask yourself one important question. What is an eCommerce Conversion Rate, and how does one measure it?
Long story short: the Conversion Rate is the percentage of visitors who achieved a specific goal divided by the total number of visitors. So the formula for the conversion rate seems quite simple:

The calculation of the conversion rate may differ depending on the tool, metric, or methodology used. You can count the conversion as a whole, or take into account only the first conversion for a given user. You can treat clients as unique users, or as the number of sessions on the site.
Factors that affect the conversion rates
It is a daunting task to identify a key aspect that directly affects your conversion rate. Even the best-designed websites or products that attract low-value traffic (visitors who do not convert) will not reach satisfactory sales results.
So what influences the level of conversion rate? A whole lot! From factors that you have no control over (such as seasonality, trends, or competition) to those that you can contain (good UX, SEO, paid traffic). The most important factors influencing the level of retail conversion are:
User Experience (UX). Research conducted by cux.io shows that even a small frustration (e.g. the appearance of an unwanted pop-up or difficulties in using a given functionality) in the check-out process can drastically reduce the conversion.

Traffic source. It is worth focusing on analyzing the sources of traffic, marketing messages or the time when customers meet our communication.

User Behavior Analysis. If customers have a strong need to filter products, show them selected categories. If they come to the website from a social media campaign, simplify their path as much as possible. Their shopping is driven by emotions – you must do everything so that they don't have time to change their mind! And to do that you will inquire analytics.

Website/product issues. Pay attention to unclear messages, no visible CTAs, too many products / services (so-called paradox of choice), etc.

Process automation and optimization. In particular: the ordering process, payment methods, delivery time, delivery costs, etc.
In addition, the conversion rate would be affected by such factors as: traffic scale, brand strength, page loading time, percentage of traffic from mobile devices or website credibility.
Conversion rate in eCommerce
When we think of "eCommerce Conversion Rate", we mainly think of sales or purchase intent. The aim of your optimization activities will therefore be to make the traffic on the website valuable. Valuable, meaning one that will generate as many sales, leads, newsletter subscriptions or other measures that you treat as the achieved business goal.
Abandoned cart in eCommerce
When analyzing retail conversion rates, it is also worth paying attention to the correct definition of abandoned cart in eCommerce. Why? Because users don't always come along the path leading to conversions.
Their behavior may indicate different scenarios. Perhaps they are comparing products, checking shipping costs, or showing friends an item they've already bought. A high bounce rate or a low store's conversion rate for individual visits – out of context – won't tell you much!
Learn when shopping carts are really abandoned and when not.
Conversions from cross-source
Another factor that may prove crucial when it comes to eCommerce number of conversions is cross-source conversion rates. Our most go-to analytical tool – Google Analytics – does not, for example, show the process of comparing products. The vast majority of tools focus on analyzing conversions based on specific sessions. However, for a complete picture of user behavior, entire site visits will be the most important. So, analysis of visits instead of sessions – that is the answer.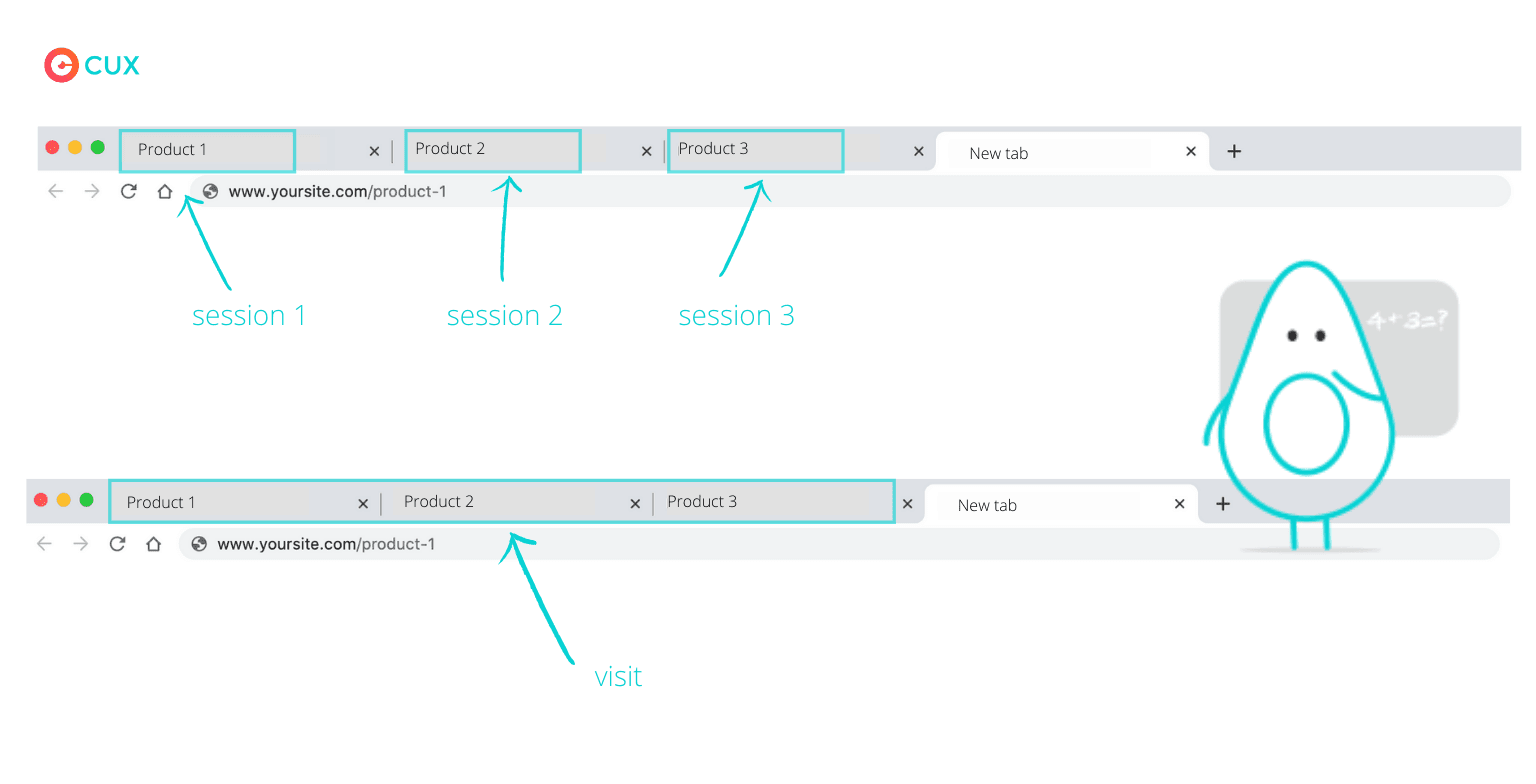 How to measure eCommerce Conversion Rate from paid traffic?
Determining traffic sources, understanding user behaviors, and setting up analytical goals will allow you to build the basis for optimizing conversion from ads. The next step will be to work on the various stages of the funnels. But how do you start measuring eCommerce paid conversion?
1. Recognize traffic amount
Want to achieve higher conversion from paid campaigns? Take at least three steps back. First, you need to determine what percentage of all traffic on your website is actually a campaign traffic. Filter your analytical goal to show you only incoming visits from a specific campaign (or set of campaigns). Use referrers, i.e. a referring link after which the user reaches your website. You'll find them by UTMs set by you.
What is UTM and why do you need it to increase conversion rate in your eCommerce?
UTMs (Urchin Tracking Module) are special tags that allow you to track traffic from individual sources and see which places generate the most interactions. You can use free tools such as Campaign URL Builder to build UTMs. You will set your campaign variables there, such as:
source (utm_source =) specifying from where your users comes from, e.g. Google, Facebook, LinkedIn,

medium (utm_medium =) specifying the action that exactly prompted the user to go to the page, e.g. CPC, e-mail, or organic,

campaign name (utm_campaign =) that defines the type of campaign and helps you identify in among other links, e.g. black_friday, valentines_promo.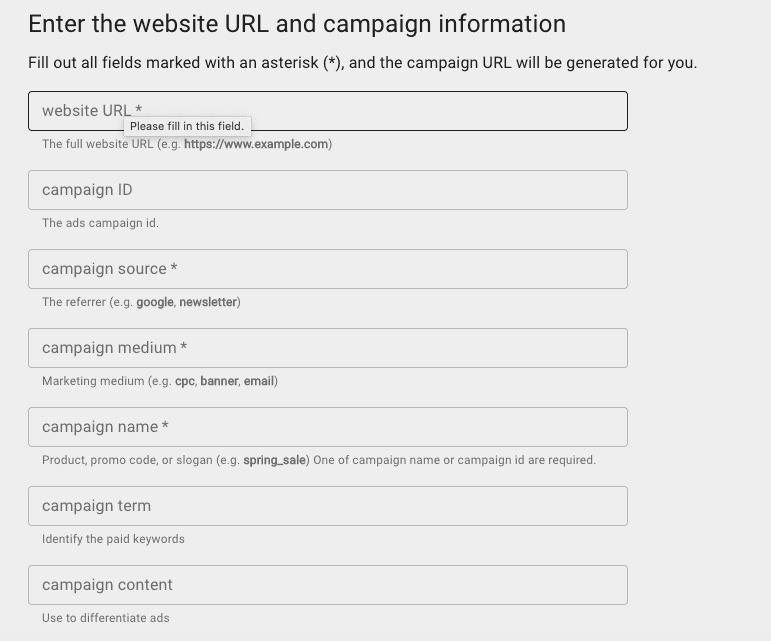 You already know how the volume of customers coming to your website from ads is distributed. This knowledge may already be a hint to optimization and making your ads attract even more potential buyers. And while it may be tempting to conclude that you can magically fix relatively low traffic by increasing your advertising budget, the reality is, unfortunately, more complex. There are many additional factors that can help you increase the effectiveness of your activities. Therefore, instead of deciding here and now, I recommend – keep analyzing!
2. Identify the buyers
To improve conversions funnels, you first need to check the percentage of converting traffic among people coming to your page from ads. You can do this by setting an analytical goal with two steps:
_User form campaign link > Conversion_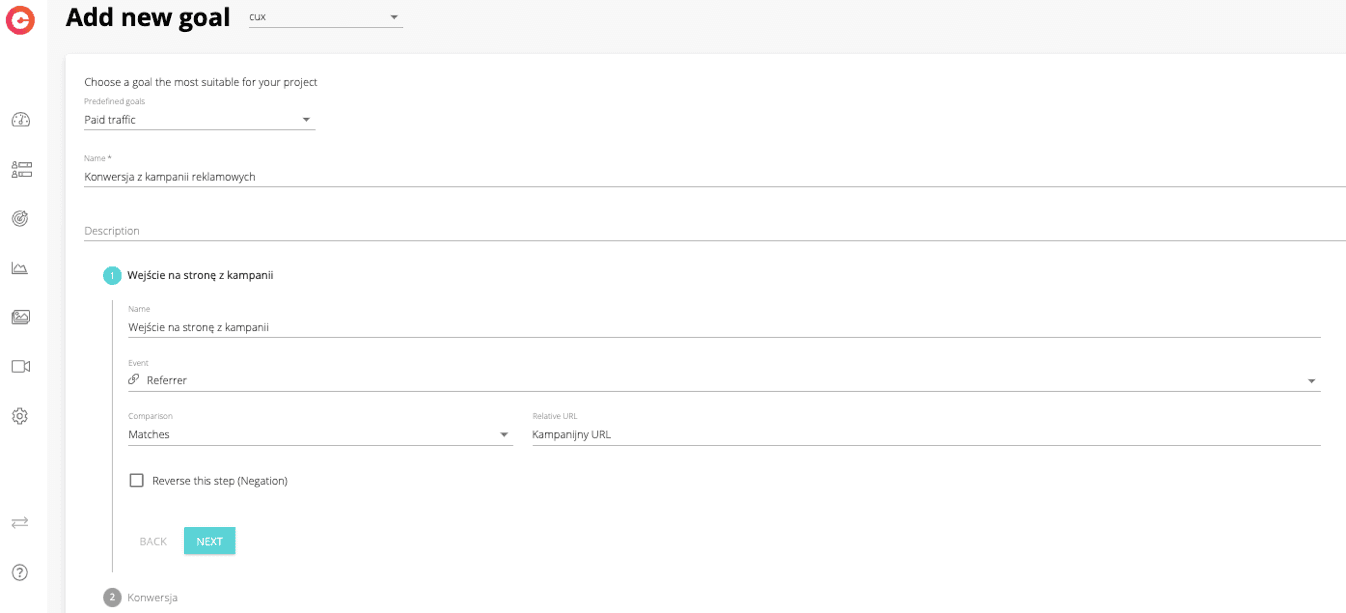 The only thing you need to remember is tagging the links from the paid campaign. You will do it with the help of the appropriate UTMs. Remember that one campaign can generate many UTMs (e.g. by adding a user-ID), so for analysis use a common fragment of a given URL that allows to identify an ad.
3. Start funnel optimization
Setting goals and comparing the move coming from them is your foundation. Knowing how many people are coming to your website from a campaign link and are actually buying, you can start implementing corrective actions. Narrowing the target group, changing the ad creation, rewriting messages, etc. Analytical goal narrows the field of search and allows you to detect basic problems.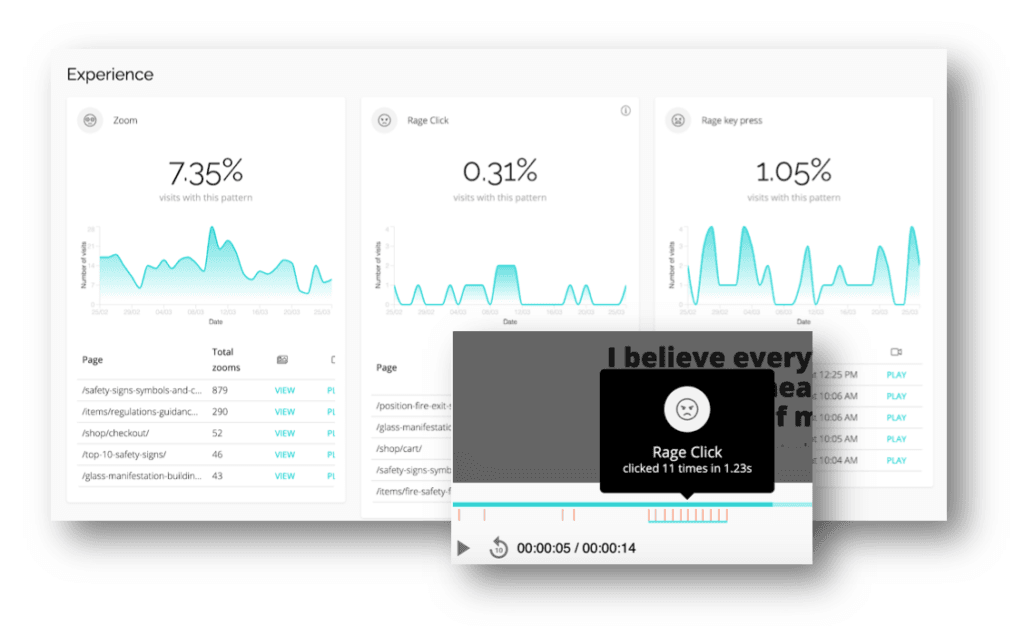 Bonus: Quick wins
Thanks to the appropriate setting of the analytical goal, you know how many users coming to the website from the campaign are buying. However, these non-buyers will be your greatest and most valuable source of information. To see what their visits were and why they didn't convert, use "negation". In the Goal settings for conversion from ads, in the step describing the conversion, select the "Reverse this step (Negation)" option. This allows you to see visits that started with the referrer link from the campaign, but DID NOT end with a purchase.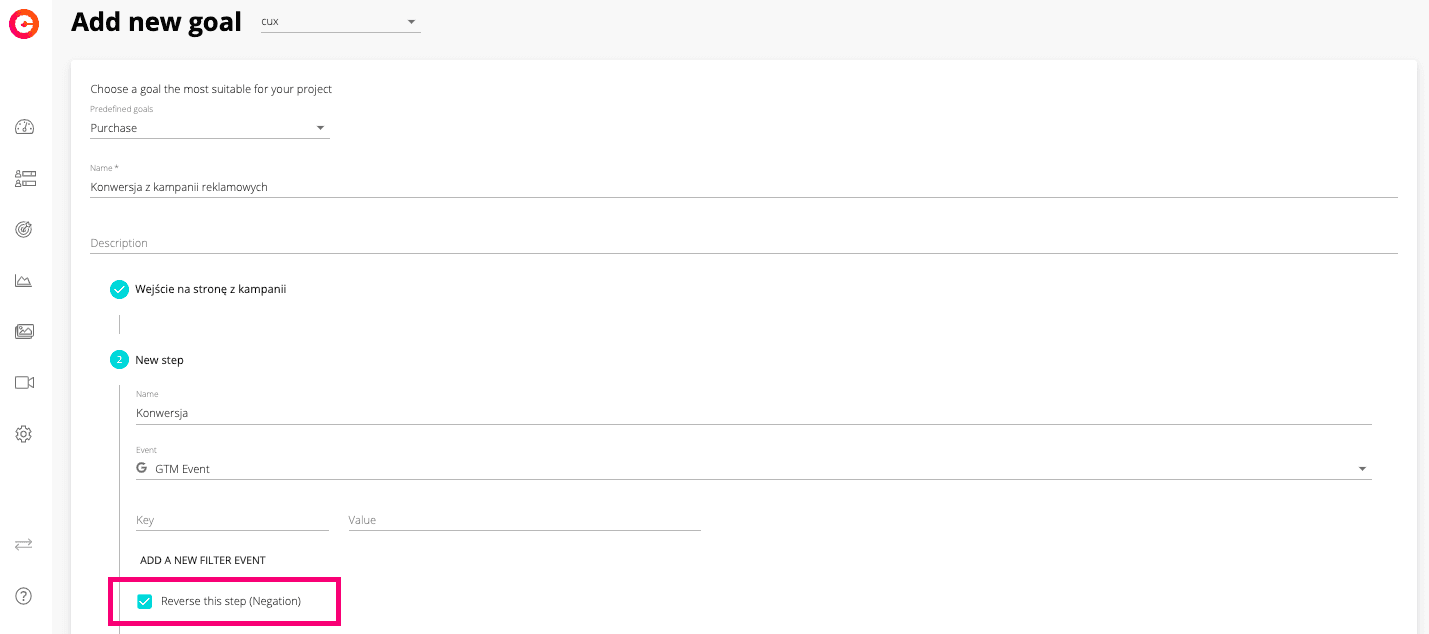 Watching recordings of non-converting visits will allow you to spot problematic places on the site very quickly. Perhaps mobile users cannot hit the checkboxes, Chrome customers can not load photos, and links leading to the cart won't work. Finding users' frustrations (e.g., spots where rage clicks occur) means you've found your quick win.
What can the Conversion Rate increase lead to?
Of course, to drop in your earnings! The conversion rate – apart from your deliberate actions – may also be influenced by external factors way beyond your control. Pandemic, periodic reduction in product demand, change of trends, etc.
So what does the lowered conversion rate tell us?
This can be information about, among others:
given advertising formula being exhausted,

technical problems,

changing needs of your target group.
How high should the average Conversion Rate be in eCommerce?
What is the average conversion rate, or is there any bottom line? The story goes that it depends. In fact, it is impossible to answer this question unequivocally. In some situations, the average conversion rate may reach a value above 100%, in others 180% (e.g. for price comparison websites redirecting users to external websites), and in others from a few to a dozen or so percent.
Optimizing conversion rate
Conversion Optimization is a continuous process that consists of several steps. You should start by configuring the analytics and conducting qualitative and quantitative analyzes. Then look for hypotheses for A/B tests. Test the changes and check the results in order to repeat the whole process from the beginning to the end.
What you can do is look at individual case studies from within your industry and observe the values ​​on the market. However, it is true that the first thing you need to do is carefully and repeatedly watch the conversion rate trend in your own business.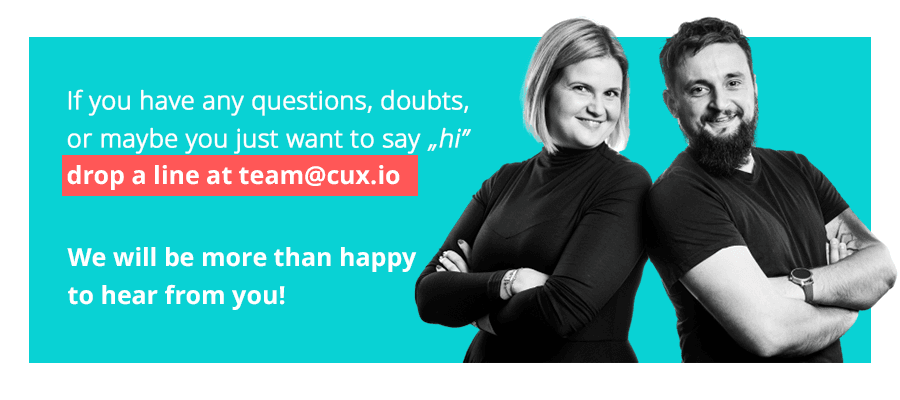 Read also: