Conversion Optimisation
6.02.2023
How to improve and optimize the sales funnel conversion rate on mobile? [FREE CHECKLIST]
Looking for ways to improve your conversion rate? Let's take a closer look at the sales funnel!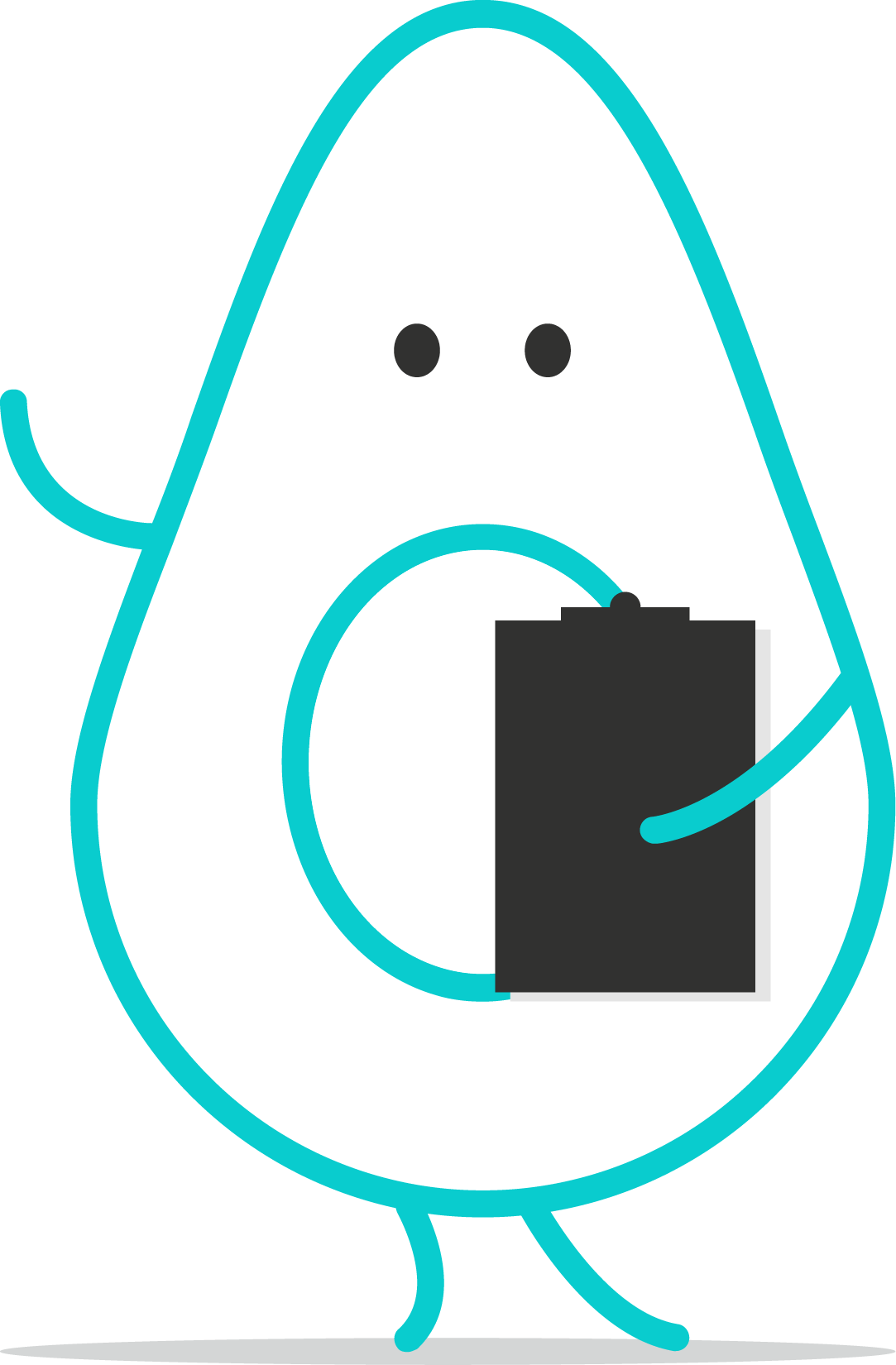 Looking for ways to improve your conversion rate? Let's take a closer look at the sales funnel!
In this article, we'll explain how you can improve your sales results by finding bottlenecks in your sales funnel and remedying them.
To be sure we're on the same page, let's have a quick review of what a sales funnel is, and why you should optimize it – regardless of whether you sell products or services.
Let's get started!
What is a sales funnel?
A sales funnel is a graphic visualization that represents the customer journey potential customers need to go through in order to make a purchase and become paying customers.
Marketing and sales teams commonly use the sales funnel to understand customers' needs, find pain points, optimize the customer journey and push potential customers through the next stages of the sales funnel.
It's not an easy job, but achievable! You just require a little help from an external tool. Later in this article, I'll show you ways to accomplish it.
Different kinds of sales funnel
On the market, there are a fair number of sales funnels – AIDA, the 3-, 5- or even 6-stage sales funnels. You probably wonder which one is worth choosing. Or which one can be easily applied to your business and will bring more profit?
Below you can find a list and short description of the 3 most popular funnels.
AIDA
It's a sales funnel that consists of 4 different stages:
Awareness – it's the very first moment when a potential customer realizes he has a problem.
Interest– in this stage lead searches for a solution for their problem. This stage covers all actions related to marketing like reading blog posts or signing up for a newsletter, etc.
Decision – at this stage, the potential customer considers your product or service as a solution to their issue and is willing to buy it. But they are also aware of competitors.
Action – the final stage of the sales funnel. It's the moment when a potential customer does a desired action and becomes a paying one.
TOFU -MOFU -BOFU
This sales funnel consists of 3 stages:
Top of the Funnel (TOFU) – through non-promotional content such as blog posts, you educate your potential customer and give answers to their questions.
Middle of the Funnel (MOFU) – through valuable content, guide your lead through sales funnel and increase the need for possession.
Bottom of the Funnel (BOFU) – this is the point where your lead is ready to make a purchase. It's a perfect moment to explain why your business is better than the competition and how you solve their problems.
5 STAGE SALES-MARKETING FUNNEL
This sales funnel is more advanced than the previous one. It has more steps that also involve existing customers. The last stage of this funnel is "retention". The main purpose is to increase customer lifetime value (CLV) through building loyalty, retention and upselling.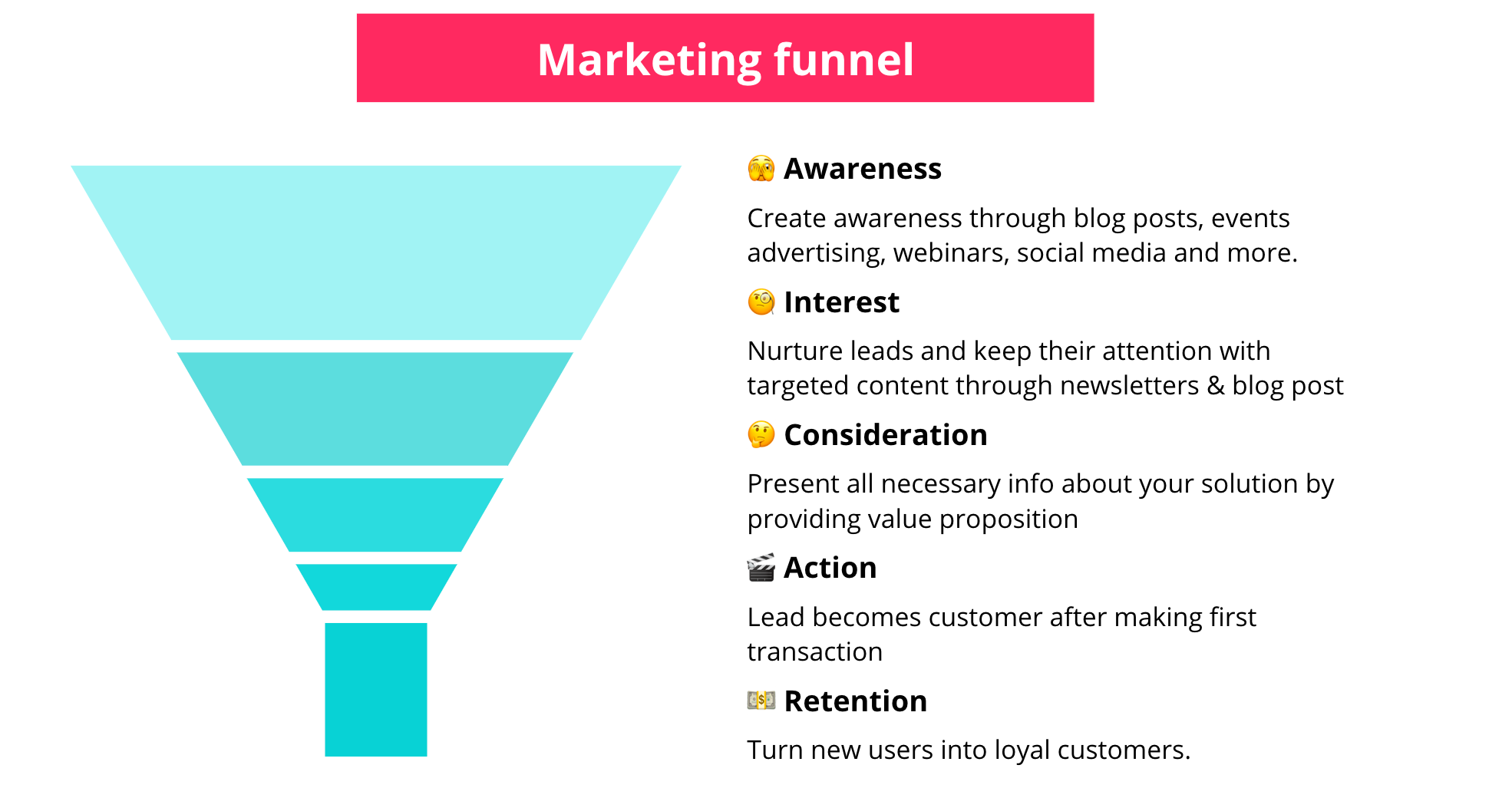 Why is the sales funnel important and why do you need to optimize it?
A sales funnel allows an understanding of what steps potential customers need to make to achieve a desired action.
By analyzing your sales funnel, you'll figure out which stages are performing well and which need some tuning, or where major conversion drops are occurring.
What is a sales funnel conversion rate?
A sales funnel conversion rate is the percentage of customers who enter a sales funnel and go through each stage and accomplish it in a specific time period.
It's easy-peasy to calculate it. All you have to know is how many potential customers entered your sales funnel and how many converted. Remember that your conversion doesn't have to be necessarily a purchase.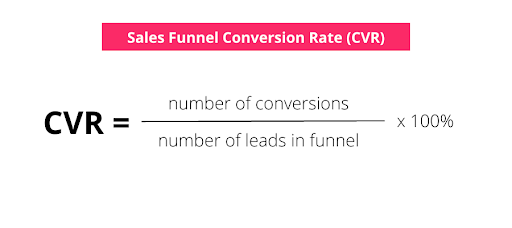 Conversion may take other forms, such as:
filling a form,
signing up for a free trial version,
downloading a lead magnet,
signing up for a newsletter.
Here's a brick-and-mortar example of how to calculate the sales funnel conversion rate.
Assume you want to calculate the sales funnel conversion rate from a paid campaign in your e-Commerce store for the last month.
The first stage of a sales funnel is a product page. Right now, you need to find the total number of customers that entered the top of the funnel in a specific period of time. For calculation purposes, let's say 100 potential customers visit your product page.
Afterward, find the number of customers who purchased. In the last month, 12 products were bought. Divide 12 by 100 and multiply the result by 100%.
In this case, your sales funnel conversion is 12%
Isn't mobile's conversion rate lower?
Without any doubt, people convert more via desktop or tablet rather than mobile. According to Statista, the average mobile conversion rate is 1.53%, while the average desktop conversion rate is 4.14%.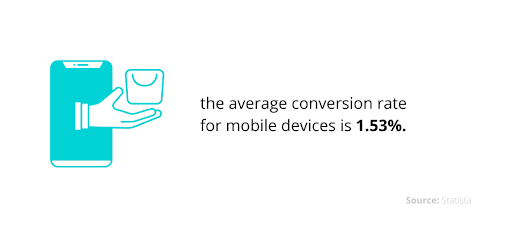 Does this mean that you should focus only on desktop users? Hell no! People spend more and more time on mobile. It's just a matter of time before those numbers will go into reverse.
Making your website responsive is key to preparing your business for m-Commerce (purchasing and selling goods and services with mobile devices) and increasing your conversion rates via mobile.
Every additional minute lowers the chances of purchasing.
How to find sales funnel drop-offs
The next step is to track the effectiveness of your sales funnel. It's the moment when analytics tools come in. Although there are plenty of fish in the pond, we will focus only on one – cux.io.
CUX is the first UX and Analytics Automation tool that reveals what kills your sales by representing your customers' experience and journey on your site in the most accurate and robust way.
One of CUX's primary features is Conversion Waterfall, which represents how your prospects progress through the sales process and determines whether they succeed or fail at each stage.
Through Conversion Waterfall you easily track how many leads entered the top of the funnel, pass to the next step and accomplish the sales process. For example, if 500 people begin the customer journey but only 12% of them end up converting, it means that leads don't find your solution as the right answer to their problem, and it's preventing them from completing the purchase.
Take a look at where the biggest drop-offs are and run the optimization process.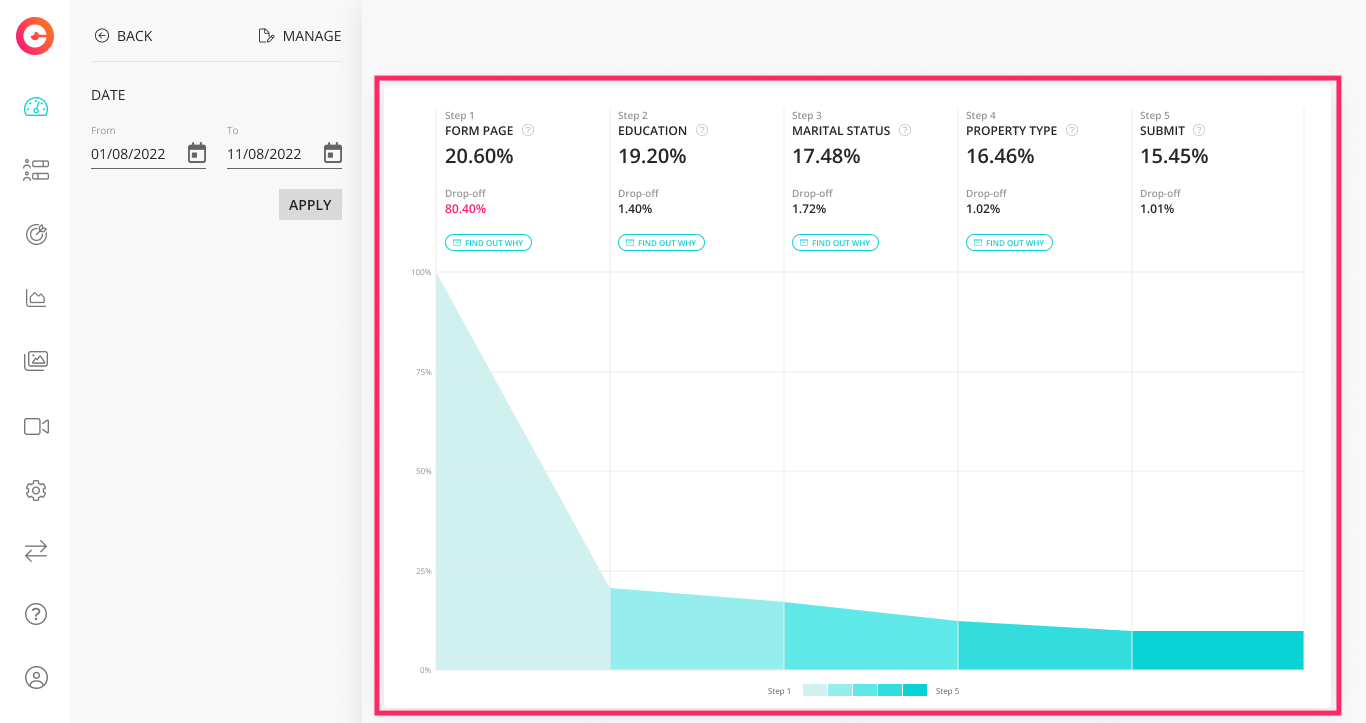 How to locate bottlenecks and improve the conversion rate on mobile devices?
Not exactly as clear as crystals call to action? Blog post a little too succinct? Price too high? Or is customer experience not on point? What might stand behind those drop-offs on mobile, my dear Watson?
In this paragraph, you will learn how to locate bottlenecks that withhold your leads from converting.
By using CUX's Conversion Waterfall, you can identify where customers experience the most pain during the specific phases of their journey. You can discover their frustrations and bottlenecks.
The easiest way to do this is by watching Visit Recordings where conversion drop occurred. Replay those visits by pressing the "View" call to action below the chosen stage. Don't forget to filter lists of Visits Recordings by device.
After watching a few recordings of the mobile visits, you will be able to draw conclusions, spot behavioral patterns and find spots for improvements.
You don't need to show us your website to tell you how to make it more enjoyable. All you need is CUX.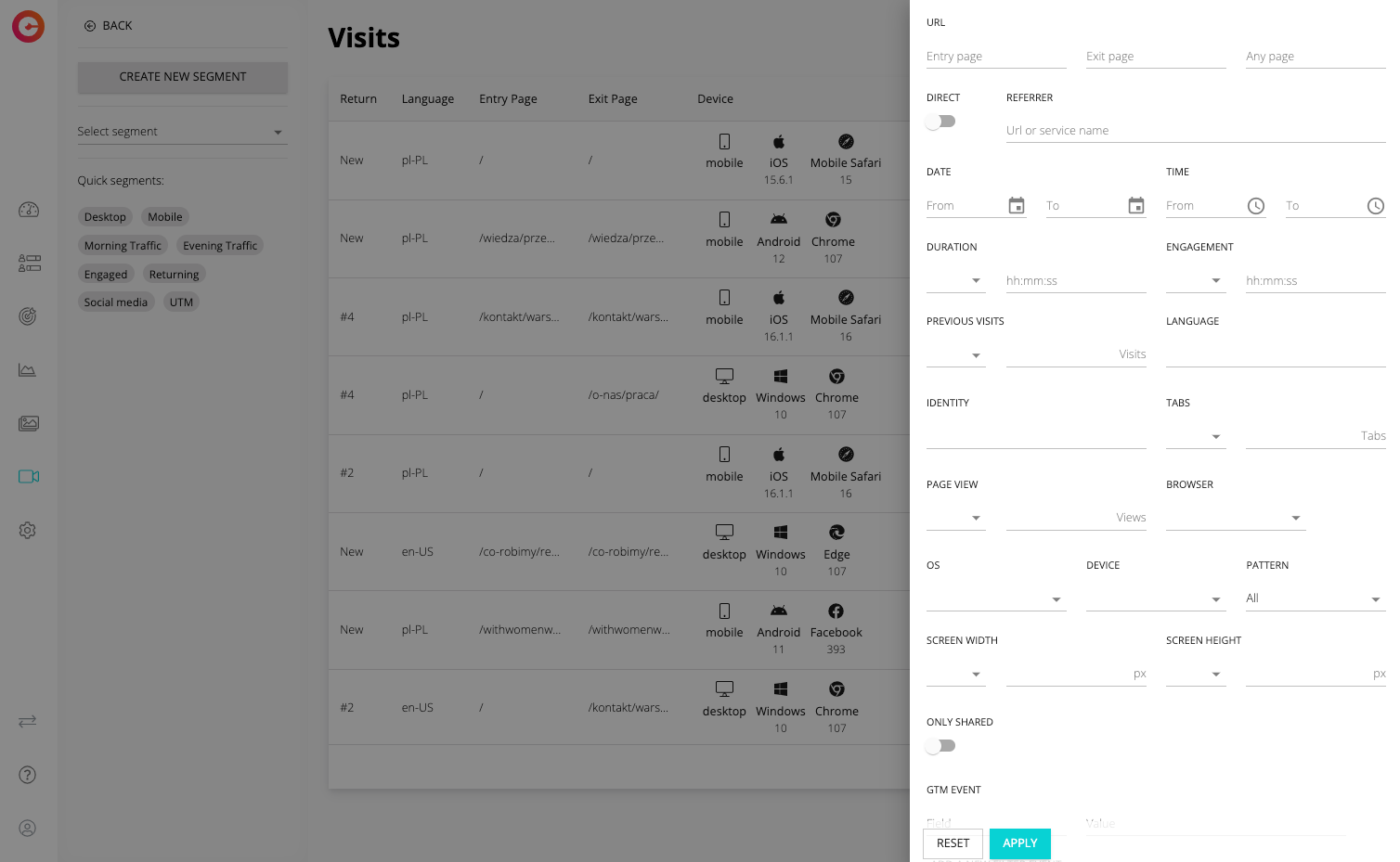 How to optimize a conversion funnel on mobile?
Every stage of the sales funnel is different and requires different actions to be taken to optimize it. Below you will find 3 solutions on how to optimize your conversion rate for particular behavioral patterns.
Zooming – usually occurs when the user cannot view text or images comfortably.
Solution: Increase marketing efforts by investing in high-quality product graphics and videos.
Rage clicks and rage presses – they reveal spots where visitors get frustrated when interacting with your website.
Solution: Rage clicks are frequently caused by non-clickable elements like call to action or graphics. Compare heatmaps with linkmaps to find those places.
Refreshing – caused by page load errors and display issues.
Solution: It's a common thing that pages don't load exactly the way they were designed on different browsers. In CUX you can filter the list of Visits by behavioral patterns and check on which browser refreshing occurs.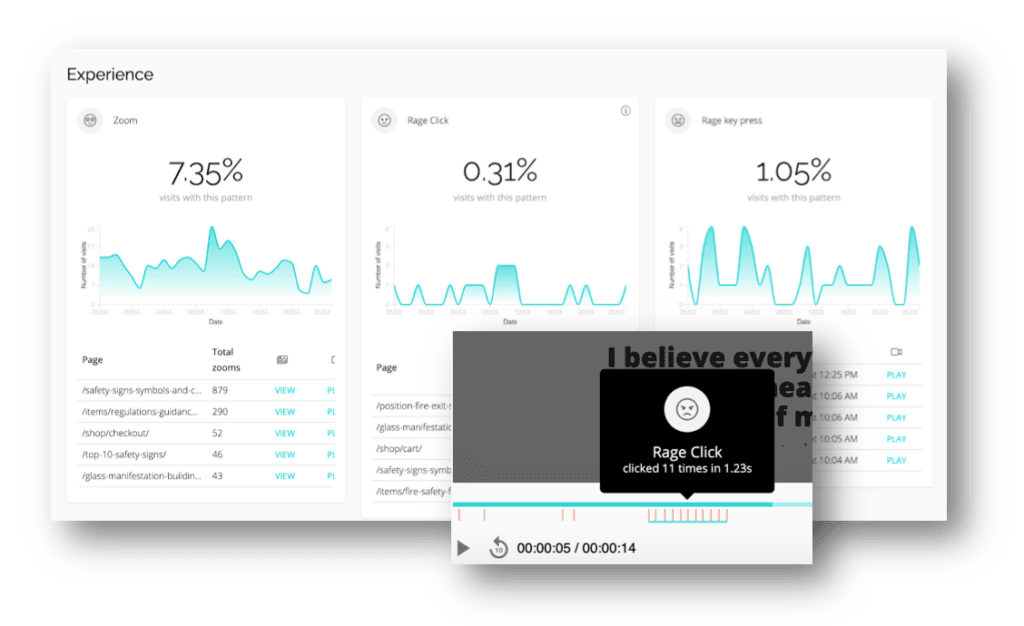 As soon as you eliminate the causes of these behaviors, your funnel will become more effective, which allows your customers to experience a smooth journey and purchase.
Final thoughts
Without a doubt, tracking and optimizing your sales funnel conversion rate is incredibly important to run a profitable business.
Drop-offs can occur at different sales funnel stages, even in the awareness stage. It's significant to not focus only on the last stages of the sales funnel but take a look at the whole picture.
Now it's time to pick up the slack and optimize your sales funnel.
CUX offers a free trial version that doesn't vary from a paid one. E-Commerce is not a world where it is common to test before purchase, so don't miss this opportunity.
You can request a demo or start a free trial of CUX with just one click, so click away!

Waterfall conversion – the new quality of measuring and calculating the conversion rate

Users don't consume content linear way. Users are chaotic and really often not rational.

Read more

How to boost your conversion rate using analytics – The T-Mobile Case

Conversion rate – the main metric monitored by every e-commerce manager. When it grows – we celebrate, when it falls – we want to know why.

Read more

Does a high conversion rate always mean great customer experience?

Usually, great sales results are an opportunity to celebrate – finally, our efforts have paid off and there is nothing to worry about!

Read more