10 Best Black Friday deals for e-commerce
You are convinced that Black Friday madness is a time of celebration only your customers? Nothing could be further from the truth! The worldwide-known holiday of promotions, discounts, rebates and true splurge is also the best investing time for e-commerce! Check out the list of the top 10 Black Friday deals that will help you take your business to a whole new level!
Top 10 Black Friday deals for e-commerce, you can't miss!
cux.io
The first ever UX automation tool that detects, defines and recognizes users' behavior patterns, predicting places on Customer Journey that may inhibit conversion. The tool allows focusing only on data relevant for a specific business goal, sends alerts, presents the scale of potential problems and prepares data for ready-made and easy to implement solutions.
Black Friday Deal:
40% off on the yearly subscription. Additionally, 10% of each Black Friday transaction will be donated to tdigitally excluded children form Hakersi Foundation.
Workshop "E-commerce analytical strategy" for PLN 349 instead of PLN 500.
How to activate Black Friday promotion:
On the pricing site set the details of your website and select the "Annually" option – the discount will be calculated automatically (valid only Nov 27th)
On the workshop website in the Comments section in the form, enter "BLACK FRIDAY" (valid only Nov 27th)
What's in it for you?
CUX.io not only save time as the whole data processing operations are carried automatically, but also helps to maintain an increase in sales as it predicts which customer behaviour will inhibit conversion. You'll be able to quickly increase conversion, turn frustrated users into happier users and build significant market advantage thanks to pre-analysing experiences and identifying behavioural patterns.
User.com
User.com is an all-in-one marketing automation platform with intuitive tools for marketing, sales and support teams.
Black Friday Deal:
40% off for the 1st annual payment; 25% off for monthly payments for the 1st year (only for new customers)
How to activate: Just register the app. During the next 24h discount will be applied to your User.com application.
What's in it for you?
User.com offers a number of tools that make it easier to generate and nurture leads and personalize messages. Thanks to automatic chats, e-mail & SMS messages, pop-ups, push notifications, live chat and chatbots, you will be able to increase engagement and conversions on your website.
Senuto
Senuto is a platform with SEO and content marketing tools. It helps to plan, implement and measure SEO activities in e-commerce stores and other websites.
Black Friday deal:
191 EUR instead of 324 EUR for the one-year Plus package
452 EUR instead of 684 EUR for the annual Premium package
1097 EUR instead of 2244 EUR for the annual Advanced package
Senuto gadgets

PLN 10 for each transaction for the Sarigato Foundation and their Hakersi community
How to activate:
On the pricing page, select the package and enter the code: BLACKDEAL20
What's in it for you?
Google is often one of the main sources of traffic in an online store – that's why it's worth taking care of the store's SEO! Senuto provides information on organic visibility in Google, allows comparing to the competition, helps in planing the company blog content and checks the effects of SEO activities. Senuto keyword search engine finds phrases that are worth positioning for gaining more potential customers.
Brand24
Brand24 is a powerful, award-winning app for media monitoring that provides you with instant access to mentions of your brand all across the web.
Black Friday Deal:
50% off of any plan for 3 months.
How to activate:
The price will be automatically reduced after accessing the pricing site – no discount code needed, valid on Black Friday only.
What's in it for you?
Brand24 collects in real-time all publicly available mentions of your company, product, or service enabling you to monitor and manage online reputation, track and assess marketing campaigns, get customer feedback, do social selling, and more.
NinjaOutreach
NinjaOutreach is an influencer marketing and outreach platform. Whether you want to find bloggers, Instagram influencers, YouTube channels or TikTok stars for a collaboration, NinjaOutreach has you covered!
Black Friday Deal:
A lifetime deal to the FLEX plan for $349 and to the PRO plan for $797.
How to activate:
Just visit the deal site
What's in it for you?
NinjaOutreach helps you to create influencer marketing campaigns by selecting the right fit that'll capture your target audience's attention, selected from millions of influencers insights.
Engagebay
Engagebay is a platform that brings together tools such as landing page creator, CRM, solutions for marketing automation and lead generation in one place.
Black Friday Deal:
40% off on all plans for first-time purchases (valid Nov 16th – Dec 4th)
How to activate:
Just visit the deal site
What's in it for you?
An easy to implement integrated marketing, sales and support friendly automation that'll make sure every team in the organization is on the same page around single view of your customers.
ReferralCandy
ReferralCandy helps brands setup and run a customer referral program, allowing them to acquire new customers while retaining existing ones.
Black Friday Deal:
$50 off after your 30-day free trial.
How to activate:
Just visit the deal site
What's in it for you?
ReferralCandy helps you to grow your sales through word-of-mouth marketing by creating a system of rewards for your customers' recommendations.
Vyper
VYPER is a viral marketing tool that easily allows brands to build giveaways, referral, and reward programs.
Black Friday deal:
50% OFF VYPER and unlock the Instagram Growth Course (valid from Nov 27th – Dec 4th)
How to activate:
Just visit the deal site
What's in it for you?
Vyper help businesses generate more email leads, customers, traffic, and social followers. The tool uses gamification or incentivization to stimulate engagement and share-ability to help businesses grow faster.
Premio
Grow your WordPress or Shopify websites with plugins.
Black Friday deal:
WordPress plugins for 50% OFF (valid from Nov 23rd – Dec 1st)
How to activate:
Enter Coupon Code: BFPRM50 at the deal site
What's in it for you?
Premio enables companies to grow their WordPress or Shopify websites with plugins such as Chaty, Folders, My Sticky Elements, Stars Testimonials, Subscribe Forms and more.
Contact Pigeon
ContactPigeon is an omnichannel customer engagement platform that enables retailers to increase their customer retention, via automated personalized interactions.
Black Friday deal:
20% OFF from annual plans for 1 year (valid till Nov 30th)
How to activate:
Just visit the deal site
What's in it for you?
By delivering personalized interactions at scale ContactPigeon helps companies to acquire, convert, and retain with unique customer experiences.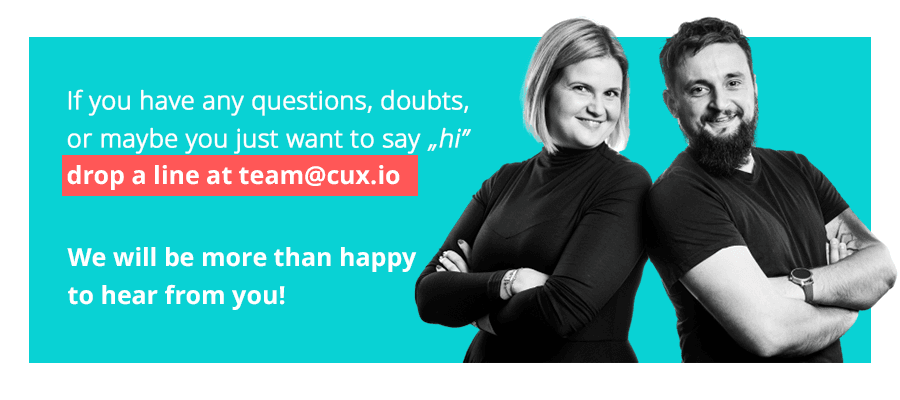 And if you would like to receive newest information about our product, sign up for the CUX newsletter.
Read also: